Published on November 29, 2018
Next Thursday, December 6 from 5-9 p.m., shops along Clement Street in the Inner Richmond will open their doors for locals coming out to get their holiday shopping on, with raffles, refreshments, art, music, crafts, and other specials.
Spanning from Arguello Blvd. to 7th Avenue, the ClemenTime Holiday Stroll is now in its eighth year. Organizer Alissa Anderson, who also owns Clement Street boutique Foggy Notion, said the event was originally started by The Bold Italic as part of a "microhood" event series. But when the publication wound down operations, local merchants simply continued on with it.
The stroll is put on with the help of the local merchants' association — which Anderson said is actually the city's oldest — especially board president Cynthia Huie, owner of clothing shop Seedstore.
"Through the teamwork of all of our members," the association "has brought [in] the parklet, mural, weekly farmers market, movie nights, and Autumn Moon Festival," Anderson said. "It's been extremely inspiring to be a part of."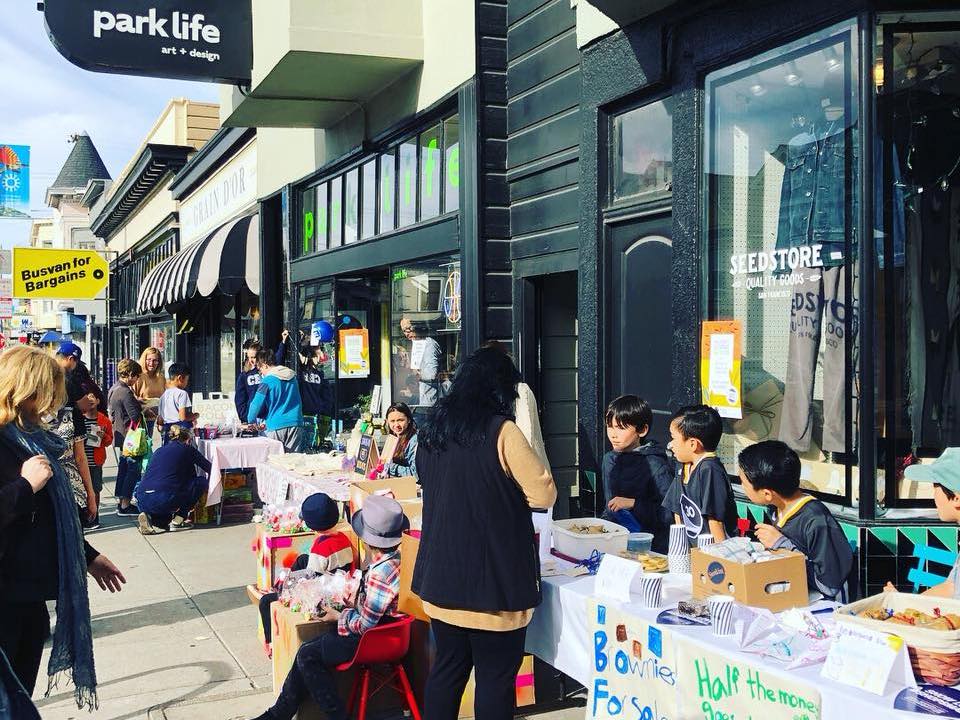 Here are the deals and special treats to expect at next Thursday's event:
Covet (391 Arguello Blvd.) has cupcakes, champagne, and a 25 percent off sale on jewelry.
HSH Interiors (7 Clement St.) has lined up sparkling cider, cookies, and a 10% discount on everything in stock.
The Golden Hour (12 Clement St.) vintage goods will have festive seasonal beverages, 15 percent off purchases shopwide, and a photo booth.
Eats (50 Clement St.) is hosting pop-up crafts with Reverie & Roar, pottery from Letofsky Studio, soju cocktails and art by Lisa Pisa.
Tonlé (55 Clement St.) will have zero-waste holiday crafts and a 15 percent off discount.
Foggy Notion (124 Clement St.) is hosting a seventh-anniversary party with drinks from Salt Point and a raffle giveaway.
B*Star (127 Clement St.) will be offering soup shots.
The Spanish Table (130 Clement St.) is serving tapas and Spanish holiday delicacies.
Pretty Please Bakeshop (291 3rd Ave.), around the corner from the main action, is offering eggnog for shoppers and 20 percent off baked goods.
Kisha (210 Clement St.) boutique and clothing studio has a 15 percent off sale and free champagne.
Seedstore (212 Clement St.) is serving beer from Comrades Brewing, and hosting a Public Pet pop-up shop.
Park Life (220 Clement St.) will have snacks and drinks, as well as its regular array of art, books, and gifts for sale.
Tantrum (248 Clement St.), the children's toy shop, will have live music and a singalong, refreshments, and a snow machine.
Kinship (253 Clement St.), the salon and barber, will have hot cider and a 20 percent off sale.
Blue Danube (306 Clement St.) is offering free small coffees to perk up your holiday stroll.
Toy Boat Dessert Cafe (401 Clement St.) is offering $1 ice cream cones for children, from 5:30-7:30 p.m.
Yoga Tree (182 6th Ave.), for those forging off the beaten track, is offering a 20 percent discount on of retail purchases, as well as holiday refreshments.
Save My Seat (275 6th Ave.), the upholsterer and furnisher, is serving latkes from Wise Sons Deli.
Green Apple Books (506 Clement St.) will be offering free beer and gift wrapping.
Wee Scotty (609 Clement St.), the design and alterations salon, is hosting holiday refreshments, workshops, and a discount on dresses and sewing machines.
For more information on the ClemenTime event, visit its Facebook event page.