On Tuesday, the San Francisco Municipal Transportation Agency's board of directors unanimously approved a protected bike lane for Valencia Street between Market and 15th streets.
Back in September, Mayor London Breed had directed the SFMTA to fast-track the project, which was discussed at community workshops held by the agency in July.
At Tuesday's meeting, SFMTA project manager Kimberly Leung noted that Valencia Street is one of the busiest bike corridors in San Francisco, with over 2,100 cyclists passing through on an average weekday.
Between 2012 and 2016, 204 people were injured in 268 reported collisions on Valencia, one of which was fatal. The intersection of Valencia and 14th streets saw the most bike-related crashes.
Dooring, in which a cyclist crashes when a driver opens a car door into the bike lane, is the most frequent collision type along the corridor. Leung also cited loading vehicles that block the corridor's bike lanes as one of the major concerns.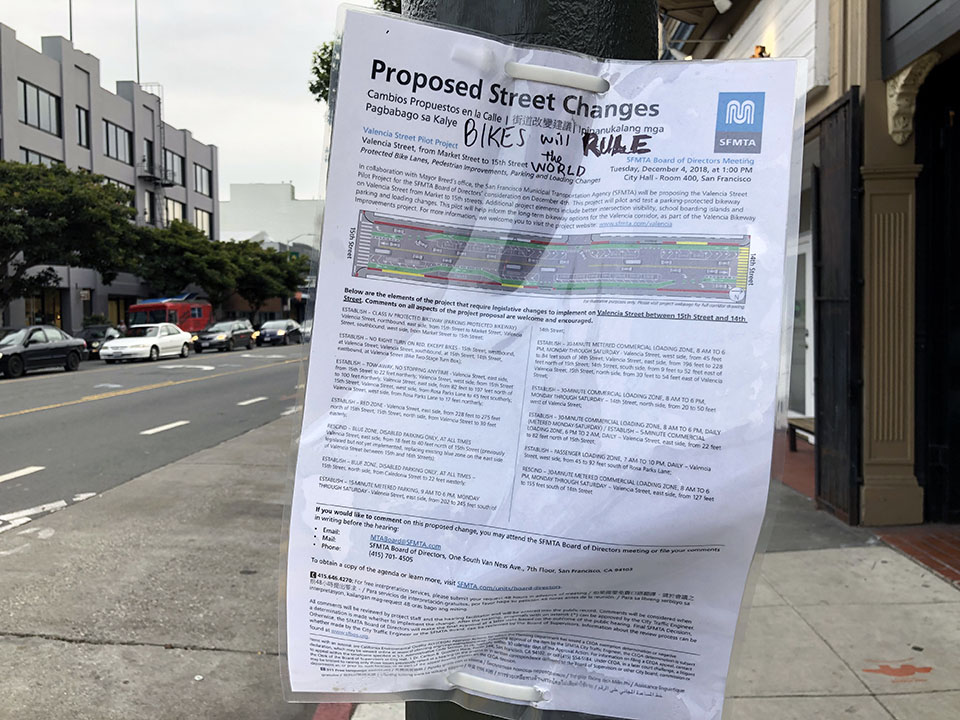 Kristen Leckie of the SF Bicycle Coalition said that the group received more than 450 letters from members in support of the project. Many cyclists who've been injured on the corridor spoke during the meeting's public comment time. 
One cyclist, a member of the SF Bicycle Coalition who works at Mike's Bikes, called Valencia Street a scary place to ride. 
"Two years ago, I got hit at 14th Street and was in a coma for two months," she said. "Now I have pins in my shoulder for the rest of my life."
Many cyclists cited Uber and Lyft drivers who drop passengers off and park in the bike lane as a safety risk. In a letter sent to the SFMTA on Monday, a Lyft representative expressed support for the protected lanes, noting that "we cannot afford to wait any longer on necessary infrastructure that can immediately improve safety."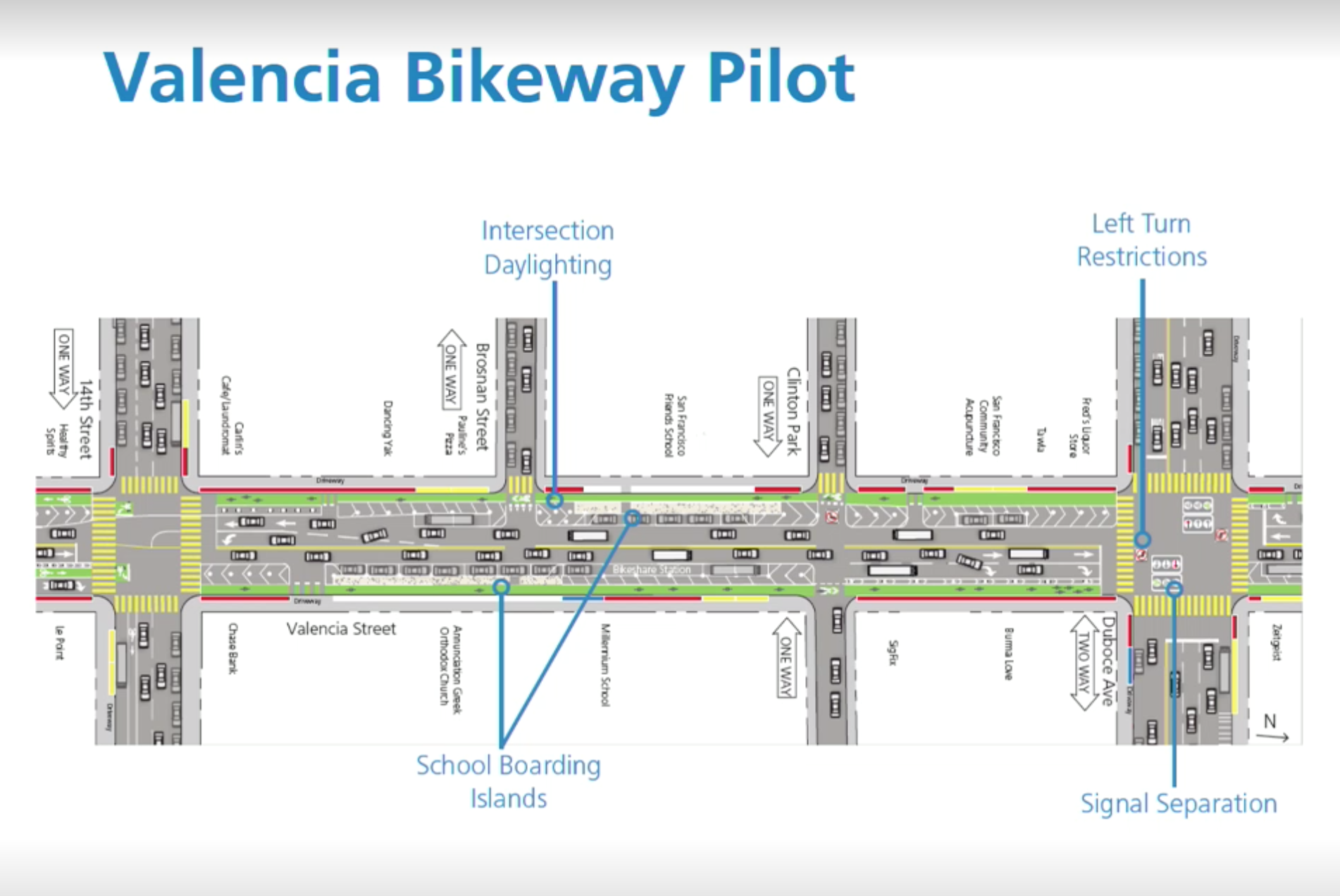 Not everyone spoke in support of the protected lanes. Several parents of students at the San Francisco Friends School, located at Valencia and Duboce, expressed concern about the risks they potentially pose to kids crossing the street.
"[The proposed design] requires five-, six- and eight-year-olds to cross a bike lane, where there will be moving traffic constantly," said one parent. 
"I think that we cannot make San Francisco safer for cyclists by making it dangerous for children," added another.
Ultimately, the measure received unanimous support to move forward from the board. Leung said that construction will start on the new protected bike lanes next month, with pilot evaluations and potential modifications throughout 2019 and the first half of 2020. 
Sam Moss, the executive director of the Mission Housing Development Corporation, expressed his support of the project. 
"We have to start to put the human beings that live on Valencia first," he said.