Burgermeister has quietly closed its second San Francisco location in less than four months, according to our network of tipsters. 
Hoodline reader Rodney A. told Hoodline earlier this week that the local burger chain's North Beach location, at 759 Columbus Ave., had suddenly gone dark. 
"Looks like they locked up and left everything," he told us. "Even loaves of bread in the kitchen." 
An unnamed employee at the restaurant's Cole Valley location (86 Carl St.) told us that Burgermeister's owners have sold the North Beach outpost. Its closure follows that of Burgermeister's Duboce Triangle location, which shuttered in November.
The closures leave the Cole Valley location as SF's sole remaining Burgermeister. The company also has outlets in Daly City and Berkeley.
The Cole Valley employee Hoodline spoke to said the remaining stores will continue to operate as usual. We reached out to Burgermeister's owners to learn more about the decision to close, but have not heard back as of press time.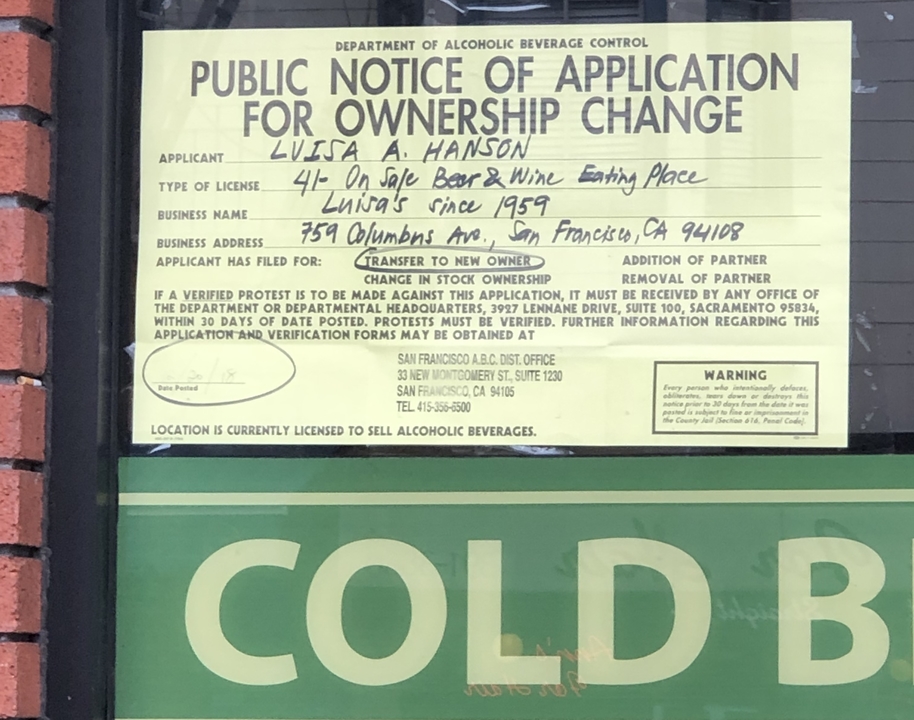 While public records show no takers as of yet for the Duboce Triangle Burgermeister, the North Beach location already has a new owner.
Tipster Nicholas Y. sent a snapshot of a change-of-ownership application affixed to the former burger joint's window. According to the notice, it's been purchased by Luisa Hanson, and will be called Luisa's Since 1959.
A serial restaurateur, Hanson has been behind several now-shuttered San Francisco restaurants, such as La Vinoteca, Delaney's Bar, Duffy's — which never officially opened — and the eponymous Luisa's Pizza and Pasta.  
Hoodline was unable to reach Hanson directly, but real estate broker Keith Ryan, who's connected to the project, bills the new spot as an Italian bistro. It will offer "a nice selection of Californian and Italian wines, and some of her signature dishes like gnocchi and freshly made sauces."
Ryan told Hoodline that Hanson plans to open her latest restaurant within the next 30 to 60 days.
"She's pretty far along with the application," and has already been approved for a beer and wine license, he said. As far as renovations, there will be no major construction, "but there will be some painting."
---
Thank you very much to Jordan B., Nicholas Y. and Kent S. for the tips! If you've seen something new in the neighborhood, email your tips and photos to [email protected] If we use your info in a story, we'll give you credit.