By
Hoodline
- Published on January 17, 2019.
Social media — especially the immediate, back-and-forth conversations of Twitter — can reflect the issues most on peoples' minds. For Chicago, that included a tough NFL playoff loss, the Golden Globes, and the president.
Hoodline sifted through a week's worth of the city's loud and chaotic stream of tweets and figured out what really has you talking (or rather, typing). 
But first, the numbers. Twitter users whose profiles place them in Chicago generated 3,342,498 tweets and retweets between Jan. 7 and Jan. 13. Daily tweets ranged from a high of 560,055 on Jan. 7 down to 416,780 on Jan. 13.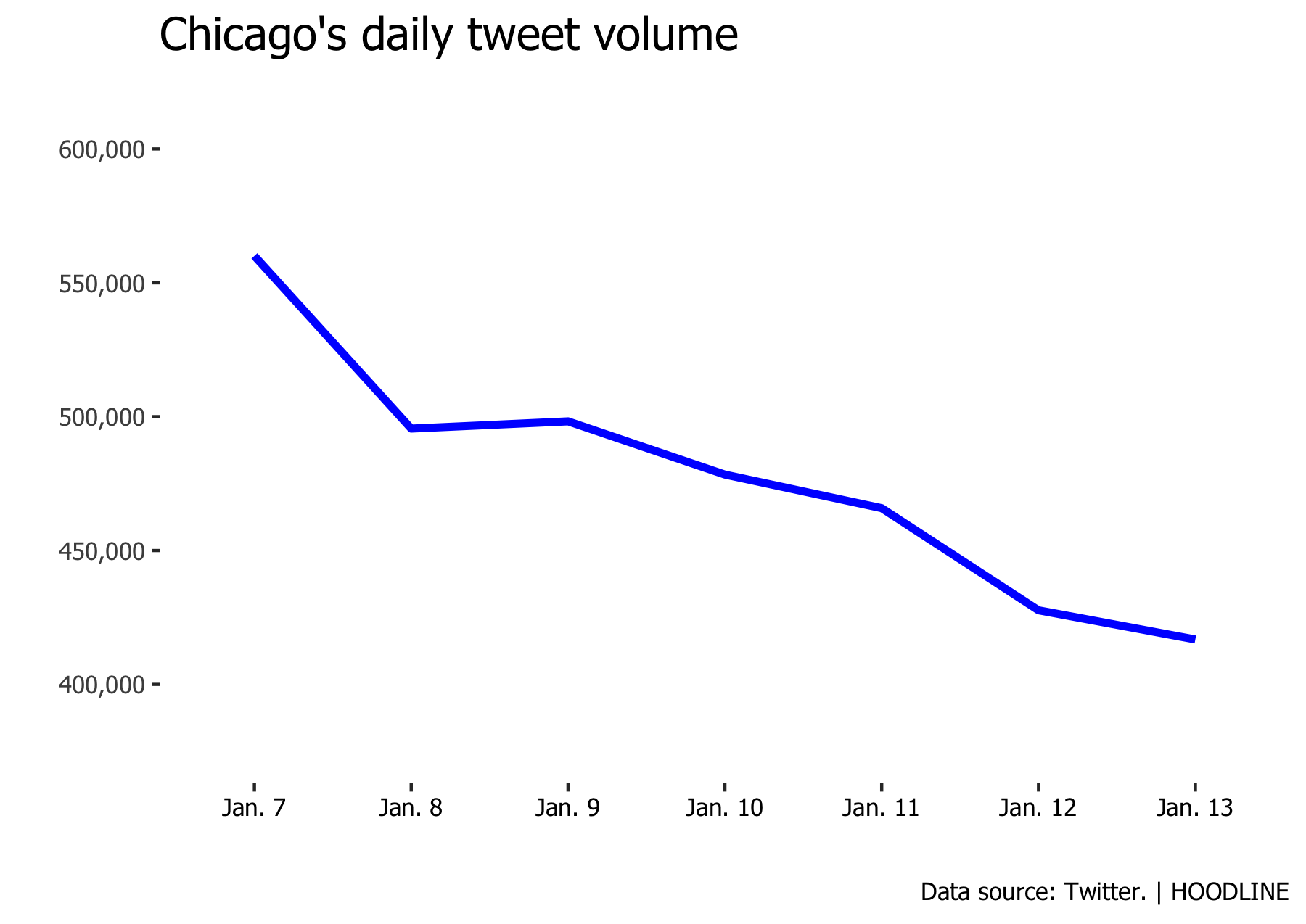 Part of the chatter was locals taking part in national trending conversations, based on Twitter's list of trending terms and tags for the week. Two of those in particular drew the attention of Chicago's tweeters: #TrumpAddress and #GoldenGlobes.
In response to President Trump's national television address on the border, Chicago Tribune columnist @RexHuppke tweeted:
Trump's border wall has never been more than an abstraction, something large and impressive-sounding he could use to get people who like him excited. Now it's backfiring. And tonight he looked bored and defeated.

My column:https://t.co/OQUtXiWZcZ #TrumpAddress

— Rex Huppke (@RexHuppke) January 9, 2019
And Chicago's @OMGFacts kept Twitter up to date on Golden Globes trivia, including this gem: 
During the filming of 'Green Book,' Louis Venere, one of writer Nick Vallelonga's real-life relatives, caused continuity problems in the family dinner scenes because he continued to eat the food after director Peter Farrelly yelled cut. #GoldenGlobes https://t.co/SNfIItD8R3

— OMGFacts (@OMGFacts) January 7, 2019
The city also saw dozens of hashtags arise locally during the week. Most of them didn't gain much traction (that's typical), but three that did were #Bears (3,760 local tweets), #Blackhawks (2,153 local tweets) and #ChicagoScanner (1,220 local tweets).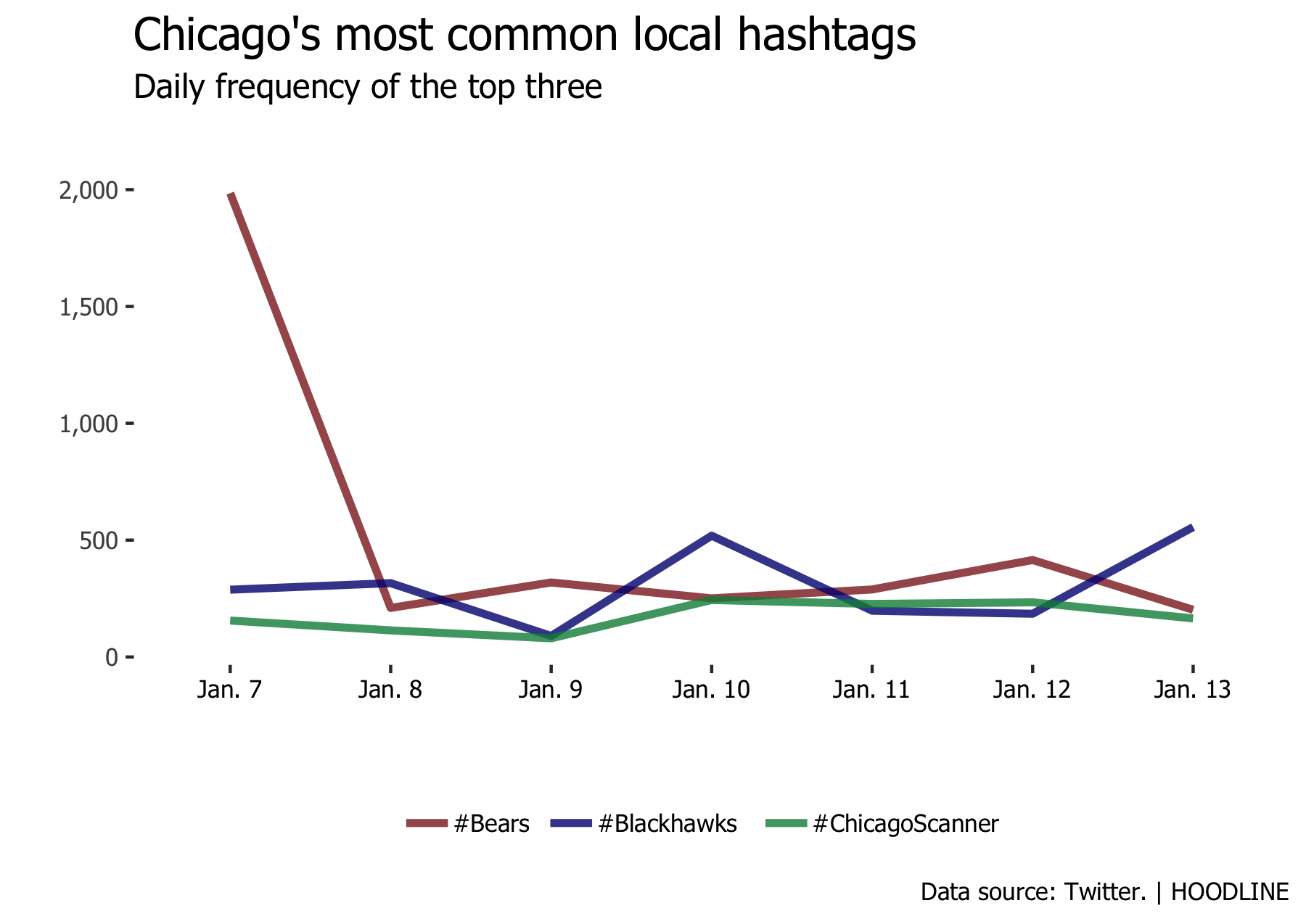 Chicago Twitter was still buzzing about the Bears' Jan. 6 playoff loss to Philadelphia, sealed with a final-seconds field goal attempt by kicker Cody Parkey that bounced — twice — off the upright and then off the crossbar. @WGN summed up the feeling with this tweet:
Whether it was tipped or not, the "Double Doink" has entered the pantheon of Chicago sports heartbreaks. https://t.co/l6NeVp4CeK

— WGN TV News (@WGNNews) January 8, 2019
Meanwhile, the struggling Blackhawks were looking to break out of the cellar in the NHL Central. Reporter Eric Lear focused on a bright spot, tweeting:
Alex DeBrincat is a big reason why the #Blackhawks power play has hit its stride. He has four PPGs in the last eight games. pic.twitter.com/YkyxrLoNQG

— Eric Lear (@BHTVeric) January 13, 2019
Most of the city's Twitter conversations happen without hashtags, so Hoodline also applied our analytical tools to the text of all 3.3 million tweets to surface more of what was on your mind.
The word cloud shows the relative frequency of the top 50 terms from tweets originating in Chicago during the week. No. 1 was "people," appearing 84,686 times. Other top words included "Trump" at 51,405, "wall" at 27,614 and "God," 21,761.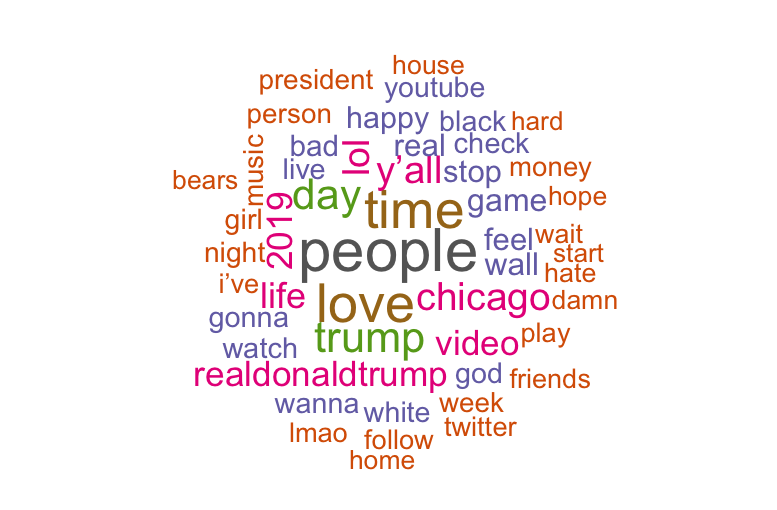 ---
To take the temperature on social media each week, we collect all tweets from Chicago-based Twitter users and those tweets tagged with locations in the city, then apply our own complex analytical tools to refine the flood of tweets into a coherent analysis of the city's week on social media.
There's a lot of data behind our story, but it doesn't include absolutely everything. We have, for example, cooked up ways to screen out offensive tweets, and we've taken steps to reduce the noise from bots and fake accounts.
Want more of Hoodline's coverage of Chicago news and neighborhoods? 
Don't miss these 5 top-rated movies screening around Chicago
Here are 3 charity events worth seeking out in Chicago this week
3 ways to enjoy your week in Chicago