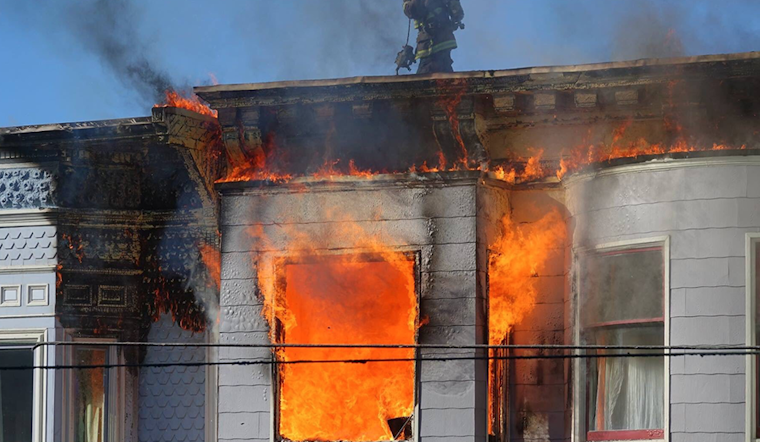 Published on February 19, 2019
A two-alarm fire at an apartment building near the Panhandle has displaced 14 residents, according to the San Francisco Fire Department.
The fire broke out shortly after 3 p.m. on Monday afternoon at the residential building at 1226 and 1228 Page St. (at Baker). Flames were seen emerging from the windows of a third-floor apartment.
The fire was contained a few minutes after 4 p.m., an hour after it broke out. No one was injured and no pets were harmed in the fire, whose cause remains under investigation.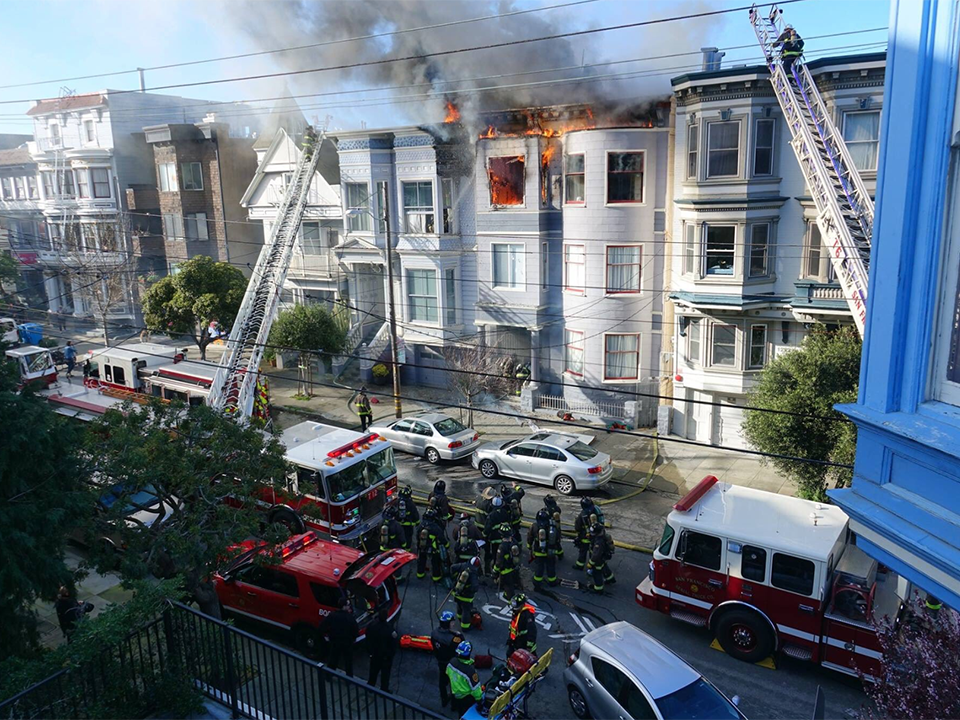 Representatives from the Bay Area chapter of the American Red Cross were on the scene, assisting those that were not able to return to their homes. Three residents required assistance, and one needed lodging.
ABC7 reported that the building, constructed in 1902, has been in the family of landlord Eunice Mateo for 70 years. Her daughter is one of the displaced residents.
"This building is passed onto me from my dad. He bought this building in 1949," Mateo told ABC7.
District 5 Supervisor Vallie Brown thanked the SFFD and the Red Cross for their quick response and professionalism. "So grateful nobody was hurt," she added on Twitter.
house fire on page street at baker (nw corner). lots of firefighters on site. stay safe, neighbors #lowerhaight #sf #fire pic.twitter.com/mnnZ9zXavh

— Marta Hanson (@martahanson) February 18, 2019
Lucky nobody was home in that top floor unit on Page St today when this fire started! 🔥Investigators are trying to determine the cause. All 15 people who live in this bldg have been displaced. You can see the home next door caught fire too, but owner says they r not displaced. pic.twitter.com/X03zBzwcRO

— Kate Larsen (@KateABC7) February 19, 2019
Residential fire at Page and Baker. @SFFDPIO is here wrapping up and @SFHumanServices and @RedCrossBayArea are here working with displaced residents. Thankfully no one was injured. pic.twitter.com/Qye1K39CYR

— Mary Ellen Carroll (@SFDEM_MEC) February 19, 2019