Three years after it first came to San Francisco, nonprofit Downtown Streets Team is now bringing its street-cleaning teams to the Upper Haight and Cole Valley.
Launched in Palo Alto in 2005, Downtown Streets Team (DST) provides case management, employment training, and housing assistance for people experiencing homelessness or at risk of losing their housing. It now provides services in 13 Northern California cities, from Sacramento to Modesto to San Jose.
As part of its services, DST offers clients work experience on street-cleaning teams in Civic Center, UN Plaza, Union Square, and now, the Upper Haight and Cole Valley. Through time and effort, team members can move up the ranks to lead a team. Or, with the help of case managers and employment specialists, they can move on to finding a paying job and obtaining affordable housing.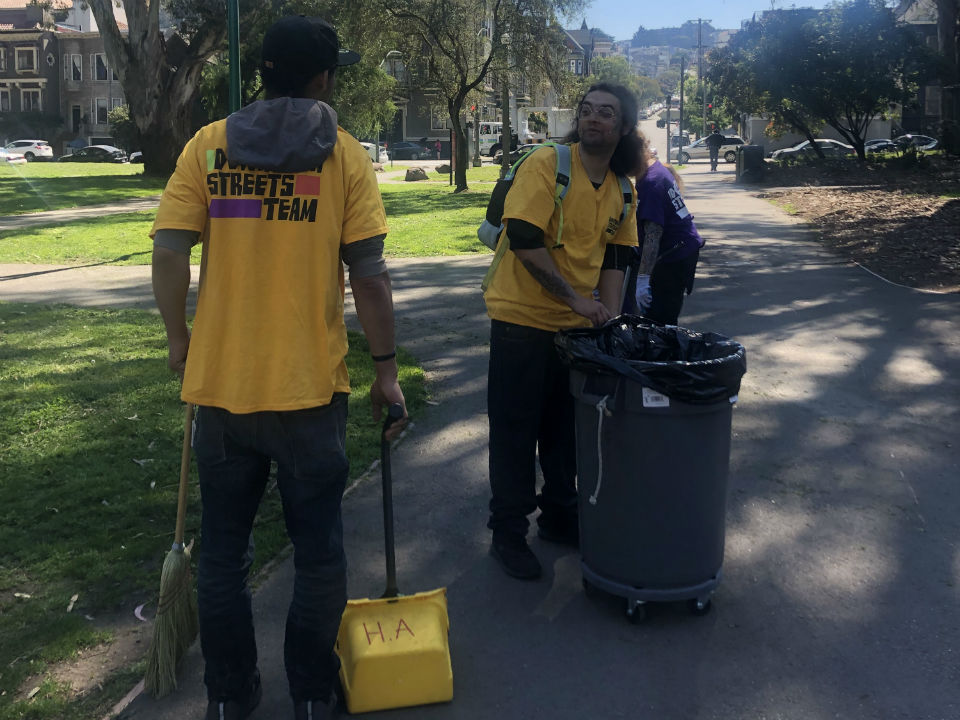 "We're just excited to be in Haight-Ashbury," said DST program manager Genevieve Lucas-Conwell.
She said the group was approached by District 5 Supervisor Vallie Brown to fill the gap in street-cleaning services left by the defunct youth nonprofit Taking It to the Streets.
"We feel that this is really the right time for us to be here," Lucas-Conwell said, "to foster youth and get them where they need to go."
DST currently has four team members in the Upper Haight, in partnership with the Homeless Youth Alliance, and with joint funding from the city and Larkin Street Youth Services.
"Right now we're just kind of slowly learning more about the community and the merchants, making sure we all know what's going on and how to help each other," Lucas-Conwell said. 
In the next six weeks or so, DST will add 10 more cleaning shifts to the Upper Haight and roll out dedicated team members to Cole Valley. They'll also have extra team members around to help during the 4/20 festivities in the Haight.
"We want people to be sustainable, or to find a way to be leaders in their own lives," Lucas-Conwell said. "If we can do that with our team members in the Haight, that'll be huge. It'll take a while to be there, but we're excited to see how it goes."
For those seeking assistance, Lucas-Conwell said that entry to Downtown Streets Team's program is low-threshold, with no government-issued ID required. Hopefuls are invited to attend the group's weekly Tuesday introductory meeting, held at 12:30 p.m. at their Mid-Market office, 65 9th St.