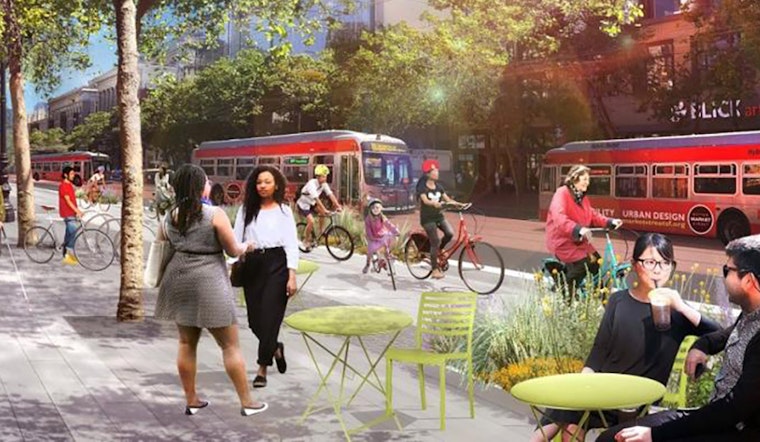 Published on March 12, 2019
The city's Better Market Street project is intended to improve safety and transportation quality on the 2.2-mile stretch of Market Street that runs from Steuart Street (near the Embarcadero) to Octavia Boulevard.
In order to move the project to its next phase, the Planning Department has now released a draft environmental impact report, with more insights into how the city plans to alter the streetscape on Market. 
As we previously reported, the Better Market Street plan would restrict all private automotive traffic on Market Street from Steuart Street to Van Ness Avenue (westbound) and 10th Street to Main Street (eastbound). That would include ride-hailing cars from services like Uber and Lyft. 
In place of private auto traffic, the plan proposes new sidewalk-level bikeways in each direction on Market, spaced between pedestrian walkways and centered transit stops and boarding islands.
Muni buses and F-Market streetcars would run in designated center lanes, and share outside lanes with taxis, paratransit vehicles and commercial loading vehicles.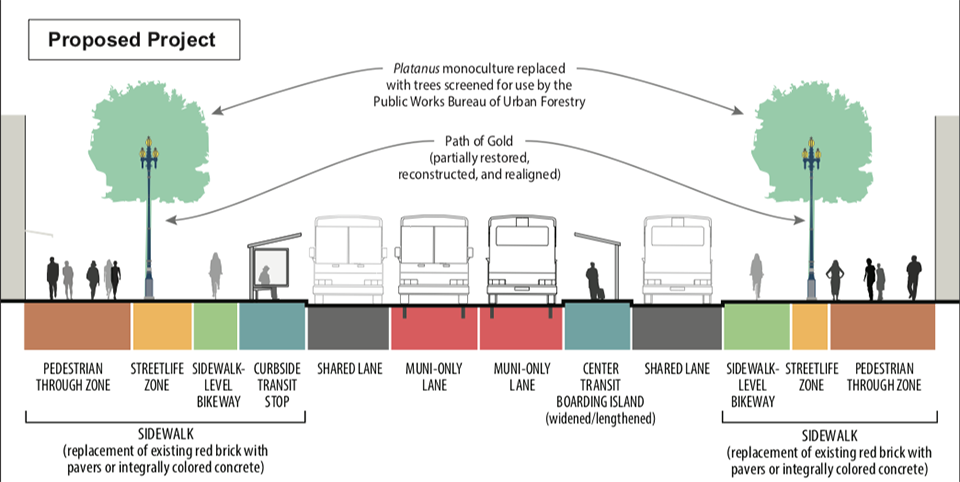 The plan also calls for a new F-Market loop to be installed in the Tenderloin, at McAllister Street and Charles J. Brenham Place, and for a street-level parking-protected bikeway to go in on Valencia Street between Market and McCoppin streets.
"This report provides both decision-makers and the general public with an objective analysis of the project's potential impacts on the environment, as well as a chance to make comments on those impacts," the SFMTA said in a blog post.
"The project team has heard from the community that the core needs include: improving transit, enhancing access for all, updating the public realm experience, prioritizing safety, and re-establishing a unique identity for our city's most iconic street," the blog post adds.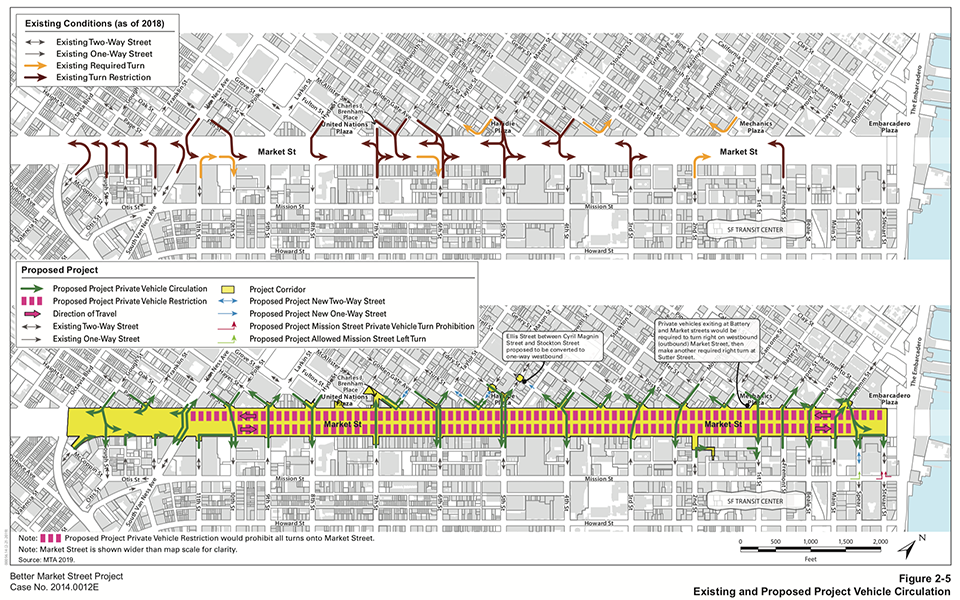 While SF Public Works is the project's sponsor, it's working in cooperation with the Planning Department and the San Francisco Municipal Transportation Agency (SFMTA).
The public is currently invited to share feedback on the draft report. Comments should focus on the environmental effects of the project, like impacts on air quality or noise levels in the area.
After the public comment period, the Planning Department will prepare a summary of all relevant comments on the draft report and the department's responses to those comments. If all goes to plan, construction on the project will kick off sometime next year.
---
Members of the public can submit comments via mail to SF Planning's Chris Thomas at 1650 Mission Street, Suite 400, San Francisco, CA 94103 or by sending an email to [email protected]. Comments will be accepted until April 15.
The Planning Department will host a hearing on the project on April 4 at 1 p.m. at City Hall, room 400.