San Francisco's beer and sausage lovers now have another option to enjoy a pint and a brat.
Indoor beer garden Willkommen (German for 'welcome') is now open at 2198 Market St. (at Sanchez St.) Owned by the team behind SoMa-based Black Hammer Brewing, it's taking over the largest of three ground-floor retail spaces beneath The Duboce, a residential apartment building.
Willkommen's opening comes after 15 months of navigating the planning, approval and construction process. According to a Budget & Legislative Analyst report released earlier this year, that's actually above-average; the planning and approval process for a new business in the Castro/Upper Market typically averages about 18 months.
One of the other spaces beneath the Duboce, which first opened in 2016, was recently taken over by laser hair removal spot SEV Laser. The other remains vacant. 
Black Hammer Brewing was founded in 2012 by Jim Furman, crafting small-batch ales and lagers using traditional techniques. Its original SoMa brewery and taproom opened in 2015, and last year, it opened Hammertime, a pop-up beer bar on Polk Street.
"We are thrilled to finally open the doors to the public with limited hours this week," Furman told Hoodline. "We are thankful for everyone's patience and interest."
Today and Thursday, Willkommen will be serving Black Hammer beers, local ciders, hard kombucha and a full food menu from 5-10 p.m. 
But the weekend is when things will really get going. The bar will host a grand opening party that night from 5-11 p.m., with the full food and drink menu available. Starting Saturday, Willkommen will be open at 11:30 a.m. for lunch, which it plans to offer seven days a week.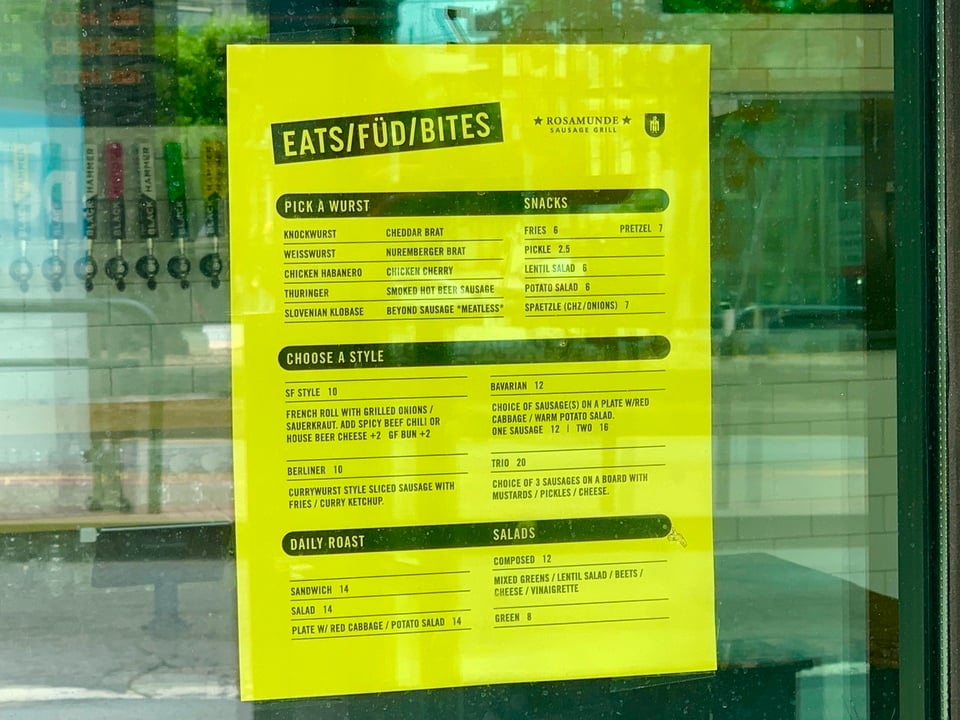 Willkommen has partnered with Mission and Lower Haight's Rosamunde Sausage Grill, offering a full selection of its sausages. Options include weisswurst, chicken habanero, smoked hot beer sausage and meatless Beyond Sausage, with toppings like grilled onions, sauerkraut or beer cheese. Gluten-free buns are also available.
In addition to sausages on a bun, diners can order them sliced and served with fries and curry ketchup, plated with warm cabbage and potato salad, or in a trio board with mustard, pickles and cheese. Other food options include soft pretzels, salads, and a "daily roast" served as a salad, sandwich or plate.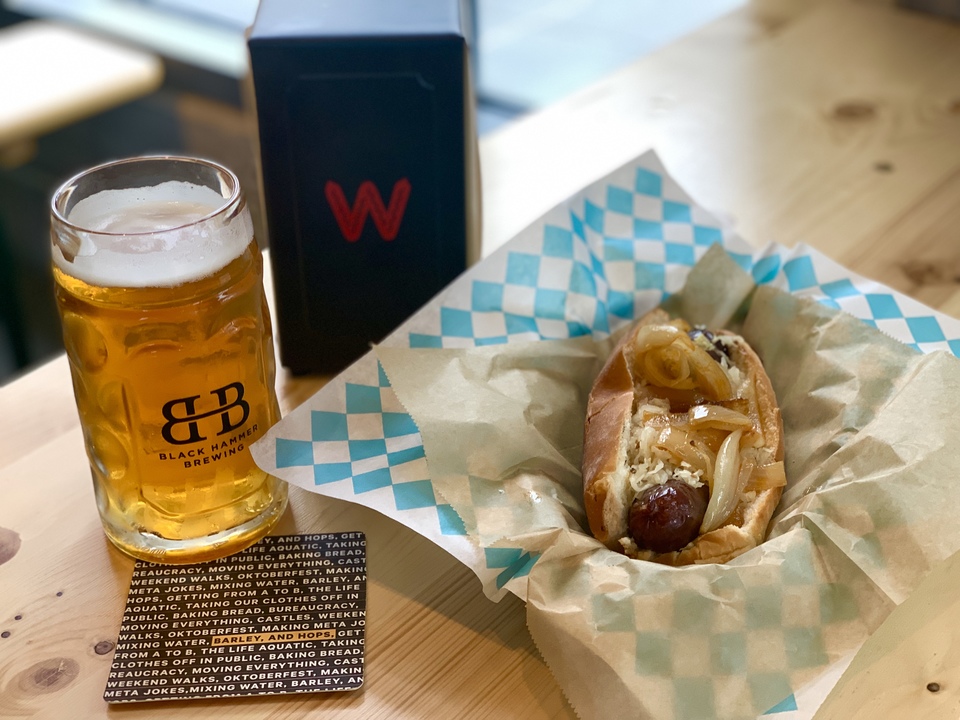 Black Hammer plans to offer a rotating selection of 10 of its beers on tap, alongside one or two guest taps. (All its beer will continue to be brewed in SoMa; there's no brewery on-site.) Gluten-reduced beers will also be available, as will two red and two white wines.
Customers will be able to order their food and drinks at the counter before heading over to the communal beer tables. The beer tables are made of reclaimed live-edge wood, imported directly from Germany.
To create an indoor "garden" vibe, Willkommen also features two 14-foot live redwood trees, a variety of smaller trees, and a living wall. In the coming weeks, it will also add outdoor seating on the Sanchez Street side of the business.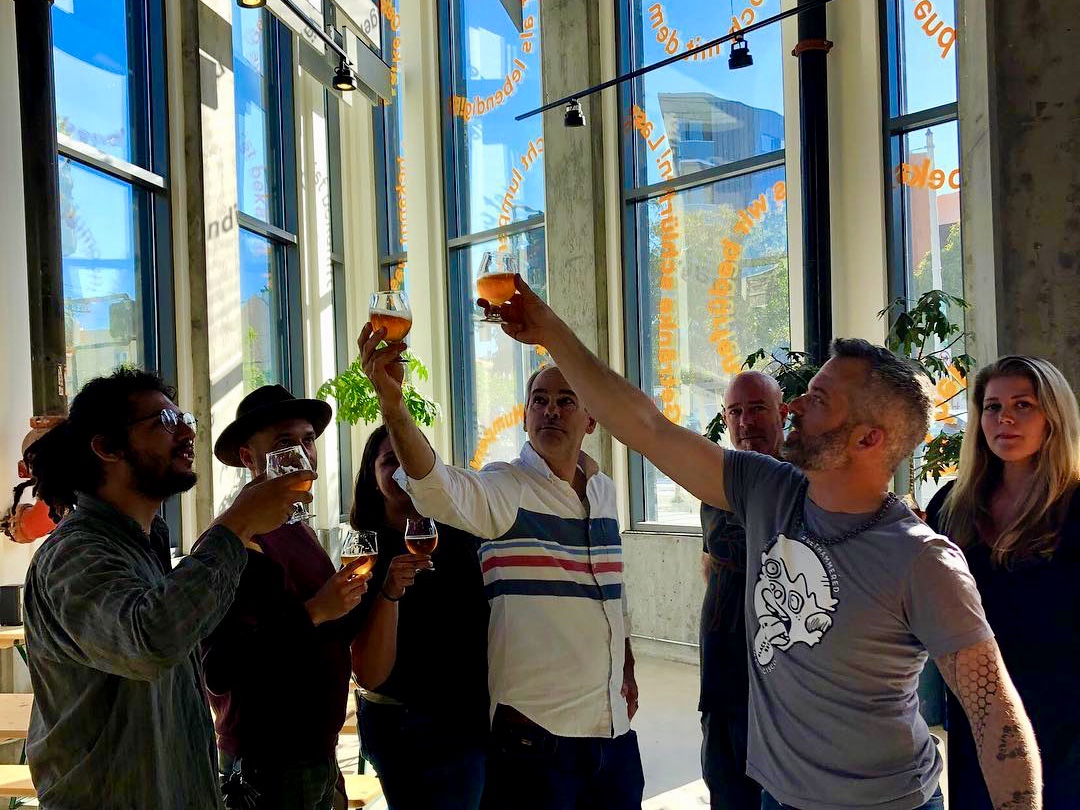 "We could not be more excited to be part of the Castro community," said Furman about opening in the Castro, which has struggled with multiple retail vacancies in recent years.
Furman invites everyone to stop by and check out the new bar. "Don't be shy; do your wurst," he said. Grab a beer and say hallo!"
You might even catch a glimpse of Growler — Black Hammer Brewing's famous bar dog.