After installing a three-block protected bikeway on Valencia Street from Market to 15th streets earlier this year, city agencies are keeping the momentum going. 
Last week, the San Francisco Municipal Transportation Agency (SFMTA) announced that it will add parking-protected bike lanes to eight more blocks of Valencia Street, covering the area between 19th Street and Cesar Chavez. 
While Valencia already has a bike lane, it is not protected from vehicle traffic with barriers. In order to avoid ride-hailing and delivery vehicles double-parked in the bike lane, cyclists along Valencia are often forced to navigate into traffic.
According to SFMTA data, 86 people were injured in traffic collisions on Valencia between 19th and Cesar Chavez in the past five years. Nearly half of those injuries stemmed from vehicle dooring and double-parking. 
"We heard through community outreach that people did not feel safe with the existing bike infrastructure, due to the constant loading and unloading of people and goods in the bike lane," agency representatives wrote in a blog post.
Yet the changes will not affect arguably the four busiest blocks of Valencia, from 15th to 19th streets. That drew criticism from bicycle advocates, who took to Twitter to express their displeasure. 
"Completing all of Valencia is still an absolute priority for us," the San Francisco Bicycle Coalition noted. "We will ensure that [the section between 15th and 19th streets] continues to move forward."
SFMTA spokesperson Erica Kato said that the agency remains committed to installing a protected bikeway between 15th and 19th streets as well. But that section "has unique challenges given its land uses and available roadway width, which will require additional outreach and engineering work," she said.
By comparison, the 19th to Cesar Chavez portion of Valencia has a similar roadway configuration to the Market to 15th section, allowing the agency to "[utilize] the lessons learned from the evaluation, work with the community and design and implement a protected bikeway in a year's time," she said.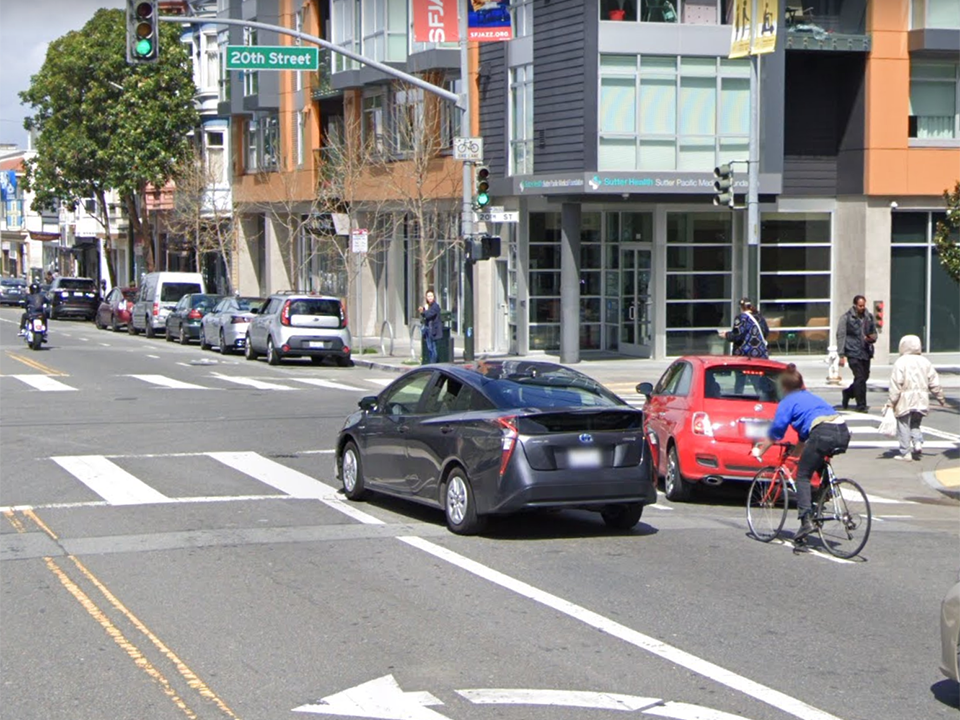 The new bike lanes on Valencia from 19th to Cesar Chavez are currently in the design phase, with implementation scheduled for spring 2020. 
In the meantime, one of the already protected bike intersections, at Valencia and Duboce, will be getting an upgrade this month to provide better signal separation between bicyclists and drivers making right turns.
The changes to the bike lanes are part of Vision Zero, the city's plan to eliminate all traffic deaths and reduce severe traffic-related injuries by 2024. 
Most of Valencia Street is part of the Vision Zero high-injury network, the 13 percent of streets in the city that account for 75 percent of severe and fatal traffic collisions. 
Mayor London Breed has been driving much of the push for new protected bike lanes under Vision Zero. Earlier this month, she said that she wants to add 20 miles of protected bike lanes to the city over the next two years.
Let's get it done! https://t.co/7hzgVLf239

— London Breed (@LondonBreed) May 24, 2019
Those interested in learning more about plans for the Valencia Street bike lane can sign up for SFMTA email updates.