This weekend, San Francisco Pride will take over downtown for two days of LGBTQ+ celebration, culminating in Sunday's big parade. 
This year's theme is described as "Generations of Resistance" — a nod to the 50th anniversary of the Stonewall Riots, as well as to the transgender San Franciscans who stood up to police brutality at Compton's Cafeteria in 1966.
Sunday's parade will kick off at 10:30 a.m., marching down Market Street from Beale to Eighth streets. The festivities conclude at Civic Center Plaza, which will be open to revelers from noon to 6 p.m. on Saturday and 11 a.m. to 6 p.m. on Sunday.
Over in the Mission, the Dyke March for women and nonbinary people will take place on Saturday from 5-6:30 p.m., with a pre-march rally from 11 a.m.-4:30 p.m.
With a planned crowd of 50,000 marchers and 100,000 spectators, locals should expect crowded public transportation, street closures and Muni reroutes. (For those who prefer to avoid large crowds, the parade will also be streamed live.)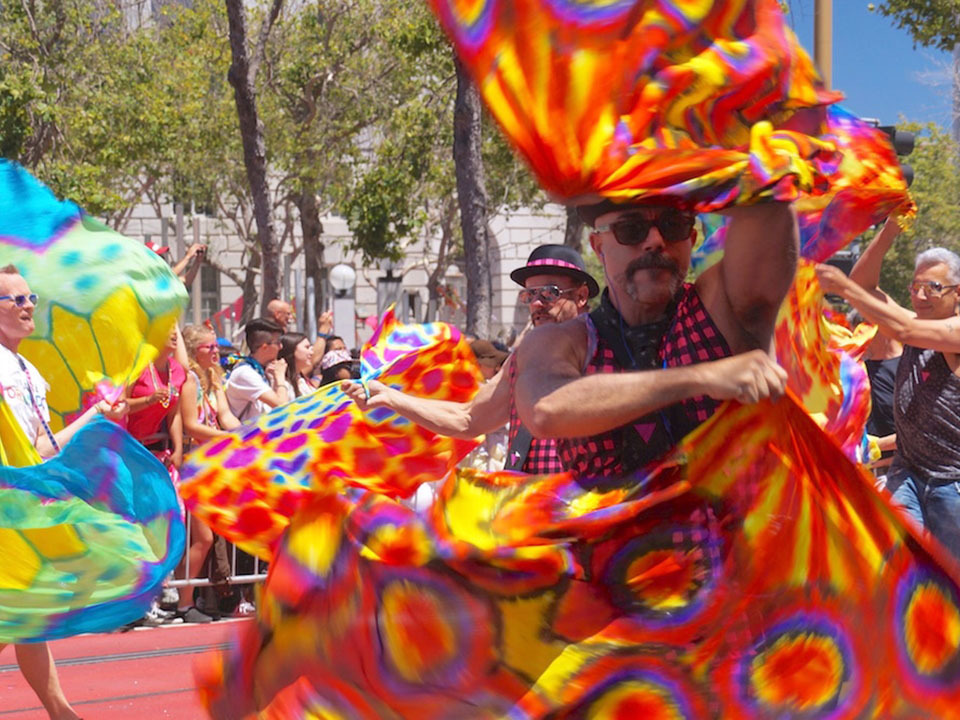 Organizers "strongly recommend" that attendees take public transport. The Embarcadero, Montgomery, Powell, and Civic Center Muni/BART stations are located along the route, with the latter also serving Civic Center Plaza. BART will provide longer trains to accommodate crowds. Bicycle valet parking is also available at McAllister and Hyde streets.
Pride is a smoke-free event, and alcohol is not allowed in Civic Center Plaza unless it's been purchased from one of the official beverage booths. On Sunday, the Castro Country Club Sober Stage will provide a drug and alcohol-free zone on UN Plaza. 
All attendees will also be subject to security screenings. Weapons, knives, drones, illegal drugs and portable speakers are prohibited.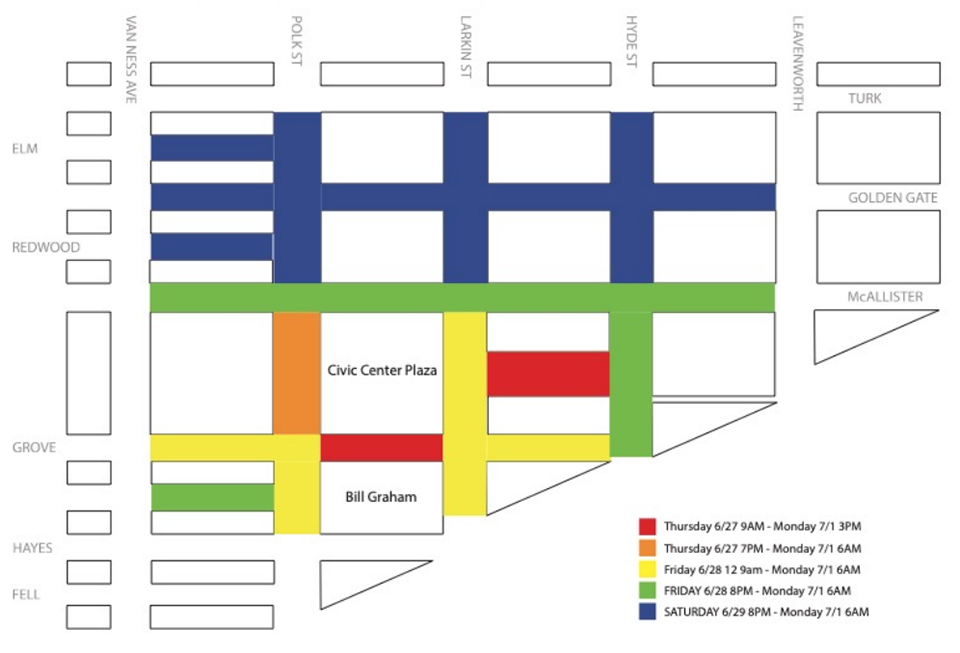 Pride will also cause a number of street closures around Civic Center Plaza, starting on Thursday at 9 a.m. Most streets in the area will reopen on Monday at 6 a.m., but some will stay closed until 3 p.m.
On Saturday, the Dyke March will shut down parts of 16th, Valencia, Market, Castro and 18th streets from 5-6:30 p.m. (Here's a map of the route.)
On Sunday, Market Street will be blocked off between Beale and Steuart streets from 6 a.m. to 5 p.m. for the parade, with staging areas for floats extending down to Folsom Street between Steuart and Fremont streets.
Some other streets around Market will also be closed. Here's a full list of all street closures.
Some buses — including the 5-Fulton, 6-Haight/Parnassus, 7-Haight/Noriega, 38-Geary and 30-Stockton lines — will also see reroutes or switchbacks on Sunday. 511.org will provide up-to-date travel alerts.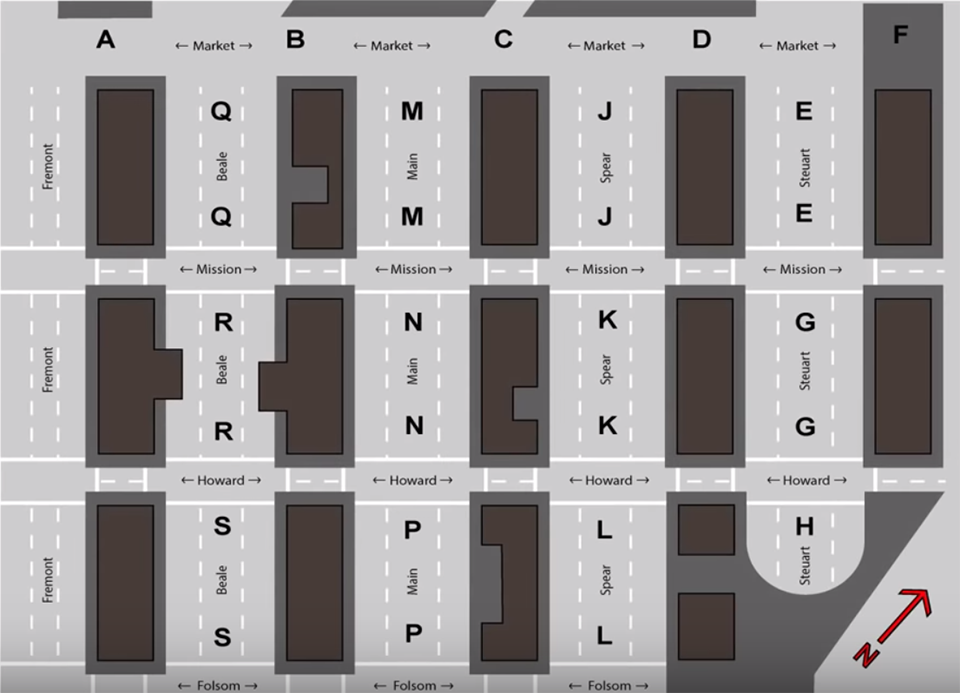 An information booth at Civic Center Plaza (at Fulton Street) will offer PocketPride guides, with a map showing the locations of stages and amenities.
First aid will be located inside the Bill Graham Civic Auditorium, accessible via the entrance at Grove and Polk streets, and at Hyde Street and Golden Gate Avenue (Sunday only). Attendees can also expect medical foot patrol teams roaming throughout the event.
Attendees should take care to stay hydrated, and ensure any valuables or personal items remain on their person at all times. Parade marchers should also bring plenty of water and snacks, as waiting times in the staging areas are expected to be long.