39-year-old Clovis resident Benjamin Dean was killed, and his wife critically injured, by a driver in a Tesla while standing in the crosswalk at Taylor and O'Farrell streets on Sunday afternoon, a few minutes past 2 p.m. 
SFPD Sargeant Frank Harrell told ABC7 that the driver was traveling about 15 to 20 miles per hour over the speed limit northbound on Taylor Street. He said video surveillance confirms the woman ran a red light, striking a Mini Cooper.
The Tesla driver then hit the two pedestrians in the crosswalk before spinning into an unattended parked SUV and landing on the sidewalk, Harrell said.
The driver of the Tesla, identified by police as 20-year-old Eleasia Fraise, was later arrested and charged with running a red light and misdemeanor involuntary vehicular manslaughter.
Fraise was also charged with driving without a licence. The Tesla was rented from car sharing site Getaround, which requires driver's license verification and also requires renters to be at least 25 to rent specialty cars like the Tesla allegedly involved in the incident. It's unclear whether Fraise was the renter of the car, according to SF Weekly.
Update: Correction –– Police identified 21 year-old Vallejo resident Kelsey Mariah Cambridge as the driver of the Tesla. Cambridge was arrested on one count of vehicular manslaughter and one count of running a red light.

SFPD says the driver of this Tesla ran a red light at O'Farrell @2pm. @SFPD says she was driving up Taylor 15-20MPH above the posted speed limit. Tesla hit the mini, then a couple in the crosswalk, then a parked SUV. Man was killed and his wife is critical - visiting from Clovis. pic.twitter.com/qLBx4LZSrP

— Kate Larsen (@KateABC7) July 22, 2019
"Another deadly crash in the Tenderloin," District 6 Supervisor Matt Haney wrote on Twitter. "We are in a state of emergency in the Tenderloin – we need slower speeds, more two-way streets, and greater enforcement," he added.
He also urged drivers to slow down and to follow the traffic laws.
Just last Thursday another pedestrian was killed while walking in the Tenderloin. He died after the driver of a semi-tractor pulling a flatbed trailer hit him at Eddy and Mason streets and dragged him for two blocks.
Last week's crash followed the death of 66-year-old Mark Swink, who was struck and killed by a Golden Gate Transit bus driver while in the crosswalk at the intersection of Hyde Street and Golden Gate Avenue in May. 58-year-old Janice Higashi was also killed in the Tenderloin this year when she was crossing the street at Leavenworth Street near Golden Gate Avenue at the beginning of March.
"We see this crash as part of an alarming trend in San Francisco," Walk San Francisco representatives said in a statement last week.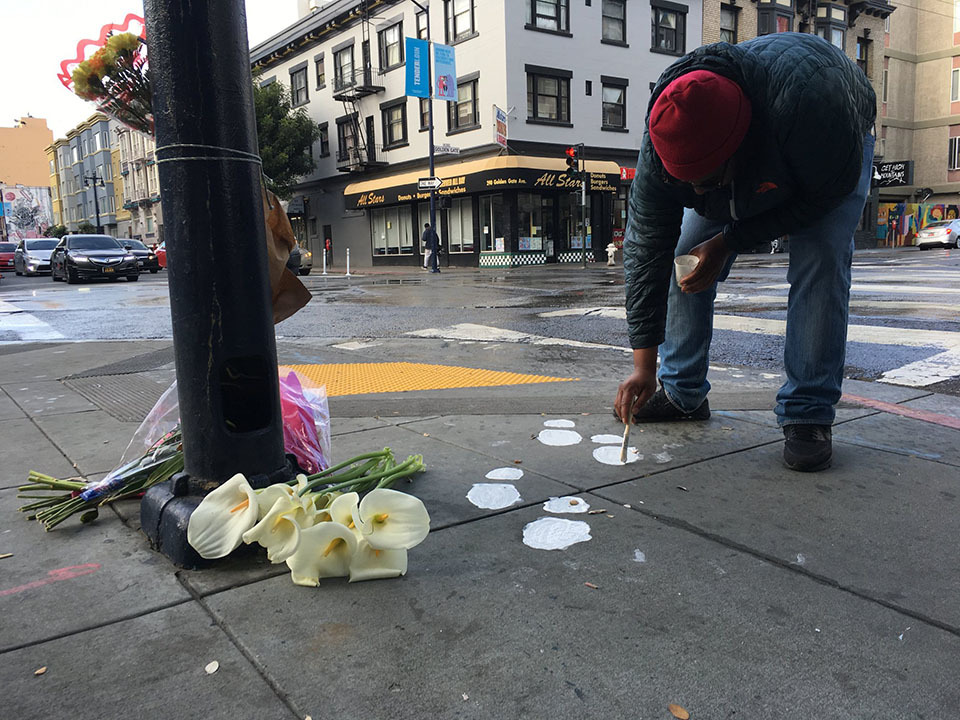 Supervisor Haney said on Sunday that he got a commitment from the Tenderloin SFPD station to double foot patrols in the neighborhood, but since foot patrols don't enforce traffic laws, "we [also] need other more direct strategies to ensure pedestrian and bike safety", Haney said.
According to the San Francisco Municipal Transportation Agency's website, 109 collisions occurred between 2011 to 2016 on the blocks of Taylor Street between Market and Sutter streets. 69 of them involved pedestrians and cyclists. This represents a disproportionately high collision rate relative to the rest of San Francisco, according to the website.
The city's Vision Zero plan, which aims to eliminate traffic fatalities by 2024, identifies the intersection of Taylor and O'Farrell streets a high-injury corridor.
The agency is currently in the design phase of the Safer Taylor Street plan, while some quick build changes were already installed in advance of the larger streetscape project, to improve "transportation safety and livability for all users of this corridor".
During a design open house this Thursday, at 4:30 p.m. at the Bayanihan Recreation Center (88 6th St.), SFMTA project teams will present various design elements including decorative crosswalks and street furnishings.
---
Anyone with information about the crash is asked to call the SFPD 24-hour tip line at 1-415-575-4444 or Text a Tip to TIP411 and begin the text message with SFPD. You may remain anonymous.