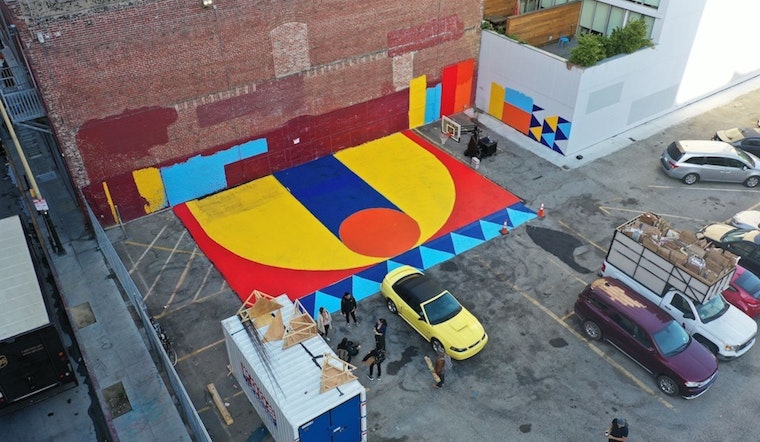 Published on September 13, 2019
After two and a half weeks of work by more than 75 neighborhood volunteers, a colorful new community basketball court opens tonight in SoMa.
UNDSCVRD Court was coordinated by Filipino heritage organization SOMA Pilipinas and nonprofit business accelerator Kultivate Labs, which run the monthly UNDSCVRD night markets on the same site as the court. 
The lot that houses the court, set behind the federal courthouse at Seventh and Mission streets, is eventually slated for a 100% affordable housing development for formerly homeless people.
In the meantime, the court will be in place for two months, with plans to close down on November 15 for the (hopefully) rainy season. UNDSCVRD expects to find a new home for its night markets in 2020, said spokesperson Paloma Concordia. 
The UNDSCVRD series, now in its third year, celebrates Filipino culture and heritage in San Francisco with live music, food and drink, and local vendors. Events occur every third Saturday from July to October. 
Zendesk, whose offices are two blocks away, invested $25,000 to fund the pop-up court. Those funds were matched by the city through a grant from the Mayor's Office of Economic and Workforce Development.
Volunteers on the project came from all walks of life, according to Concordia. Zendesk employees, homeless shelter residents, elderly neighbors, and even her own kids enthusiastically contributed to the effort, she said.
Though UNDSCVRD Court will open tonight, there is still some work to be done, Concordia said.
The site's custom furniture is still under construction, and there's a bit more painting needed on the site's mural.
The court's grand opening will include speeches from District 6 Supervisor Matt Haney, Kultivate Labs executive director Desi Danganan, and representatives from the Mayor's Office of Economic and Workforce Development and Camo Design, an architecture firm supporting the project.
The court will be open to the general public from 10 a.m. until 3 p.m. Monday through Friday, with league play at set times. There are already five three-on-three teams signed up to play at the court on Friday, Concordia said.
Tonight's launch event, from 5-9 p.m., will include music from DJ Oui Boogie. It's free to attend, and food from Ma Sarap and drinks from Lady Victory will be available for purchase. Visitors can mingle on the court from 5-6:30 p.m., making room for league play through the end of the evening. 
The court will also be open for UNDSCVRD's night market next Saturday, September 21 from 4-10 p.m. The event will feature LA-based musician and DJ SOSUPERSAM, and ube-themed food specials.
When construction starts in 2020, the lot will become 105 studios for formerly homeless seniors, 153 units of permanently affordable supportive housing studios for formerly homeless adults, and two studios for on-site staff. The building is also expected to provide on-site medical care, with a roughly 20,000-square-foot medical facility.