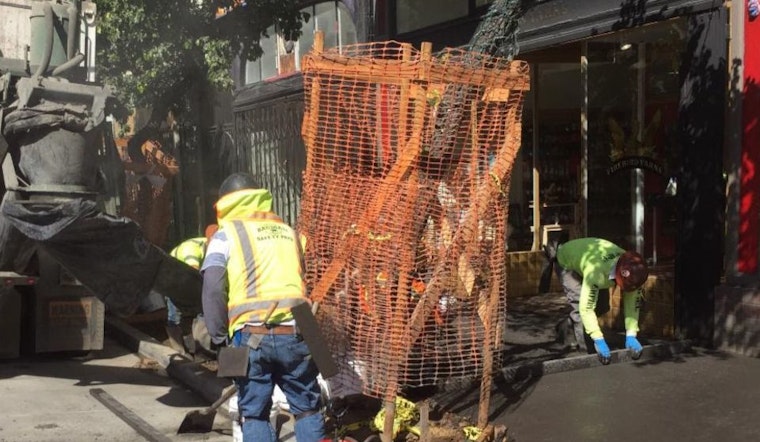 Published on September 17, 2019
We're now three months into the second major phase of the Upper Haight's transit improvement and pedestrian realm project, and it's time for a progress update.
Phase two of the project is focused on street surfaces and related work, including new sidewalks, street lights, traffic semaphores, plantings, trees and bulb-outs. It's currently underway at two different work zones in the Upper Haight.
The first zone, the 1300 block of Haight between Central and Masonic, is undergoing the demolition and repouring of its concrete sidewalks, about 70 feet at a time. The new sidewalks will include traffic bulb-outs and have a sparkle finish. 
Until the concrete is cured and cleaned (a three-day process), Public Works has installed pedestrian bridges to ensure access to businesses on the block. 
Fire hydrant collars are currently being replaced on the north side of the block, near Magnolia Brewing (1398 Haight). Sidewalk replacement will resume on the south side of the 1300 block starting Monday, September 23.
At the other end of Haight, at the Stanyan and Shrader intersections, Public Works is conducting underground work to add new traffic signals, and settng the foundations for new light poles. This work is currently facing a bit of a delay, due to complications with other nearby underground utilities.
We'll continue to keep you posted on the latest in Upper Haight construction. If you've got questions about the project, or spot an issue, text us at (415) 200-3233, and we'll investigate.