More than five years after it was first proposed, the demolition of the long-vacant Hollywood Billiards building at Sixth and Market streets is finally underway, to make room for a major new development. 
The proposal to tear down the 33,000 square-foot, two-story building at 1028 Market St. was first filed in February 2014. In its place will rise a 13-story, 120-foot tall building with 186 units, 25 of them below-market-rate. 
The building will offer 70 studio units, 47 one-bedroom units, 57 two-bedroom units and 12 three-bedroom units, as well as parking for 44 cars and 140 bicycles. It will also have a 8,200-square-foot retail space on the ground floor, and a 7,300-square-foot roof garden for residents.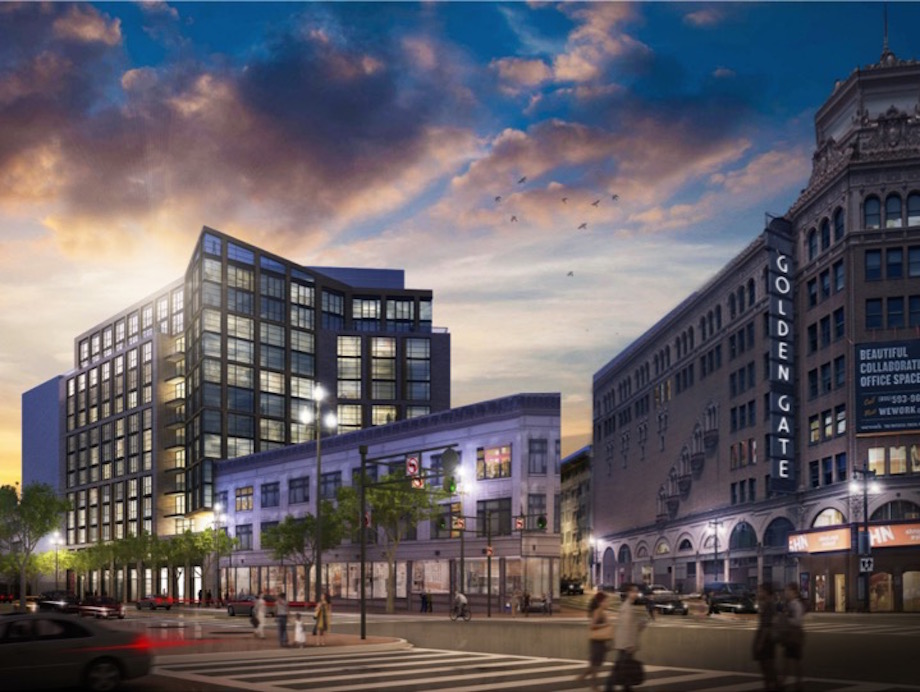 The existing structure, built in 1907, was full of history: it's said to have housed one of the first LGBTQ-friendly night clubs in the city. Its last permanent tenant, Hollywood Billiards, shuttered in 2003 after an alleged murder on the site. 
As the new development underwent the lengthy city approval process, developer Tidewater Capital worked with War Horse LLC to transform the long-unused building into The Hall, a temporary food hall that served as a launchpad for new eateries and small local vendors.
The Hall first opened to the public in November 2014, closing in October 2017 for what was supposed to be an imminent demolition.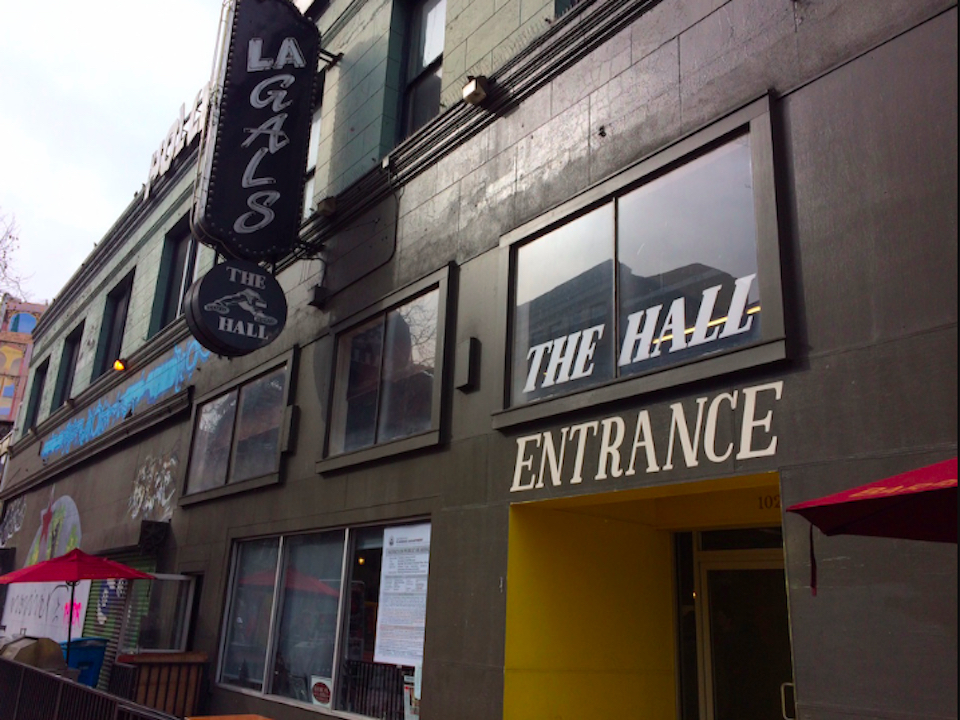 The building was briefly transformed into a graffiti studio, letting paying customers tag it.
But it's sat vacant ever since, and it's still unclear why it took developers nearly two years to finally demolish the building. 
This March, Zendesk partnered with the Mayor's Office of Economic and Workforce Development (OEWD) to bring food vendors back to the site, in the hopes of re-energizing the block and providing a replacement lunchtime option to employees of Zendesk and other Mid-Market businesses. 
Vendors from culinary incubator La Cocina, many of whom were featured at The Hall before it shut down, visited the site three times a week to sell lunch from trucks parked outside the soon-to-be-demolished building. 
We contacted Zendesk and the OEWD for an update on the food truck effort, but haven't heard whether it will be continued during construction at the site.
La Cocina is currently working to launch a new food hall in the nearby Post Office building at 101 Hyde St., which will also be demolished in 2025 for an affordable housing development. The food hall is likely to open sometime next year. 
The demolition will also spell the end of the mural tribute to Robin Williams that Argentine artist Andres Iglesias (a.k.a. Cobre) painted on the building's exterior in 2018. 
The mural, inspired by a 2011 Peter Hapak photograph of Williams' eyes, was intended as a tribute to the late actor, who began his career in San Francisco comedy clubs and owned a home in Seacliff. Williams died by suicide in 2014 after being diagnosed with Lewy body dementia, a progressive disease that affects thinking, behavior and mood. 
Iglesias told SFGate that he's not concerned about the mural's destruction. "I get it. This kind of art isn't meant to last," he said. "Street art is meant to be there for a couple of years. It had a pretty good run."