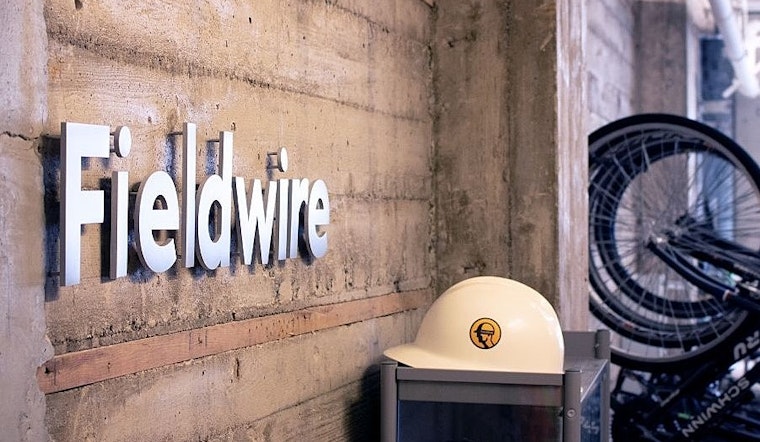 Published on October 07, 2019
San Francisco-based project-management company Fieldwire has secured $33 million in Series C funding, according to company database Crunchbase, topping the city's recent funding headlines. The cash infusion was announced on Sept. 16 and led by Menlo Ventures.
According to its Crunchbase profile, "Fieldwire is the field-management platform construction pros count on to easily manage the jobsite. Construction companies of all sizes use Fieldwire to power clear communication on over 500,000 projects worldwide. With its easy-to-use mobile application, Fieldwire saves each user one hour every day by enabling more efficient information sharing onsite."
The seven-year-old company has raised five previous funding rounds, including a Series B round in 2018.
The round brings total funding raised by San Francisco companies in mobile over the past month to $160 million, an increase of $77 million from the month before. The local mobile industry has seen 154 funding rounds over the past year, securing a total of $5.8 billion in venture funding.
In other local funding news, autonomous vehicles and industrial automation company Built Robotics announced a $33 million Series B funding round on Sept. 19, led by Next47.
According to Crunchbase, "Built Robotics is an industrial-automation company that designs to make autonomous construction equipment. They also allow one equipment operator to oversee a fleet of vehicles working autonomously in parallel. It combines sensors such as GPS, cameras and lidar with advanced software, and the systems can be installed on standard equipment from any manufacturer."
The company also raised a $15 million Series A round in 2017.
Meanwhile, beauty company Booksy raised $28 million in Series B funding, announced on Sept. 26. The round's investors were led by Piton Capital.
From the company's Crunchbase profile, "Booksy is a beauty marketplace for finding, scheduling and managing appointments, anchored by a SaaS App for business management. It creates a convenient and easy connection between customers and their health and beauty providers while utilizing everyone's favorite can't-live-without accessory — their cell phone. Booksy empowers business owners to digitally manage their appointments, client database and ultimately precious time while allowing for optimal client satisfaction by granting access to their always up-to-date appointment books any time day or night."
Booksy last raised $13 million in Series B funding in 2018.
Also of note, payments company Digit raised $27 million in Series C funding, announced on Sept. 30 and led by General Catalyst.
From Crunchbase, "Digit is a finance app that analyzes your spending habits and automatically saves the perfect amount every day. The platform automates the day-to-day work of managing money so you don't have to think about it. They help eliminate the stress and anxiety people feel about their finances while helping them build a proven foundation for the future they're trying to achieve."
The company previously raised $22 million in Series B funding in 2016.
Rounding out the city's recent top local funding events, shipping company Deliverr raised $23 million in Series B funding, announced on September 24.
From Crunchbase, "Deliverr provides shipping services for e-commerce businesses. It helps the online marketplace to meet shipping standards, avoiding late-shipment penalties for orders. The company is driven by a mission to enable any seller, regardless of size, to delight its customers with fast and cost-effective fulfillment."
The company previously raised $7.1 million in Series A funding in 2018.
---
This story was created automatically using local investment data, then reviewed by an editor. Click here for more about what we're doing. Got thoughts? Go here to share your feedback.