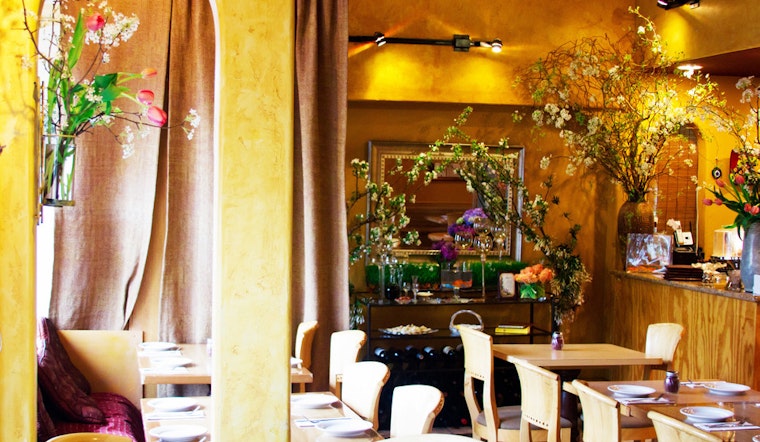 Published on November 01, 2019
After a nearly two-year closure due to a fire, family-owned Persian restaurant Lavash is almost ready to re-open at 511 Irving St. 
Tablehopper first announced the news about the restaurant's return; for more details, we caught up with Kaivon Talai, who helps his parents Saeed and Nazila run the business, along with his younger brothers Kian and Kamron. 
Kaivon said that Lavash should re-open around the second week of November, but he doesn't have an exact date yet.
His parents, Saeed and Nazila, have close ties to the neighborhood, having run businesses there for more than 30 years. Kaivon said that Saeed is often referred to as "the mayor of Irving Street" by his neighbors. 
Saeed and Nazila first came to the United States from Iran in the late '70s. They made a living selling flowers out of buckets at Irving St. and Seventh Ave., which eventually led to opening a flower shop.
In 1990, the couple opened an award-winning taqueria, L'Avenida, in the neighborhood. After it closed, Lavash, their first sit-down restaurant, arrived in 2008.
Specializing in the Talais' native Persian food, Lavash was always filled with fresh flowers, a nod to the couple's roots in the U.S. Kaivon said his parents wanted diners to feel like they were eating at a family member's house.
"My parents created a second home for us, and they invited the neighborhood into our second home, and that's what made it special," he said.
When the fire broke out in January 2018, the Talais didn't even realize it was happening at first; it occurred in the walls, where no one could see it. Thankfully, no one was injured, but the restaurant's interior was destroyed by the efforts firefighters undertook to extinguish the blaze.
For the past two years, the family has been hard at work rebuilding a major portion of the interior from scratch, including a complete remodel of the kitchen. That meant going through the city's inspection process all over again, which Kaivon said was both time-consuming and expensive.
"We put our own blood, sweat and tears into this," he said, crediting his mother, Nazila as the one who keeps the family together and strong.
In the past few weeks, the entire Talai family has returned to Lavash to paint it and get it ready. Kaivon said that dozens of neighbors have been stopping by to ask when they will re-open.
"People just walking by will yell out, 'We can't wait for you to reopen!'" he said. "It's nice to see the support from our neighbors, and we love them."
As far as the menu, it will essentially stay the same, but Kaivon said that there might be some updates and surprises from the kitchen.
Diners can still expect to see favorite dishes like koobideh (skewers of mixed ground beef and lamb), jeweled rice, and fesenjan (chicken with a ground walnut and sour-sweet pomegranate sauce).
Once it reopens, Lavash will start with dinner and delivery service, but the family hopes to soon open for lunch, too.
In the meantime, fans can follow Lavash's progress on Facebook, where Kaivon said people reach out daily to ask when they'll be back.