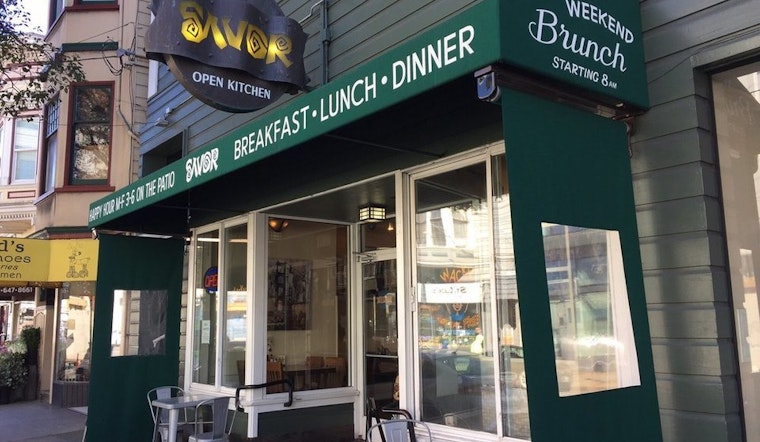 Published on January 15, 2020
Noe Valley's Savor Open Kitchen has closed, after almost two decades of business at 3913 24th St. Tipster Tommy B. alerted us to the closure.
The neighborhood eatery was best known for its crêpes and other brunch items, but also served lunch and dinner, with particular attention to kids' offerings. Its shaded patio was popular with diners in the warmer months.
Owner Charlie Sirhed took over Savor in 2017, in an attempt to stabilize what he said was a "struggling business."
Many guests had requested that Savor switch back from counter service to table service, Sirhed said, so he complied. But hiring more employees meant higher costs, and combined with the cost of remodeling the patio and refreshing the interior, he wasn't able to keep up. 
To draw more customers, Sirhed added lunch specials, happy hour on weeknights and "Wacky Wednesday," where kids eat and drink for free. Unfortunately, he said, business didn't improve.
"We enjoyed serving our regulars; we did everything we can to keep the beloved Savor open," he said. "But [we] had to make the difficult decision."
The eatery's closure comes immediately in the wake of the closure of Noe's Cantina, another family-friendly business in the neighborhood that shuttered on December 31. Its building, owned by the Basso family for 40 years, has been sold.
Savor's next-door neighbor and fellow breakfast spot, Toast, also closed in September (though it's still operating its location at 1748 Church St.)
We'll keep you posted on what might be next for Savor's space. 
---
Thanks to tipster Tommy B. See something interesting while you're out and about? Text Hoodline and we'll try to find out what's going on: (415) 200-3233.