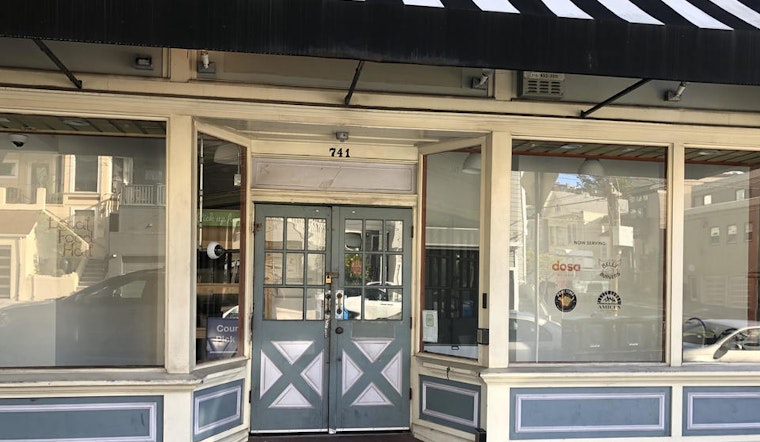 Published on January 16, 2020
Here's the latest in SF Eats. In this edition, Noe Valley gets a "ghost kitchen," the team behind Oakland's popular Millennium plots a plant-based Mission eatery, and a bakery appears to be headed to Divisadero. 
Openings
Noe Valley
Local Food Hall (741 Diamond St.)
A new "ghost kitchen" has debuted in Noe Valley's former Pasta Gina space, which shuttered in 2017.
Called Local Food Hall, the kitchen focuses entirely on delivery from four SF-based eateries: Indian spot Dosa by Dosa, pork-belly burger eatery Belly Burgers, poke spot Poki Time and Amici's Pizza. (It has two more locations at 2268 Chestnut St. and 2404 California St., which, according to Grubhub listings, deliver food from Belly Burgers, Dosa by Dosa, Poki Time and Smitten Ice Cream.)
With delivery apps proliferating as San Francisco's population of brick-and-mortar restaurants dwindles, "ghost kitchens" have become increasingly popular in the city. As the New York Times reported last year, these "virtual restaurants" take over for closed ones, devoting themselves to cooking food exclusively for Uber Eats, Caviar, Doordash and other delivery apps. 
The restaurants at Local Food Hall are no exception. Dosa closed its flagship location in the Mission last September. Amici's shuttered a location near Oracle Park in August, moving its delivery operations to another "ghost kitchen" in SoMa. Belly Burgers also had a SoMa brick-and-mortar, which closed at the beginning of 2018. 
This week, we also broke the news about the closure of Noe's Cantina and Savor in Noe Valley. 
Mission
Above Ground (2170 Mission St.)
Tipster Andrew D. has informed us that a new restaurant and brewery, Above Ground, will debut next month in the former Southpaw BBQ space at 2170 Mission St. (and 18th).
The new eatery comes from executive chef Eric Tucker and general manager Alison Bagby, who are behind vegan restaurant Millennium. First opened in 1994, Millennium had a cult following in San Francisco, but after two decades, it lost its lease in the city, moving across the Bay to Oakland's Rockridge neighborhood in 2015.
Bagby confirmed the move, but declined to share further details on the restaurant. However, from its Instagram posts, it appears it will be a craft brewery serving "beer-friendly chow" like plant-based pizza, sandwiches, bar snacks and small plates. Like Millennium, it will have an emphasis on locally grown vegetables, and a deemphasis on fake meats.
It'll also have a logo designed by local artist Jeremy Fish:
Above Ground is expected to open in February. Follow the business on Instagram for updates.
Divisadero/NoPa
Heart of Gold (777 Divisadero St.)
Andrew D. also informed us that a bakery will move into Divisadero's former Heart of Gold space, which opened in 2015 (but has since closed). 
A change of use permit filed with SF Planning calls for converting the ground floor of the three-story space from retail to a limited restaurant, retaining housing on the upper two floors.
It specifically mentions that the new business will be a bakery, with plans for a new kitchen, new counter, new restroom, and new finishes and fixtures throughout.
The applicant listed on the project is Tan Truong. We've reached out for more details, but have not heard back.
---
Thanks to tipster Andrew D. If you've seen something new (or closing) in the neighborhood, text your tips and photos to (415) 200-3233, or email [email protected]. If we use your info in a story, we'll give you credit.