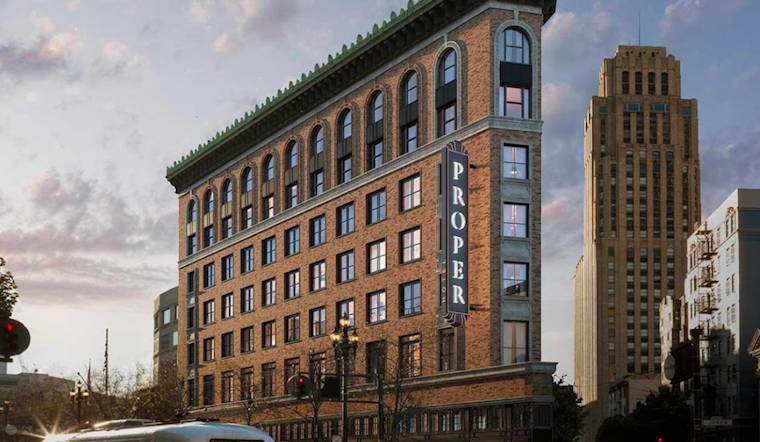 Published on February 12, 2020
The luxury Proper Hotel (1100 Market St., between Leavenworth and Jones) has a new tenant: the SFPD, which is opening a "foot beat" office there to increase their presence in Mid-Market. 
The new office offers space for the public to file police reports and for SFPD to "strategically deploy foot beats through the Mid-Market corridor," according to David Stevenson, the department's director of strategic communications.
The office has been open from 7 a.m. to 8 p.m. daily since February 3, and Mayor London Breed and Police Chief Bill Scott hosted a press conference there yesterday to raise awareness of it.
While it is technically located in the Tenderloin Station's jurisdiction, the new office is not a substation of that station or any other. Instead, it is an expansion of an effort launched last year to increase police presence in the Mid-Market corridor, and especially in UN Plaza, where open drug sales and crime are common.
About 30 foot-beat officers from the Northern, Southern, Tenderloin, and Central stations will cycle through the office each day. They'll be joined by SFMTA parking and transit officers, along with the Honda Unit, which deploys on motorcycles.
During the start of each shift, the assigned officers will be brought up to speed about any "hot spots" in the neighboring districts, and work to address ongoing community complaints. 
The existing mobile police unit that has been staged at UN Plaza will stay in place. The new office will also allow the department to scale up its presence in response to conventions or other large gatherings in the area, Stevenson said. 
SFPD has a one-year lease on the space, which started in December. The formerly raw space has been equipped with floors and a fresh coat of paint, and new decals on the doors will be visible to the public when the office is open. 
The department has increased the number of officers assigned to foot beat patrols over the past several years, to positive effect.  A 2018 study by UC Berkeley researchers suggests that assaults and thefts declined in the period following SFPD's first major redeployment of foot beat officers in 2017. 
However, not everyone agrees that more policing is the answer. A new Tenderloin merchants association, launched late last year, aims to decrease reliance on the police, while ensuring business owners stay safe and unhoused neighbors have more access to city services and shelters. 
To accomplish this goal, the merchants association hopes to promote communication between merchants, city service providers, the police, and local policymakers.
Stevenson said that SFPD is already planning to hold community and merchant meetings to collaborate on the changes needed to make Mid-Market safer.