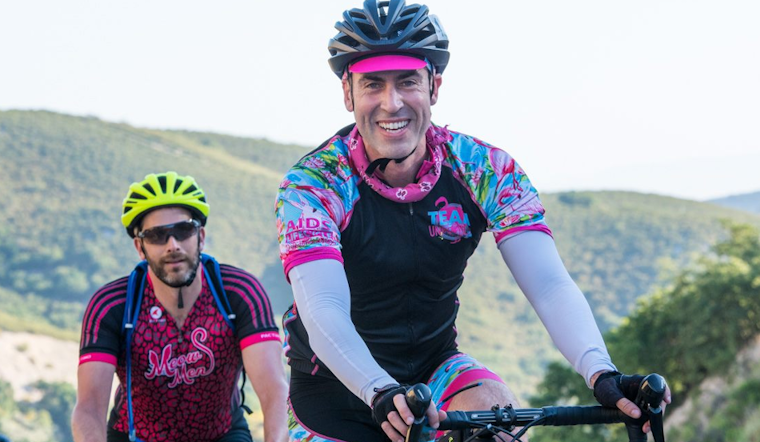 Published on March 23, 2020
AIDS/LifeCycle will not return this year due to COVID-19 concerns, halting the annual fundraiser for HIV/AIDS service providers for the first time since it began in 1994.
The cancellation, which came in an announcement last week, has been emotionally "devastating," according to several sources who spoke to Hoodline. It may also be a major blow to fundraising efforts for HIV/AIDS services — the event brought in $16.8 million in 2019, $16.6 million in 2018, and $15.4 million in 2017.
"Our hearts are all broken," Tracy Evans, ride director for AIDS/LifeCycle, told Hoodline by phone. "We're looking forward to getting back to having the seven days we all know and love."
Those days were slated to take place May 31 to June 6, with thousands of participants signed up to ride or assist those embarking on the 545-mile trek from Daly City to Los Angeles.
The event is as much a fundraiser as it is a community-oriented party, with rest stops along the route for everyone to connect, rejuvenate, camp, and dance.
"We're a moving city," said Erick Lopez, captain of Rest Stop 4, the last spot riders stop at every day before setting up camp for the night. Lopez's stop in particular is known for its commitment to costumes and themes. "Sometimes we call it our own mini Disneyland," he said.
Lopez is a longtime bartender of The Edge in Castro. He said the death of well-known drag queen Cookie Dough in 2015 inspired him to step up his community involvement.
Of the cancellation, he noted, "I don't think it's quite hit me yet. I'm making sure everybody around me is okay first. Once I do that, I know it's going to hit me all at once."
Others feel similarly shocked.                                                                   
"I'm totally freaked out about what this is going to mean," said John Pacheco, a San Francisco-based participant who has been involved with the fundraiser for seven years. He expressed some anxiety about how local HIV/AIDS services could be affected without the significant money AIDS/LifeCycle raises.
"Is it the case that people in the community are going to suffer more than they otherwise would?" he asked.
The answer is unclear, Evans said.
"I wish we had a crystal ball," she said. "Right now, we continue to move forward, and with that, our need to stay committed to the mission and fundraising is as important as ever."
That means fundraising won't stop. Right now, the organization has raised about $6 million, and participants' pages will remain open for more donations during the 2020 season. AIDS/LifeCycle planned a virtual town hall for Monday, March 23 at 5 p.m., including a planned Q&A for concerned members to voice their concerns.
Many participants are mourning the cancellation of the event.
New rider Eric Kampling, who grew up in Wichita, Kansas, said the event helped him overcome the stigma against HIV and learn more about the LGBTQ+ community generally.
"I feel like the stigmas around HIV kept me closeted longer than I would have liked to be," he said, adding, "I've experienced the harm HIV stigma has had on the gay community, I feel that's going to happen for Chinese people."
This would have been Kampling's second year riding, he said, noting he "cried almost every day" during LifeCycle last year.
"It was not common to be told I'm a hero or that I'm doing something really important," he said. "The support that came out and people that came to cheer on the riders — they were so loving."
Jeremiah Mayfield planned to ride for the first time this year to support HIV-positive friends and as a milestone for his 40th birthday. Like others, he was "devastated" by the news.
"Just kinda crushed. I was so looking forward to doing it," he said.
Mayfield had already raised the majority of his $5,000 goal, reaching $4,800, when the news came that the event was canceled.
"There's just this disappointment that all these people put in money for the charity. The disappointment of letting those people down," Mayfield said.
Evans, an Oakland resident and participant in the event for four years, hopes everyone remains positive, and said he believes that "AIDS/LifeCycle 2021 will be the best."
"The event is so much bigger than the sum of the parts. Our connections — we're working on how we can all get reconnected in different ways."
As for services and how they might be affected: they divvy up proceeds raised between the Los Angeles LGBT Center and SF AIDS Foundation. SF AIDS Foundation senior marketing director Andrew Hattori told Hoodline the organization will "find a way."
"SF AIDS Foundation is a 38-year-old organization. Its history has not always been smooth. But it always found a way to continue its services," he said.
In the wake of the COVID-19 shelter-in-place orders and ensuing closures, the foundation has closed its location on 1035 Market St. and stopped operating its mobile testing unit. Hours have changed at its 470 Castro St. location, which is no longer seeing walk-ins.
For an entire list of changes at Strut and related services provided by the SF AIDS Foundation, visit its COVID-19 page.