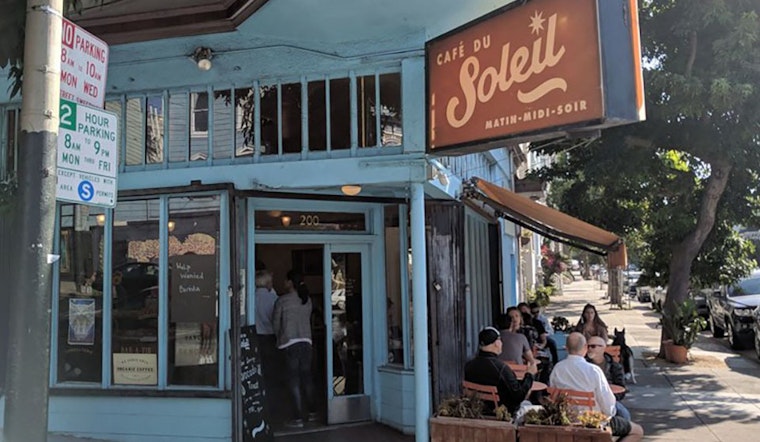 Published on April 03, 2020
Earlier this week, several Hoodline tipsters alerted us that the longstanding Café du Soleil at 200 Fillmore St. (and Waller) has closed its doors permanently.
"It's heartbreaking," Chris B. wrote, adding that "they have been a Lower Haight neighborhood jewel and one of the sweetest cafés in town for many years."
While the cafe — known for its pastries, open-faced sandwiches, sidewalk seating and live music — was already closed due to the shelter-in-place order for the COVID-19 pandemic, it now appears that it won't return.
The cafe's owner, Mustapha Hakkou, says that his lease was up at the end of March, and attempts to negotiate a new lease with property owner and manager Irene Cheung were unsuccessful. He's heartbroken about the closure.
"It's not just a restaurant," he said. "It's an institution."
In an email viewed by Hoodline, Hakkou asked Cheung to lower the cafe's rent from the current $9,260 per month to $3,000 per month until the end of June, because of the COVID-19 crisis.
He then proposed gradually increasing the rent to $4,500 through October 1 and $6,000 through December 31, topping out at $7,000 per month in January 2020. After that, he'd pay an additional $250 per month with each passing year, concluding the lease in March 2025 at $8,000 per month. 
"I understand that this is less than you hoped," he told Cheung. "But I cannot afford to pay as much as I did in the past, and need time for the business to come back."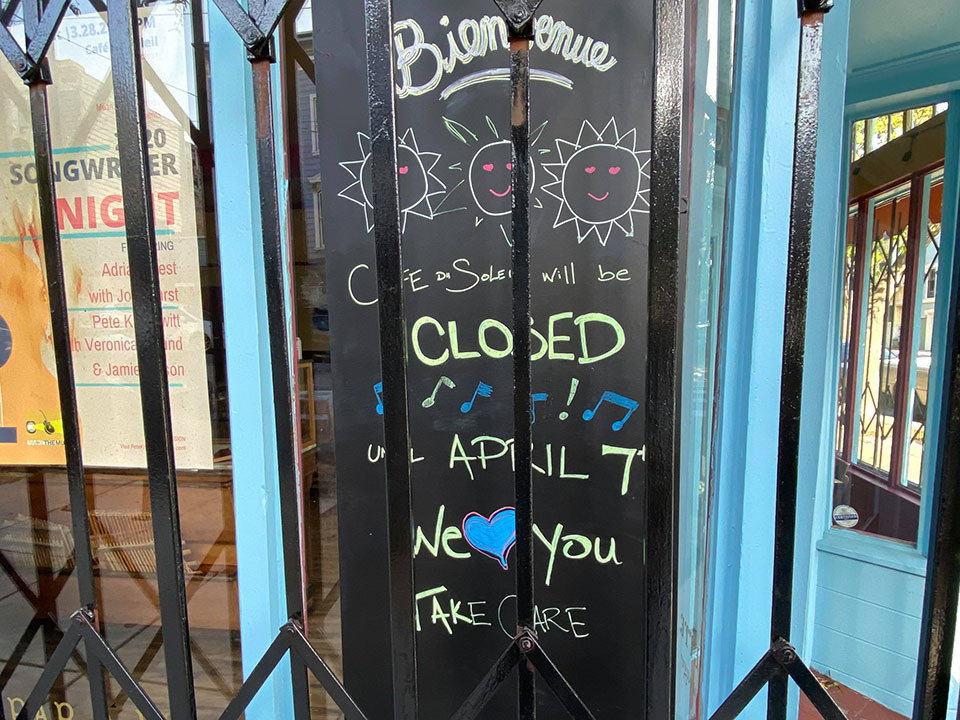 In response, Cheung said, she offered to defer Hakkou's April and May rent to next year, allowing him to pay her back for it in full over time. But Hakkou said he's already lost too much money over the past two and a half weeks of closure, and would have to raise prices to keep up. 
"I refuse to raise my prices," Hakkou said. "The menu is perfect for my customers."
He's since cleared the space of its fixtures, though he's still holding out hope that he might be able to return if a new 10-year lease can be worked out. If not, he hopes to find another spot in the Lower Haight, to which he feels a strong connection. (Moving to another neighborhood is "not who I am," he said.)
For her part, Cheung said she "was very happy with him as a tenant," and wishes him luck in the future. 
When it opened in May 2005, Cafe du Soleil was originally part of the La Boulange family of cafes. But in 2012, Hakkou bought out co-owner Bay Bread LLC's stake, after it was acquired by Starbucks. (The acquisition ultimately flamed out, with some of the La Boulange cafes reopening as La Boulangerie de San Francisco.) 
Over the years, it's become a neighborhood favorite for live music and poetry readings, as well as for everyday gatherings. Hakkou said he's witnessed kids grow up, couples get married and favorite customers passing away.
"That's 15 years of my life," he said. "We are family."
The people he's saddest for, he said, are patrons with roommates, who frequently came to the café because they didn't have any other space to hang out with their laptops.
"I took a part of their routine away."
---
Thanks to Hoodline tipsters Andreas K., Chris B., Dan J. and Sebastian! See something interesting while you're out and about? Text Hoodline and we'll try to find out what's going on: (415) 200-3233.