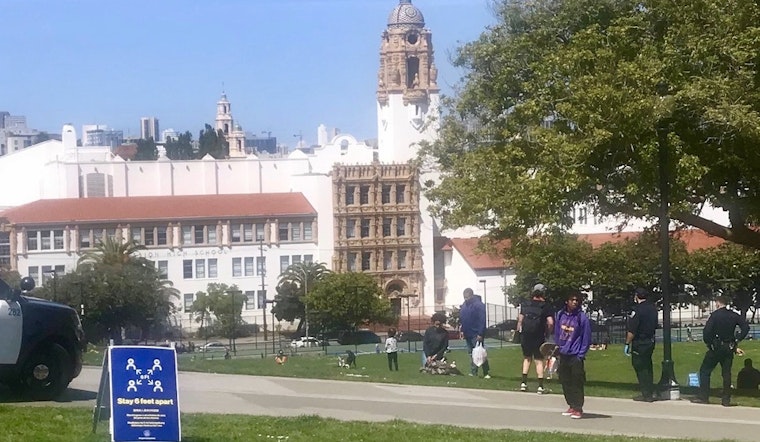 Published on April 22, 2020
On Sunday, people sunbathing and picnicking in Dolores Park faced confusion when San Francisco police officers arrived.
Several park visitors reported that the officers cleared the park, telling visitors that they were violating shelter-in-place guidelines. On Twitter, some parkgoers responded with frustration, arguing that park rangers had previously given them the OK for sunbathing and picnicking, as long as they maintained appropriate social distance.
"Just five minutes after the park rangers said it was OK for families to picnic in Dolores Park, SFPD drove into the park and threatened to arrest everyone picnicking," wrote Robert Monarch on Twitter.
SFPD just kicked everyone out of Dolores, invoking the public health order over a bullhorn and going group to group saying you gotta go pic.twitter.com/dgYDRTn3XR

— Joe Rivano Barros (@jrivanob) April 19, 2020
SFPD spokesperson Robert Rueca disputed the accounts of police clearing the park, telling Hoodline that officers only used their loudspeakers to inform park visitors that they must practice six-foot social distancing.
"At no time today did we close Dolores Park or force people to leave," Rueca said. "We are always concerned of people's close proximity of each other during the shelter-in-place in all parts of the city."
Last month, Mayor London Breed restricted many outdoor activities in San Francisco, including basketball, tennis and frisbee.
But it's still unclear what the official city regulations are on activities like sunbathing and picnicking in the park, provided that parkgoers maintain a six-foot distance from those outside their immediate household.
"Everyone is required to stay home except to get food, care for a relative or friend, get necessary health care, or go to an essential job," said Veronica Vien, spokesperson for the San Francisco Department of Public Health. "You may walk, bike or go for a run near your home."
Pressed specifically about regulations on picnicking or sunbathing, Vien declined to comment.
Supervisor Rafael Mandelman, whose district includes Dolores Park, tells Hoodline that his office has been in contact with SFPD regarding Sunday's incident. 
He says that he believes that sunbathing and picnicking are not compliant with the shelter-in-place order, even at a social distance. 
"Now isn't the time to hang out with friends or picnic in the park," he said. "People should be staying home whenever possible and should only be visiting parks for essential activities like exercise."
"I'm grateful to the SFPD for enforcing this order and keeping us safe," he continued. "The better we adhere to our public health orders, the more lives we'll save and the sooner we'll be able to return to normal."
Update, 3:23 p.m.: John Cote, spokesperson for the SF City Attorney's office offered the following statement:
Under the order, people may leave their home for "outdoor recreation." Outdoor recreation reasonably includes sitting outside to get some fresh air — but only if social distancing is maintained among individuals who are not members of the same household.

This is not an invitation to have parties in the parks.

If parks become too crowded to maintain six feet of distance (or if people are sitting within six feet of non-household members), that would violate the order.