Muni is shutting down 72 of its 89 lines starting Wednesday, with only 17 routes continuing to operate.
As first reported by the Examiner, the only bus lines that will be available after Wednesday will be the 1-California, 8-Bayshore, 9-San Bruno, 14-Mission, 14R-Mission Rapid, 19-Polk, 22-Fillmore, 24-Divisadero, 25-Treasure Island, 29-Sunset, 38-Geary, 38R-Geary Rapid, 44-O'Shaughnessy and the 49-Van Ness/Mission.
Three bus replacements for light-rail lines will also continue operation: the N-Judah, L-Taraval and T-Third. 
The remaining routes will see some modifications. For example, the 44-O'Shaughnessy will be cut short, no longer serving the Inner Sunset and Inner Richmond. Details are still being worked out, and transit riders are encouraged to subscribe to SFMTA's updates.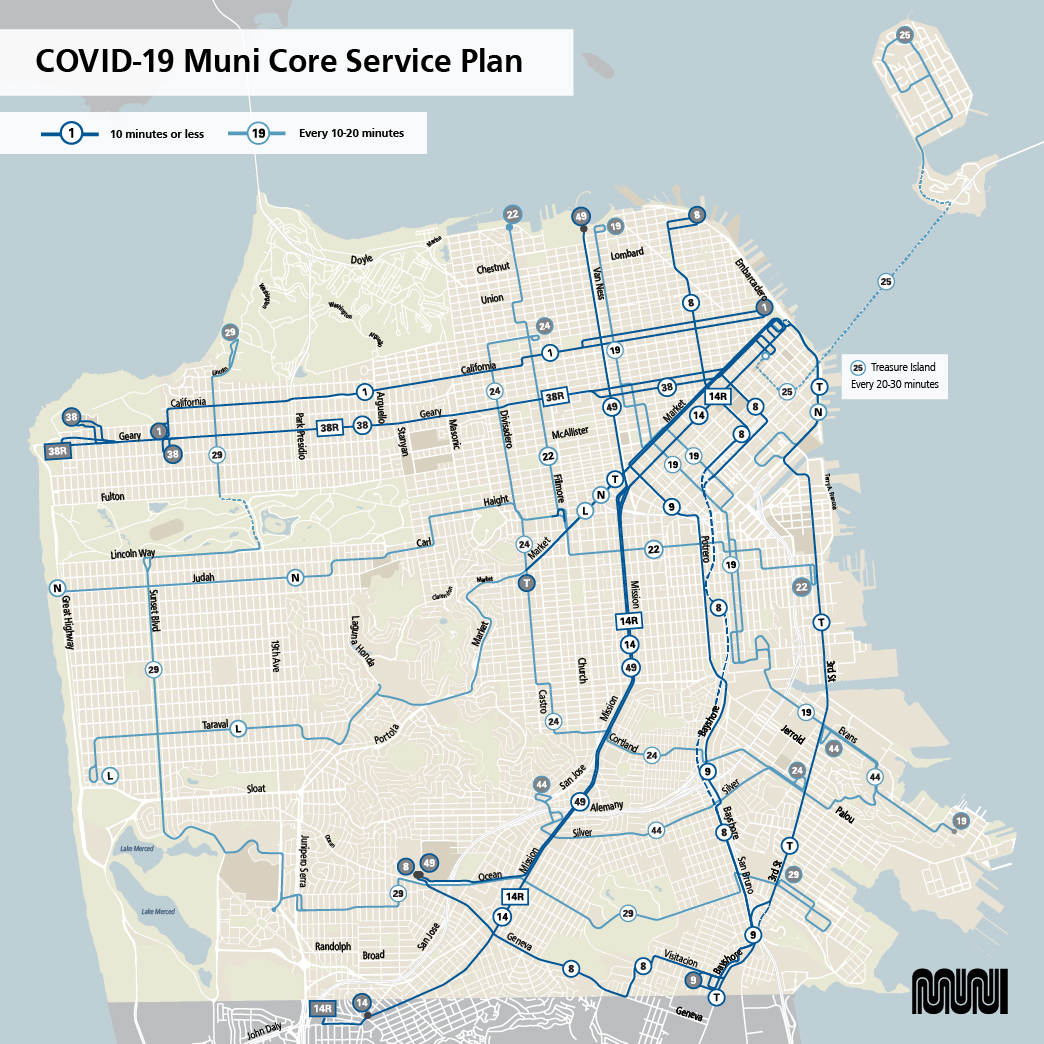 The closures reflect a staggering decline in revenue for Muni under the city's shelter-in-place order, with ridership decreases surging to as high as 83 percent on some days. In March, SFMTA director Jeffrey Tumlin said the agency was losing $1 million per week during the shutdown.
On Sunday, Tumlin told reporters that the ultimate issue was not cost, but maintaining appropriate social distancing. With more than 30% of Muni drivers not showing up to work, Muni has been forced to run buses less frequently, making it harder for passengers to stay six feet apart when a bus does show up. 
Consolidating to just a few key lines will allow Muni to run buses more frequently on those lines, giving passengers their needed space. 
Tumlin also urged anyone who can avoid using Muni buses to do so, noting that service will be greatly affected between now and Wednesday as the agency prepares for the transition to fewer lines.
I never thought I'd say this: Please don't take Muni if you have other options. Muni is only for essential workers + trips. We're short >30% of operators. Monday will be a mess. To maintain service on workhorse lines, we need to eliminate many low ridership lines starting Tuesday

— jeffreytumlin (@jeffreytumlin) April 6, 2020
As of Sunday, five SFMTA employees have contracted COVID-19. Many drivers are currently self-quarantining because they were exposed to those employees, or to other ill people. 
With all operators still being paid, many have also chosen to stay home because they are over 60 or have health conditions that make them more vulnerable to the virus.  SFMTA representatives said that they expect over 40% of operators to be out in the coming week.
Tumlin said that the lines were chosen to ensure essential workers have easy access to hospitals and high-frequency merchant corridors. Some lines will have more frequent service than others as a result.
"Our transit planners have been working all weekend to rebuild the entire schedule, a task that would normally take four months," Tumlin wrote.
Tumlin reassured riders that the service cuts are temporary, but it's not clear when the agency will be able to return to a normal schedule.
In the meantime, SFMTA's latest COVID-19 related updates can be found on the agency's website.