As San Francisco completes its third full week of sheltering-in-place, with at least four more to go, many residents are looking for ways to exercise and remain active.
Last week, Mayor London Breed enacted even stricter shelter-in-place rules, with San Franciscans no longer allowed to participate in outdoor activities that involved shared equipment — like frisbees, soccer balls, baseballs or basketballs.
Playgrounds, picnic areas, dog parks, golf courses, tennis courts and pools remain closed. So do the parking lots at popular outdoor exercise areas like Ocean Beach, Fort Funston and Crissy Field.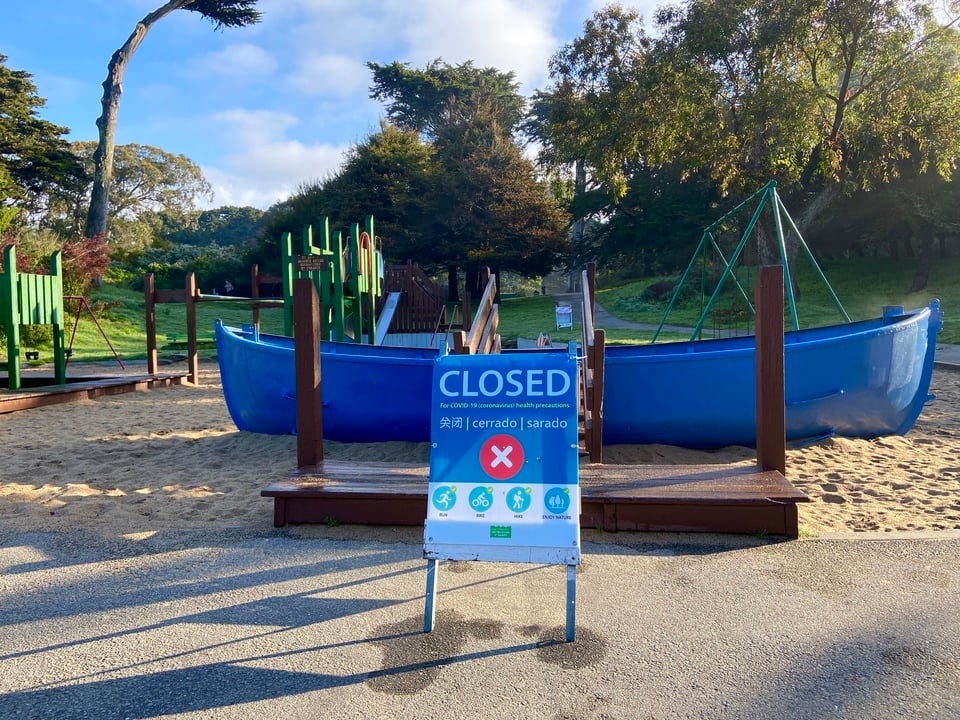 Looking for alternatives, many residents have turned to the streets and sidewalks of San Francisco to stay active, while doing their best to keep a six-foot distance.
"You can go outside for essential needs or to get some quick exercise, but then you need to return home," Breed reminded residents on Twitter last month.
The Embarcadero, Marina Green, Golden Gate Park, Kezar Stadium and Ocean Beach have seen huge influxes of people riding bikes, walking and jogging.
However, some people say the increase in foot and bike traffic has created some unsafe situations, and impacted others' ability to get to and from essential jobs and needs, like grocery shopping and doctor visits.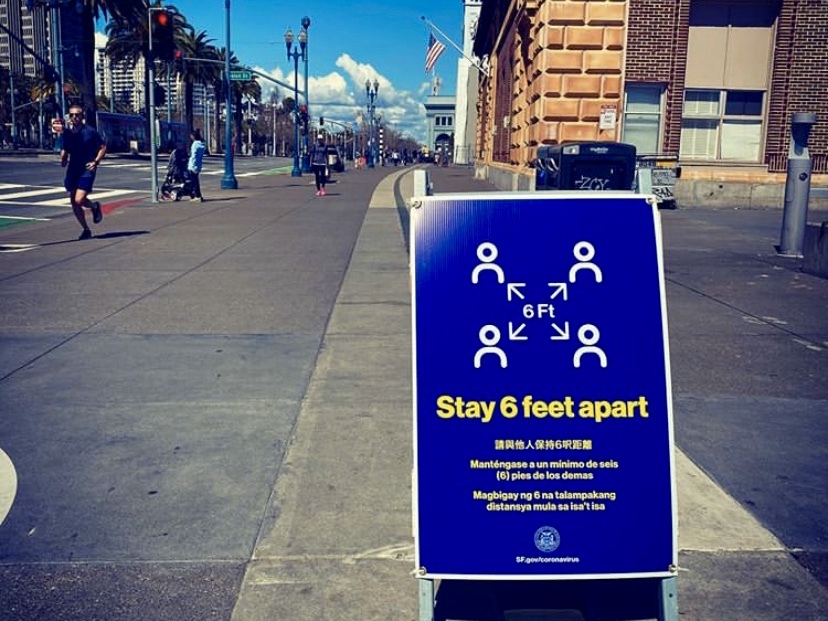 Stories have popped up on social media platforms of people requesting others to respect the required six-foot distance while exercising.
"I'm experiencing that many runners are not respecting the distance requirement," wrote Karina D. on Nextdoor. "It is an unfair situation to put others in, as you have no chance to protect yourself."
Thank you! The runners in my city, San Francisco, are so fucking selfish, clueless and "special" they turn into death machines. Doesn't anyone under thirty know what six feet look like? NO! THEY DON'T!

— Kevin Watkins (@KevinWa16763068) April 1, 2020
"I take my preschoolers for walks here in San Francisco," wrote Twitter user David Harris. "At least one runner every 5 minutes zips by us within a few feet, breathing heavily. We can't possibly get out of the way."
Hoodline writer Teresa Hammerl noted on Twitter that people have begun exercising and playing in the street, potentially putting themselves in harm's way.
"It's critically important that everyone follow the orders," said Brian Wiedenmeier, executive director of the SF Bicycle Coalition. The coalition recommends that cyclists ride by themselves, maintain a six-foot distance and wear a mask.
Golden Gate Running Club spokesperson Kate Hoare says that now is the time for everyone to be more aware of their surroundings, whether they're biking, running, walking or driving.
"Be mindful and respectful of each other," said Hoare. "Everyone's anxiety is a lot higher, as people are losing their jobs and worried about friends and family."
Last month, WalkSF requested SF Rec & Park temporarily close JFK Drive in an attempt to provide people with more space to exercise.
Ultimately, SF Rec & Park declined the request, stating it would potentially cause crowding and compromise the ability to maintain six feet of distance.
Thanks to all who reached out about closing JFK drive in #GoldenGatePark. While getting outside/exercising during the Stay at Home order is permitted if you are under 60/healthy, the Health Dept. has advised against closing JFK at this time over concerns it would invite gathering pic.twitter.com/ATDVLg589U

— SF Rec and Park (@RecParkSF) March 21, 2020
But Wiedenmeier said he agrees with WalkSF's push to shut down JFK, pointing towards recommendations from the National Association of City Transportation Officials (NACTO) to relieve crowded areas by closing streets. Portland, Minneapolis, Philadelphia and New York have all shut down streets to cars so it's easier to exercise at a distance. 
"What we're learning is there's a limited number of locations people can practice exercise safely," said Wiedenmeier.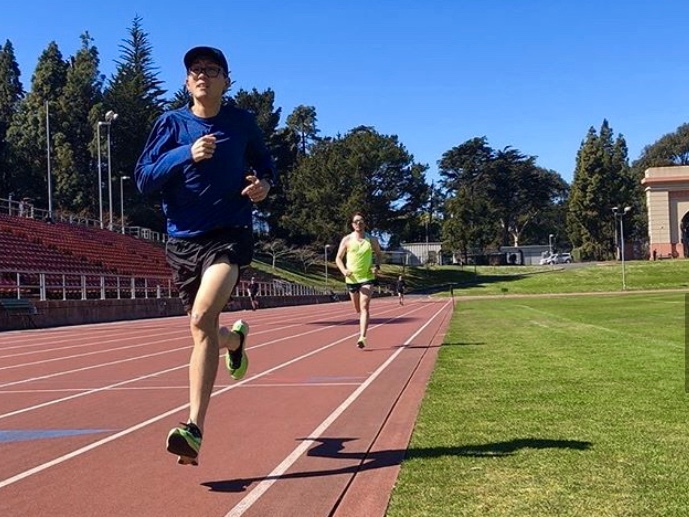 With city streets still primarily occupied by cars, Hoare had a handful of recommendations for people exercising outdoors: consider alternative routes, run at off hours, make room for everyone, announce when you're coming up on someone, and familiarize yourself with what six feet actually looks like.
"If everyone does a little bit, it will make it easier for everyone," Hoare said.
If you're looking for walk ideas, WalkSF has posted a list of recommended walks off the beaten path on its website.
For those not wanting to exercise outdoors, many yoga studios, gyms and personal trainers have switched to virtual classes, which allow you to work out from the comfort and safety of your own home.
Glenn Shope, founder of MX3 Fitness, tells Hoodline the initial transition period was difficult.
"I think people were a little bit in shock when the shelter-in-place order was announced," he said.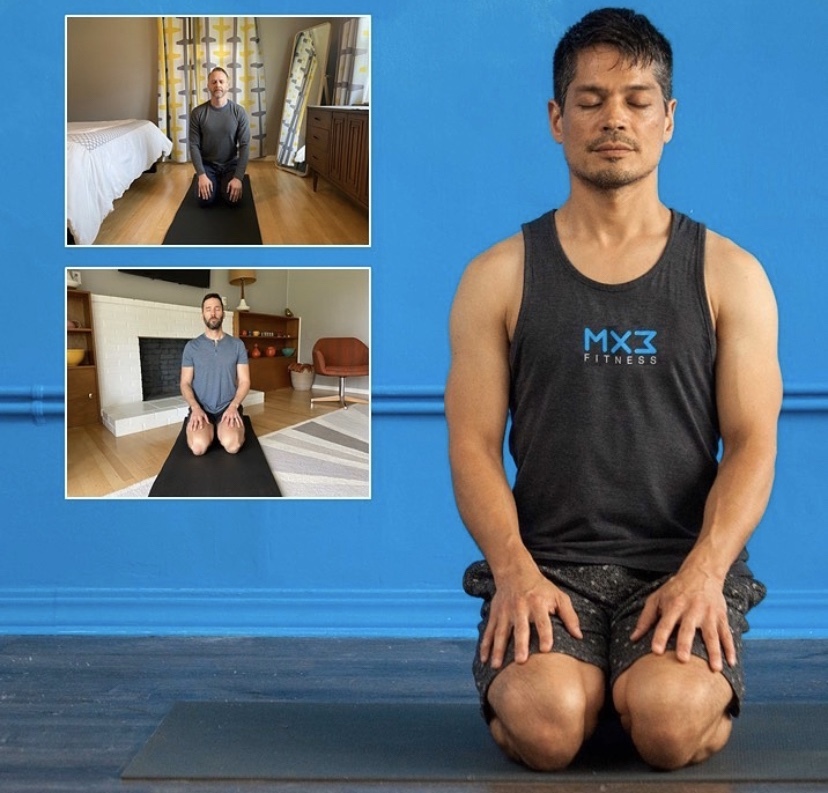 Now that the shelter-in-place has been extended, Shope says, "people are looking for ways to keep active and to make things feel more like normal under these really crazy circumstances."
MX3 Fitness currently offers personal training, yoga and bootcamps virtually through its website.
Shope recommends those who are newly working from home stay as active as possible. "Think about how many times you get up from your desk at work to walk to the bathroom or a co-worker's desk," he said.
In order to stay fit, Shope says, "take at least 15 minutes a day to elevate your heart rate."