Public health officials will extend shelter-in-place orders in seven Bay Area counties — including San Francisco — until the end of May, officials announced Monday.
In addition to San Francisco, the orders will cover Alameda, Contra Costa, Marin, San Mateo, and Santa Clara counties, as well as the city of Berkeley, which has its own health department. First announced on March 16, the shelter-in-place restrictions were previously set to expire this coming Sunday, May 3. 
"I know that this is very challenging," Mayor London Breed said in today's press conference. "But we are not out of the woods yet."
As of today, 1,424 people have been diagnosed with COVID-19 in San Francisco. 23 have died, and another 85 are currently hospitalized.
"We have indeed flattened the curve," said Dr. Grant Colfax, director of the SF Department of Public Health (SFDPH), at the press conference. "[But] make no mistake, the virus is still out there."
The final order, which will be issued later this week, is likely to lift restrictions for a small number of lower-risk activities, Colfax said. It's unclear exactly what those activities will be, but participants will still be required to remain six feet apart, wear masks and wash their hands frequently. 
Compliance with the shelter-in-place order has been strong so far, said SFPD chief William Scott. Only eight businesses and nine individuals have been cited for non-compliance, and this past weekend saw "no significant issues," he said.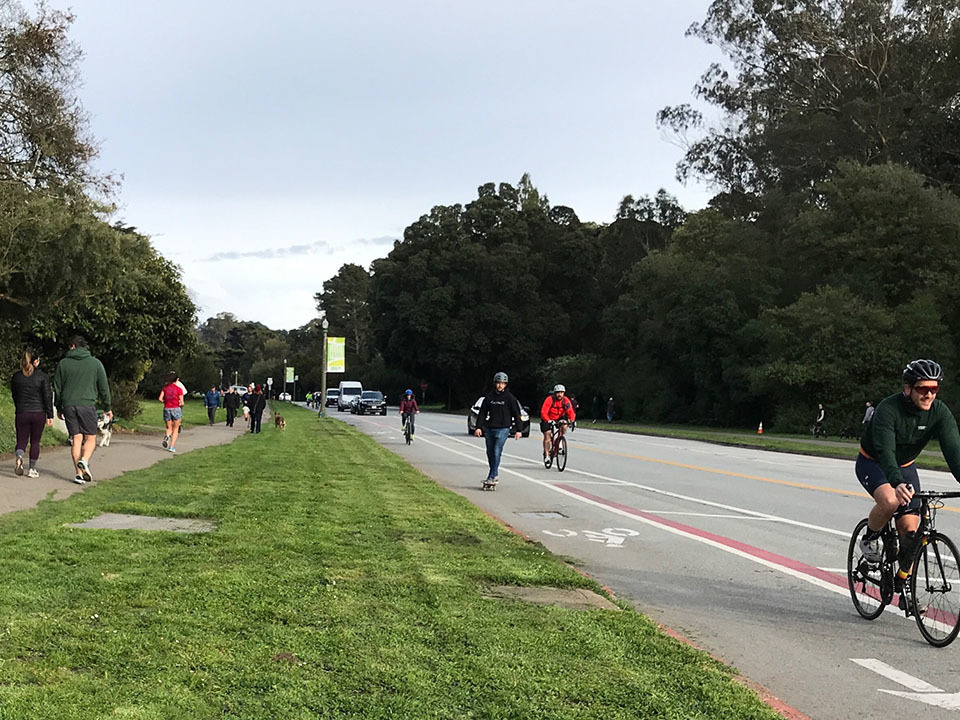 Also at today's press conference, Breed announced a move that has been long-desired by pedestrian and cyclist advocates: the closure of JFK Drive in Golden Gate Park to cars.
Starting tomorrow at 6 a.m., JFK will be closed from Kezar to Transverse drives until the shelter-in-place order is lifted. (The same stretch of road is typically closed to cars on Sundays.)
John F. Shelley Drive in McLaren Park will also be closed to cars, with the gates at Cambridge and Mansell streets locked to restrict the loop to pedestrians and cyclists. 
It's unclear why Breed reversed position on the closure of JFK Drive, which was initially advised against by the SFDPH to prevent public congregation. At the time, many pedestrian advocates pushed back on that decision, noting that JFK Drive's narrow sidewalks make social distancing difficult, and that the city was placing the needs of those driving to the park over area residents walking or cycling there.
Breed nodded to that sentiment at today's press conference, reminding San Franciscans not to drive to parks, but walk to their neighborhood parks instead. She also urged San Franciscans to avoid meeting anyone outside their immediate households for picnics or playdates.
Other street closures across the city, intended to promote social distancing, were announced last week. The SFMTA is currently gathering feedback about the initiative, which was designed to ease travel on cancelled Muni routes, but doesn't cover many of the city's neighborhoods. 
"With the public health order extended through the end of May, safe spaces to walk and bike for mental and physical health are more important than ever," District 4 Supervisor Gordon Mar wrote on Twitter.