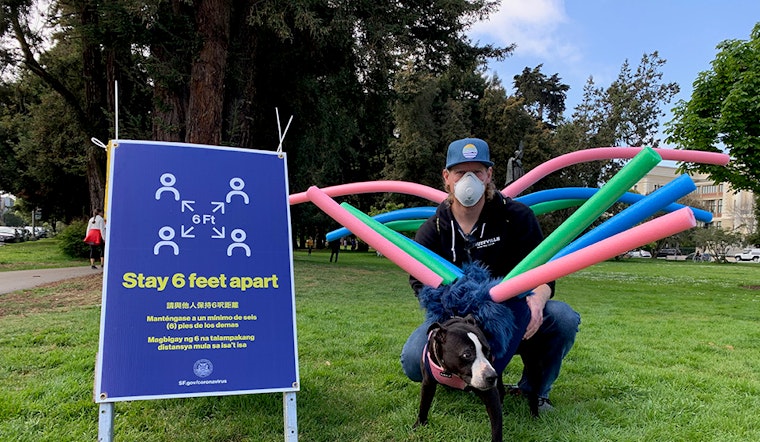 Published on April 15, 2020
As anyone who's taken a shelter-in-place walk in San Francisco can tell you, it's often challenging to ensure others around you are keeping a safe distance of least six feet on city sidewalks.
But for Ryan Dempsey, the problem presented an enjoyable engineering challenge.
Dempsey is already adept at repurposing everyday items — his business, Dog Patch SF, turns rock climbers' used ropes into dog leashes. So he decided to use some of his time at home to create a DIY exoskeleton for keeping his distance, comprised of pool noodles attached to his back.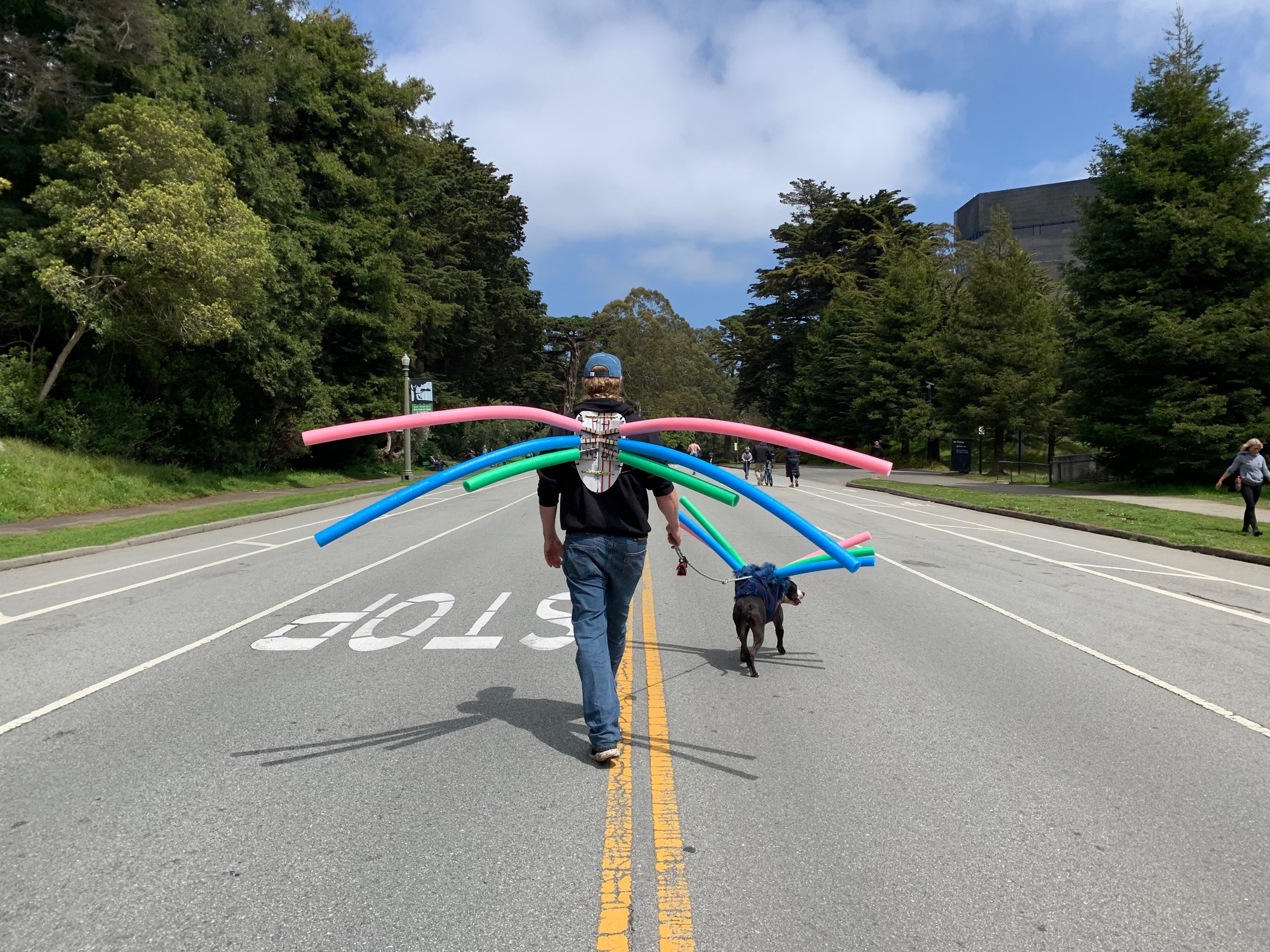 Dempsey tells us that the idea for his "social distancing helper" came from a friend who used a pool noodle on his bike, to keep cars at a distance. 
To keep the noodles steady, Dempsey zip-tied wooden sticks to a cardboard frame, then skewered the pool noodles through them. Straps allow him to wear the frame like a backpack.
He even created a matching backpack for Oona, the dog he adopted from Muttville Senior Dog Rescue earlier this year.
"She didn't mind it at all," Dempsey said.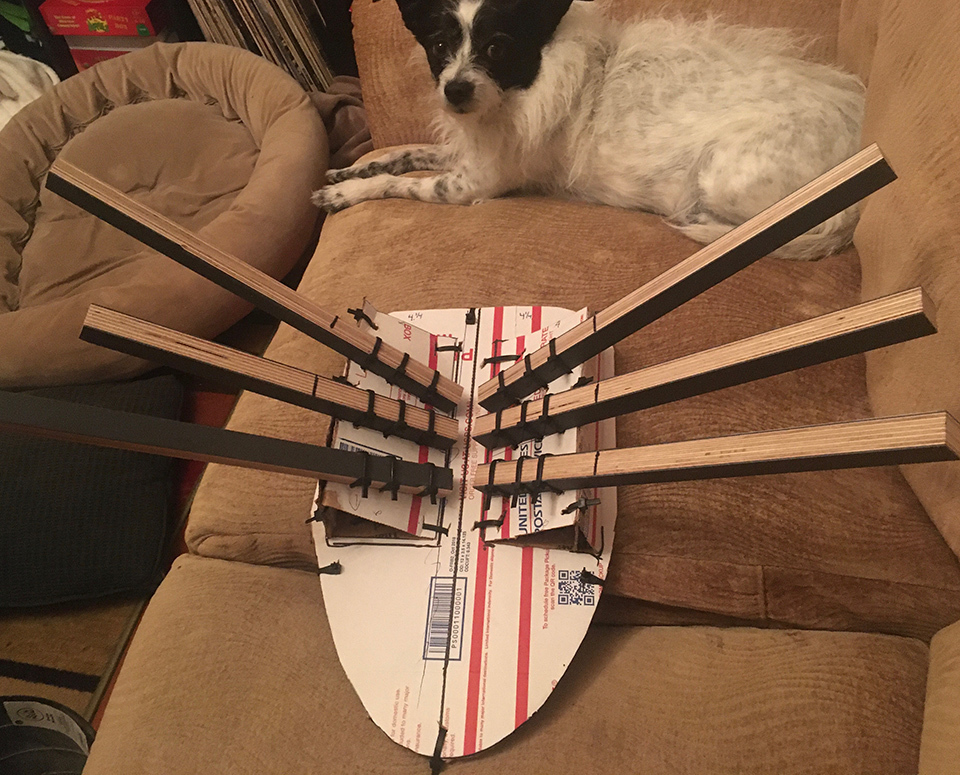 A regular walker in the Panhandle and Golden Gate Park, Dempsey said that he and his roommate, Betsy Miller, have been greeted by a lot of excited children on their strolls with the pool noodle backpack.
"I've gotten lots of compliments," he said, noting that the pastel palette of his contraption "worked out well on Easter."
While he primarily intended to have Miller photograph his ensemble for nostalgia, he was also snapped by some strangers, with one of the photos ending up on Reddit. 
"It makes people smile," he said.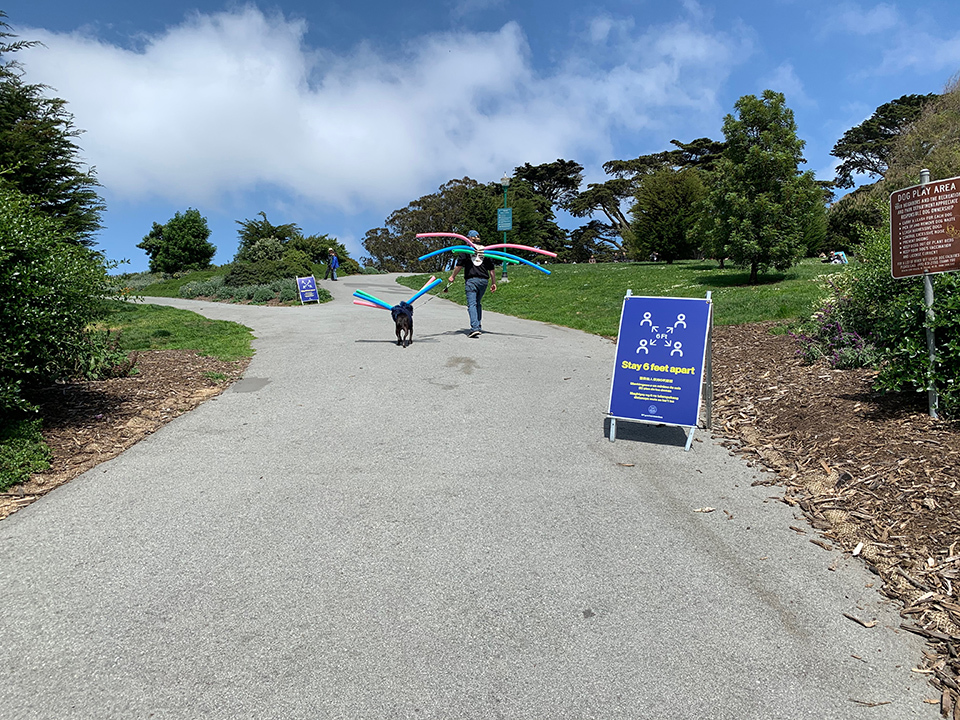 Asked if he plans to sell his creation, Dempsey says that he would rather make a DIY tutorial available so folks can make it themselves at home.
He suggests using four-inch pool noodles — usually available at Target, although they might be sold out right now. The sticks are 7/8 dowels, available at most hardware stores. 
About 40 zip-ties; two thin, medium USPS flat-rate shipping boxes; and some thin rope complete the project.
Last night, Dempsey upgraded his and Oona's kits by adding some flashlights, so now it will be even easier for passersby to keep their distance from the pair when it's dark out.