When San Francisco's shelter-in-place order went into effect in mid-March, pet groomers were ordered to close their doors as well.
But the industry got a reprieve at the end of April, with an amendment allowing customers to bring dogs for grooming if their veterinarian says it's medically necessary. (A written statement from the vet is required.)
To many, grooming a dog may seem purely cosmetic. But groomers say they're already seeing dogs with serious health issues after two months without a visit.
"Every dog I've done so far has had matting well beyond their norm," said Michelle Eichelberger, owner of West Portal's The Pawber Shop.
Matted fur can cut off a dog's circulation, leading them to overheat. Foxtails, which are currently in season, can embed themselves into a dog's skin and migrate, causing severe health issues. Ingrown nails can become infected.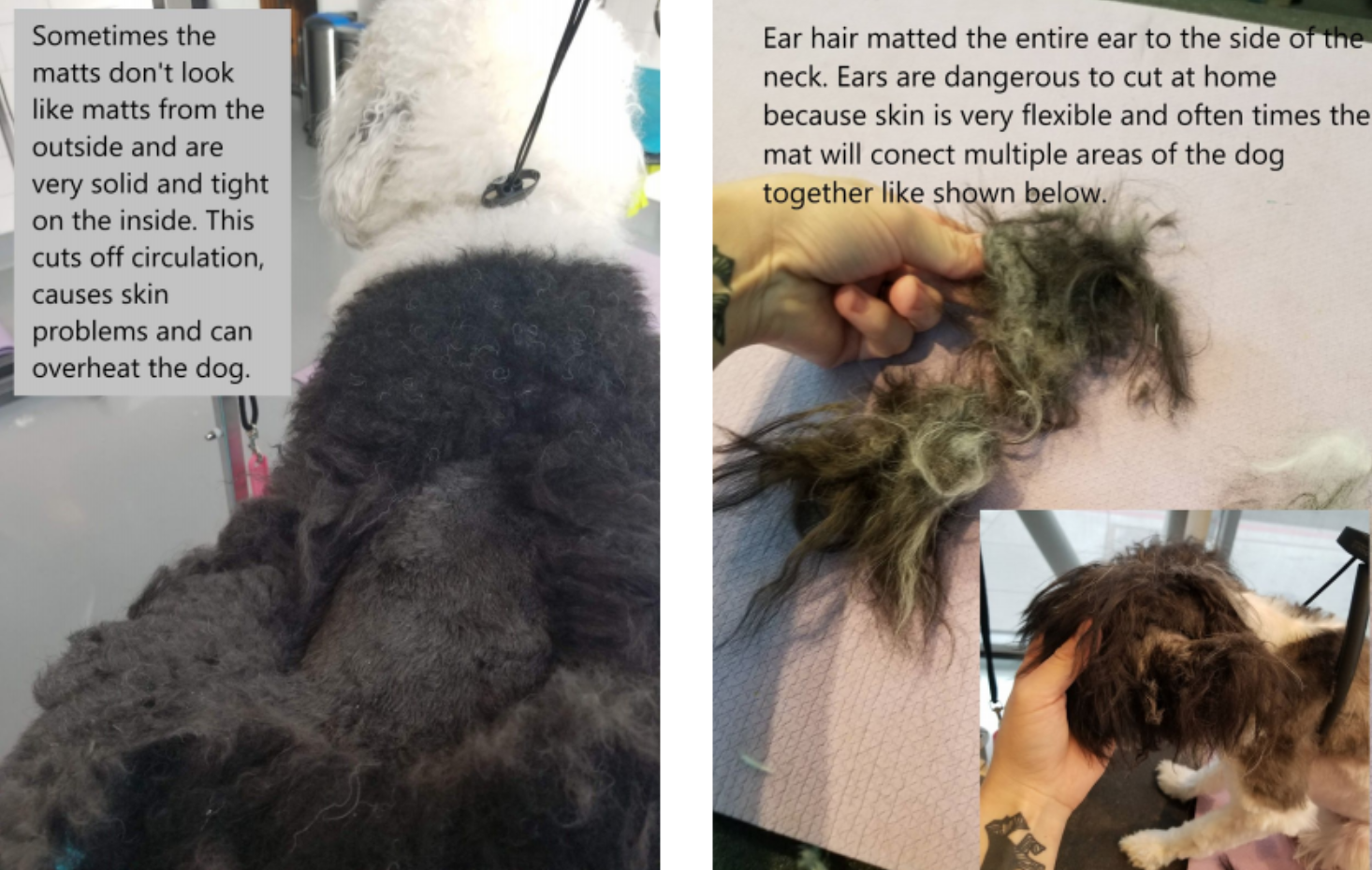 While a vet can shave a dog in an emergency, they've been operating with their own limitations during shelter-in-place, and are often too overwhelmed with clients to take on the job. 
Getting a dog groomed is "not cosmetic at all," said Bernie Machado, who operates SoMa's City Dogs and the Mission's Bernie's Grooming. (The latter business, located inside of SF Animal Care & Control, remains closed.)
Last month, Machado asked her clients to lobby local politicians to get the restrictions lifted. 
"We know that what we do is essential," she said. "We are the bridge between the dog and the owner," which can often include spotting health issues that a veterinarian should address. 
Meanwhile, groomers in Oakland have not yet gotten permission from Alameda County to see clients again. Many say the restrictions are putting dogs in danger, as desperate owners attempt home haircuts that only make things worse. 
"We have seen holes in skin requiring stitches and pieces of ears missing because people tried to put scissors to their dog's mats at home," wrote Caitlyn Schleifer, owner of Oakland's Leading the Pack, in a letter to Oakland city leaders last month.
In an interview, Schleifer said that she's frustrated that gardeners are allowed under the current regulations, but groomers are not. 
"You can mow the lawn, but you can't get the hair off a dog's butt?" she said.
All the groomers Hoodline spoke to said that they take safety restrictions very seriously. Schleifer has a written plan for reopening in place, including social distancing, extra cleaning procedures, and details for topics as small as how a leash will be handed off.
"We can do it safely," she said.
With the CDC recommending that pets socially distance in the same way that people do, Eichelberger has protocols in place to prevent canine clients from interacting with each other.
As for humans, "I don't have to let anybody come in [to the shop]," said Eichelberger, who said she plans to accept all payments over the phone. 
For those who can't get their dog to the groomer, Eichelberger says the best solution is to "just brush, brush, brush" (with this, this or this brush). A comb and conditioning spray can help penetrate tough knots and mats.
"Don't fall for all the [other] gadgets you see online," she said.
Nail trims need to be done with extra care. Eichelberger suggests holding one toe at a time, trimming bit by bit so as to not cut into the quick of the nail. If there is any bleeding, dipping the nail into all-purpose flour can help stop the blood flow.
---
Both The Pawber Shop and Bernie's Grooming currently have GoFundMe campaigns, while Leading the Pack is raising funds by selling merchandise.