On Monday, the San Francisco Municipal Transportation Agency will begin the construction of a quick-build protected bikeway along 7th Street (between Townsend and Harrison) to complete the 7th Street Safety Project, which kicked off in late 2016.
As we reported back then, both the 7th and 8th Street Safety Project were expedited following the late Mayor's Ed Lee directive to speed traffic safety projects, following hit-and-runs in the city that killed two cyclists on the same night in 2016.
As part of the project, protected bikeways were already implemented on 7th between Market and Cleveland, between Harrison and Townsend as well as between Townsend and 16th.
Now, phase three of the project will bring a protected bikeway with soft-hit posts and green paint to 7th starting at Townsend, continuing one block at a time to Harrison.
This project phase was approved last year following a public hearing. "This was one of the quick-build projects that we strongly advocated for and was approved back in December," SF Bicycle Coalition advocacy director Janice Li told Hoodline via email. "This project will close the gap on 7th Street so that people biking will have a fully protected bike lane from Market Street all the way through SoMa to connect to Mission Bay."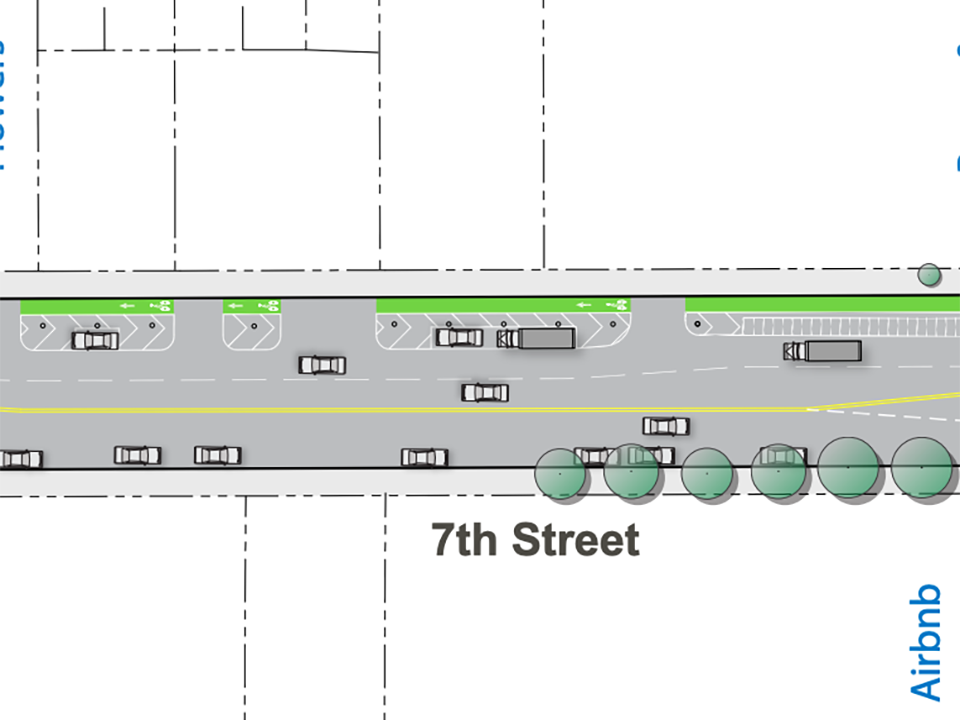 To accommodate the protected bikeway configuration, a northbound travel lane on 7th (between Brannan and Cleveland) will be permanently removed, reducing the number of vehicle travel lanes from four to three to encourage driving at safer speeds.
Additionally, on-street parking will be shifted away from the curb. (A full block-by-block street plan can be viewed online.)
Temporary intersection or lane closures are expected during construction, which might lead to travel delays. When necessary, traffic will be routed around construction activity, but no detours are expected at this time. Pedestrian pathways and access to driveways will be maintained.
Construction may last through June, weather permitting. General work hours will span from 8 a.m. to 4 p.m., Monday through Friday. No weekend work is currently scheduled.
In an email sent on Thursday, SFMTA said work on the block from Harrison to Folsom is tentatively scheduled to start later in the summer to bring the last block of protected bikeways to the corridor. According to the SFMTA, the installation of transit boarding islands will begin at a later date.
Once completed, passengers will be able to board on the new bus boarding island on Townsend west of 7th, and the bus stop on 7th north of Townsend will be removed. The relocation is meant to also facilitate easier transfers to the 10-Townsend bus. That line is currently suspended as part of Muni's core service plan during shelter-in-place.
Concrete boarding islands will be installed at locations with passenger loading activity such as the Muni stops, but also at school bus stops, to provide dedicated space for folks waiting to board.
"As San Francisco reckons with the massive loss in funding due to the pandemic, we know that cost-effective projects like this will be the best use of SFMTA's limited resources in order to advance bicycle and pedestrian safety with urgency," Li said.