Two Castro retailers with a shared storefront  (4011 18th St.) are facing a unique set of challenges from COVID-19 and shelter-in-place: Second-hand children's clothing store Mini-Chic has announced it will close its doors for good, while Turkish Modern faces an uncertain future despite a boom in online orders.
Founded by Coralie Tran, Mini-Chic began as pop-up in August 2016. A year later, Mini-Chic partnered with home decor store Turkish Modern to operate out of the same storefront.
Tipster Denny alerted us to Mini-Chic's closure, after spotting an announcement in the business' window stating it will vacate the space in October.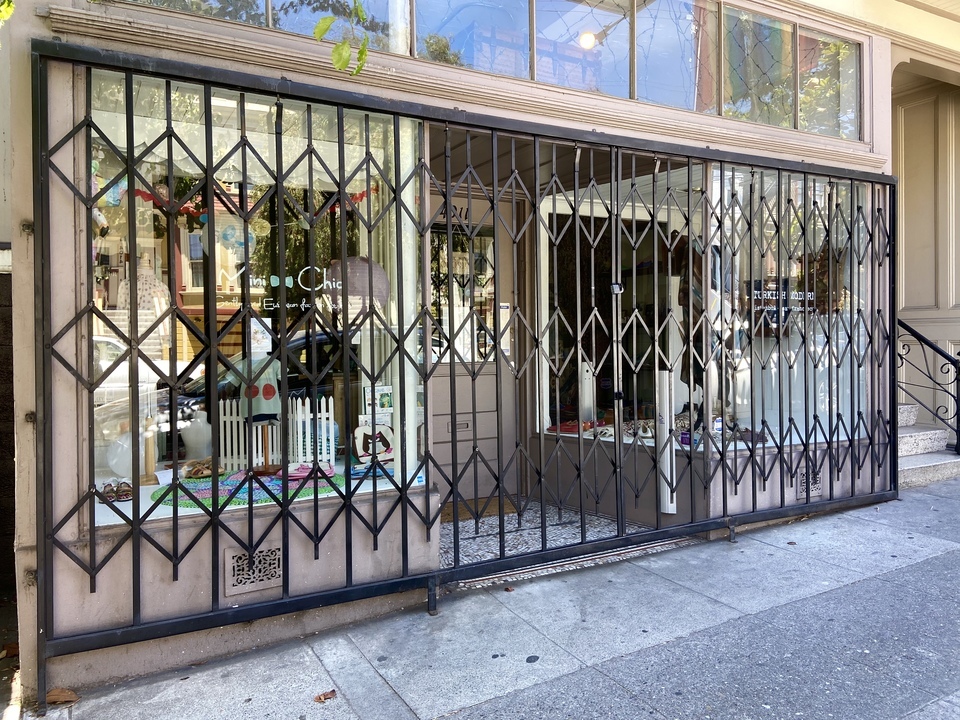 In a May 7 newsletter sent to customers, Tran cited the extension of shelter-in-place as the main factor for the store's closure. "We came to the ineluctable conclusion that our tiny business won't survive," she wrote.
While not currently taking any new consignment clothes, Tran says business partner Leila Bernard is interested in starting up her own business. Anyone interested in selling their gently used children's clothing can contact Leila at [email protected]
Hoodline reached out to Mini-Chic's partners for comment but did not receive a response.
Customers still have some time before Mini-Chic leaves the neighborhood: The store is accepting reservations on their website for one-on-one in-store experiences until September 2020.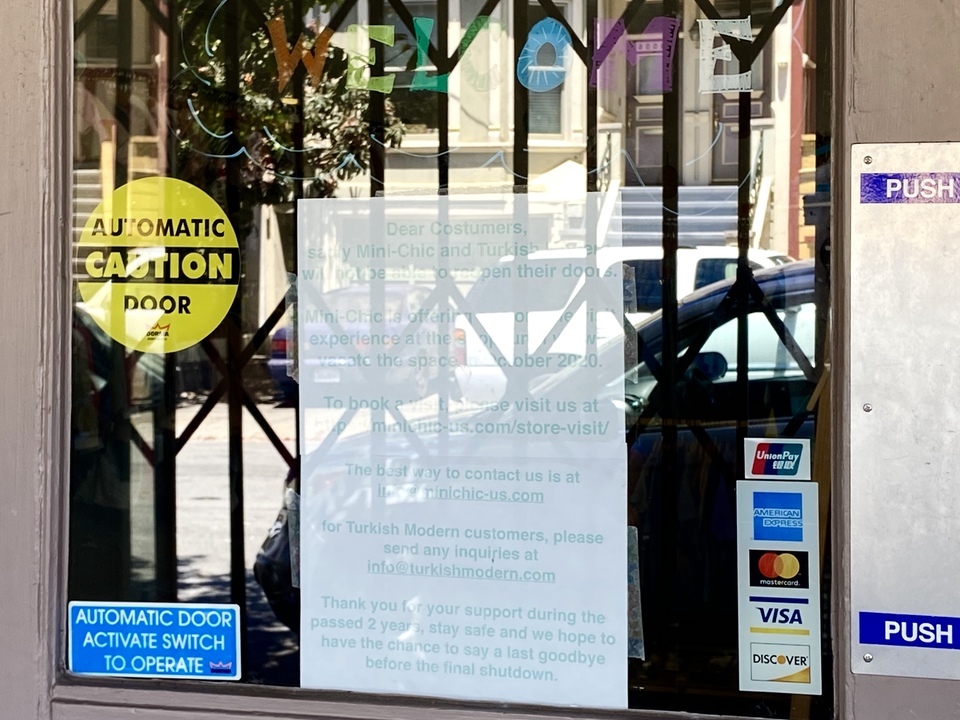 Turkish Modern owner Alexander Carter tells Hoodline there's a possibility they might renew the lease with another business, but he's currently undecided.
Carter currently lives in Istanbul, where he operates another location of the store. Prior to the pandemic, Carter traveled frequently to San Francisco, but said the pandemic has made travel between the two cities "uncertain and unsafe."
"It's not necessary for us to travel that much to manage the business," he said. "A big part of the appeal of having a shop in San Francisco was flying over and enjoying the city."
Carter said he planned to expand to Hayes Valley next year, but is currently reconsidering due to the pandemic. He said he's unsure of whether or not he'll maintain a brick and mortar store, in part because online sales have remained healthy during shelter-in-place.
"Since the outbreak we've had a record number of online orders, mainly from the Bay Area," said Carter. "That may be the best way for us to continue until things return to normal."
Hoodline readers will recall that prior to Mini-Chic and Turkish Modern, the space was occupied by 18th Street Cleaners, which closed in 2016.
The announcement continues a trend of neighborhood businesses closing due to the financial impact of COVID-19. In the past week Hoodline learned Latin American restaurant Castro Republic (2295 Market St) and 68-year old It's Top Coffee Shop (1801 Market) were permanently closed, and last month, long-time pet store Best in Show (545 Castro St.) and vitamin and supplement shop Active Nutrition (2275 Market St.) both announced closures.
---
Thanks to Hoodline tipster Denny! If you've seen something new (or closing) in the neighborhood, text your tips and photos to (415) 200-3233, or email [email protected] If we use your info in a story, we'll give you credit.