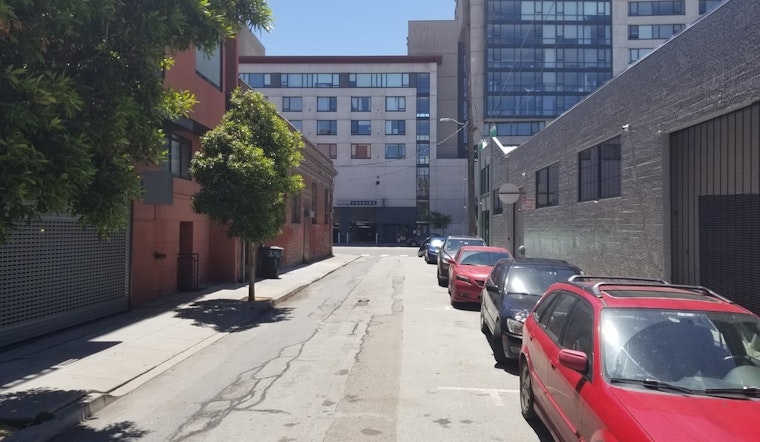 Published on June 18, 2020
On Tuesday, the city of San Francisco opened up applications for its Shared Spaces program, which will allow cash-strapped, space-starved restaurants to take over sidewalks, parking spaces and plazas for outdoor dining. 
The goal is to keep as many diners as possible outdoors, where social distancing minimizes the risk of spreading COVID-19.
And there's one aspect of the program that's particularly unique — restaurants can team up to ask the SFMTA to close off an entire street.
At a Tuesday board meeting, SFMTA director Jeffrey Tumlin said the agency has already received 13 applications for full street closures, many of them via team-ups from neighboring restaurants.
One came from SoMa's China Basin, where restaurants Victory Hall & Parlor, Little Skillet and District hope to close down a portion of Ritch Street (between Townsend and Brannan streets) for outdoor service.
As proposed, the closure would run from the corner of Townsend Street (at Ritch) up to the corner that adjoins Victory Hall (at Lusk).
Mia Weening, the owner of Victory Hall & Parlor, said that putting tables on the street would help bring in more revenue. Ritch is a quiet street with low traffic and no bike lanes, she said, which would make it easier to close off. 
For her application, she teamed up with Deanna Sison, who runs the Little Skillet take-out window adjacent to Victory Hall, and Jon D'Angelica, whose restaurant District faces out onto Townsend Street at the corner with Ritch.
District already has sidewalk seating, but can only accommodate eight people at a time with its current setup. Adding two rows of socially distanced tables to Ritch — possibly even three, depending on measurements — would "help move the needle to bring in revenue," said D'Angelica, adding that it would allow him to bring back a significant portion of his staff.
The three restaurateurs have even figured out a plan to share the space: District's tables will line up down the length of its building, while Victory Hall and Little Skillet's will take the rest of the space. 
D'Angelica said the configuration would allow the three businesses to seat up to 50 people.
The two businesses have approached shelter-in-place differently. Victory Hall temporarily closed, but reopened in April, selling bottles of liquor and to-go cocktails to accompany food from Little Skillet.
But Weening said that's just been a band-aid until actual revenue comes in.
"In the beginning, friends came by to support us and spent hundreds of dollars to stock up their home bar," she said. "But they're obviously not going to come do that every day."
District, on the other hand, closed completely (though its sister location in San Jose recently opened for outdoor patio dining). D'Angelica said that offering takeout and delivery just didn't make sense for the business financially.
The restaurateurs hope that the closure of Ritch Street will be the solution. They applied the first day applications were open, and are supposed to hear the outcome by tomorrow. They've also been talking to neighbors to work out any potential street closure issues, since parking, pick-up and delivery drivers might be impacted.
"We will figure out the staffing and other challenges," said D'Angelica. "All we need is a fighting chance."