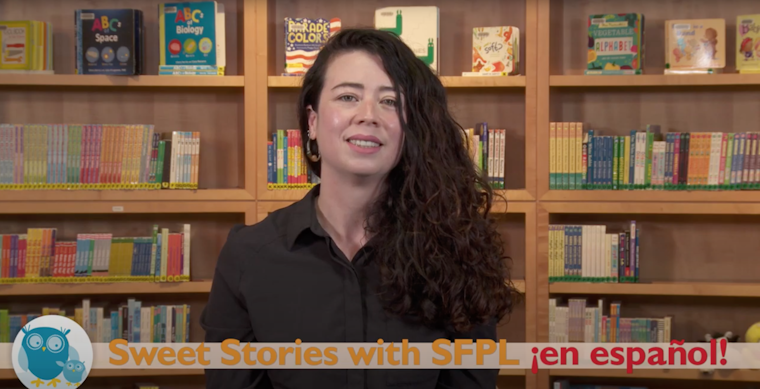 Published on June 16, 2020
In 1972, the San Francisco Public Library launched a Dial-A-Story phone line, a then-popular service offered by dozens of other libraries across North America. The idea is simple: call a phone number, and hear a children's story read by a librarian. The books and voices changed regularly. 
The library maintained the line for decades, but as times changed and tastes evolved, fewer families were relying on dial-in stories. In 2018, the SFPL quietly mothballed the service, adding eleven of the vintage Dial-A-Story recordings to YouTube. (Calling the former Dial-A-Story number now reaches an individual's cell phone.)
But in the wake of the pandemic, Dial-A-Story has made a digital comeback, with a video storytelling series targeted at families staying home with young children.
Launched in April, Sweet Stories features youth librarians and special guests from the community, reading stories and sometimes singing a song or two before the main event.
Maricela Leon-Barrera, the library's early learning coordinator, oversees the project, which she says was designed to bring joy to families during shelter-in-place.
"Even though we're apart, we wanted to share a short (and sweet) storytime with them," she says.
Production on the series began in late March, as librarians reviewed possible books to include, developed scripts for readers, and lined up special guests. Most videos are filmed on-site at the library's main branch, where the Media Services team could assist.
However, not just any children's book can be chosen as a Sweet Story. One of the major constraints on the project has been securing permission from publishers to allow a book to be read in video format. Few have given their permission. 
Despite those challenges, the program has been able to present books in English, Spanish, and Mandarin. Some of the notable readers have included city librarian Michael Lambert and Mayor London Breed. The Mayor's appearance  has since attracted other special guests, such as author Dave Eggers.
A library spokesperson says that the videos have been garnering "incredible viewership." It's one of many programs the library has continued, and even expanded, even as its physical buildings remain closed.
For those wanting to tune and watch in real time, Sweet Stories is broadcast live on YouTube and IGTV six days a week, Monday through Friday at 2 p.m. and Saturdays at 10 a.m.