San Francisco's shelter-in-place orders for COVID-19 have been relatively easy on outdoor markets. With proper distancing, farmers markets have been allowed to remain open from the beginning, while flea markets got the go-ahead to return on May 4. 
But some SF markets still remain offline, as organizers examine how to accommodate social distancing in spaces that have suddenly become far too small to be safe. 
"The space is really small," says Danny Sauter, a co-organizer of North Beach's weekly farmers market. Held in a parking lot at Columbus Avenue and Filbert Street, the market was originally set to return for the season in April, but hasn't yet. 
The monthly Inner Sunset Flea Market, organized in cooperation with the Inner Sunset Park Neighbors, was also set to commence in April, before the pandemic shook up its plans. 
The flea market usually takes place on a single block of Irving Street, between 9th and 10th avenues, but manager Angie Petitt-Taylor says that's too small a space for vendors and customers to socially distance. She's considering getting an SFMTA permit for another block of space to spread out.
Other markets have suffered knock-on effects from pandemic-related social changes. 
Gail Hayden, director of California Farmers' Markets, says that the Farmers' Market at Crocker Galleria was affected by what had previously been an upside — its location under the mall's glass pavilion, protected from the wind and the rain. When the Galleria was required to close, the market was, too.
Even if the Galleria hadn't been shut down, Hayden said, the market likely wouldn't have continued for long. With a customer base largely made up of Financial District workers, its foot traffic would have been hit by the shift to working from home.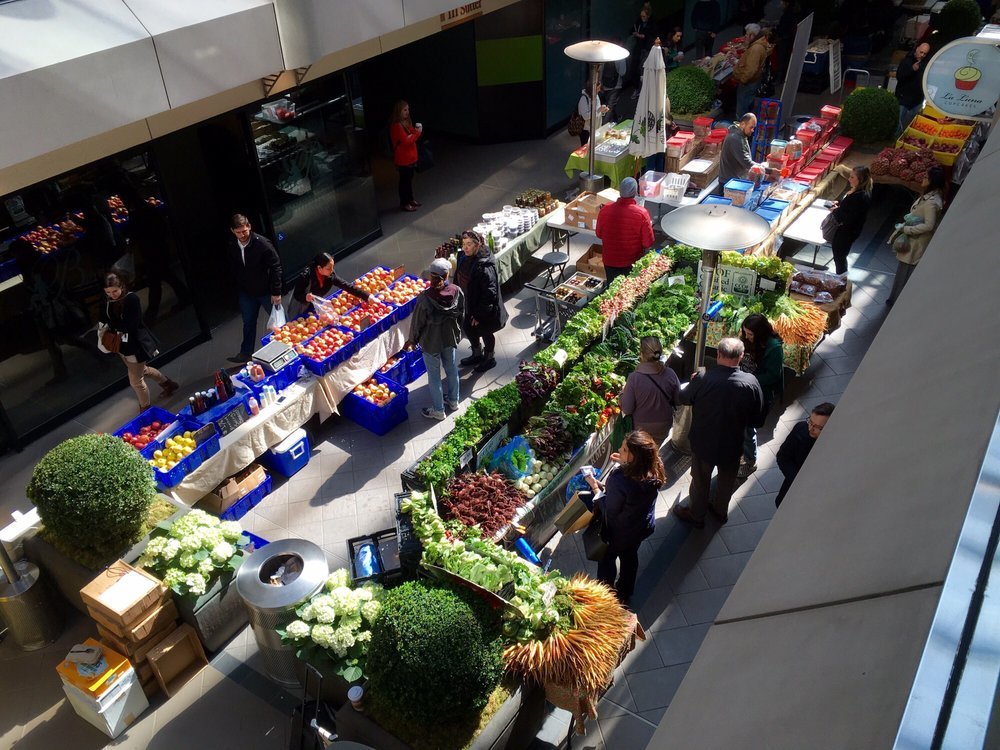 The obvious solution for the markets is to find new locations. Hayden said most of the Crocker Galleria's vendors were able to shift to another California Farmers Market location, in the parking lot at Fort Mason Center.
With the FiDi locals who used to patronize Crocker Galleria rerouted there, the usual Sunday market has been able to expand to a second weekly appearance on Wednesdays. 
Over in North Beach, Sauter is currently eyeing a nearby parking garage that would offer more room for vendors to spread out. But there are some logistical concerns, both with transferring its city permits to the new location and working out a plan with the owner of the garage.
While they navigate the ever-changing virus situation, the markets have been busy developing new guidelines for attendees after they reopen.
At the Fort Mason Market, Hayden said staff have been trying to move customers through the market quickly, with stalls blocked off with tape.
"People have been good with socially distancing," Hayden said. "They get in and they get out."
Developing guidelines is more challenging for the Inner Sunset Flea, which is strongly "based on community," Petitt-Taylor said. The market used to have hula hoops and jump ropes lying around for kids to share. Now, she's trying to develop touch-free replacement activities, like hopscotch.
Additionally, she said, the market will need "event ambassadors" to remind people of the guidelines," such as wearing masks or staying six feet apart. And unlike at a farmers market, flea market attendees often need to touch or examine items — so cleaners and disinfecting wipes must be on hand.
"We feel that it's important to open with a strong, comprehensive safety plan," Petitt-Taylor said, adding that the CDC's statement that the virus doesn't primarily spread through surfaces was "encouraging."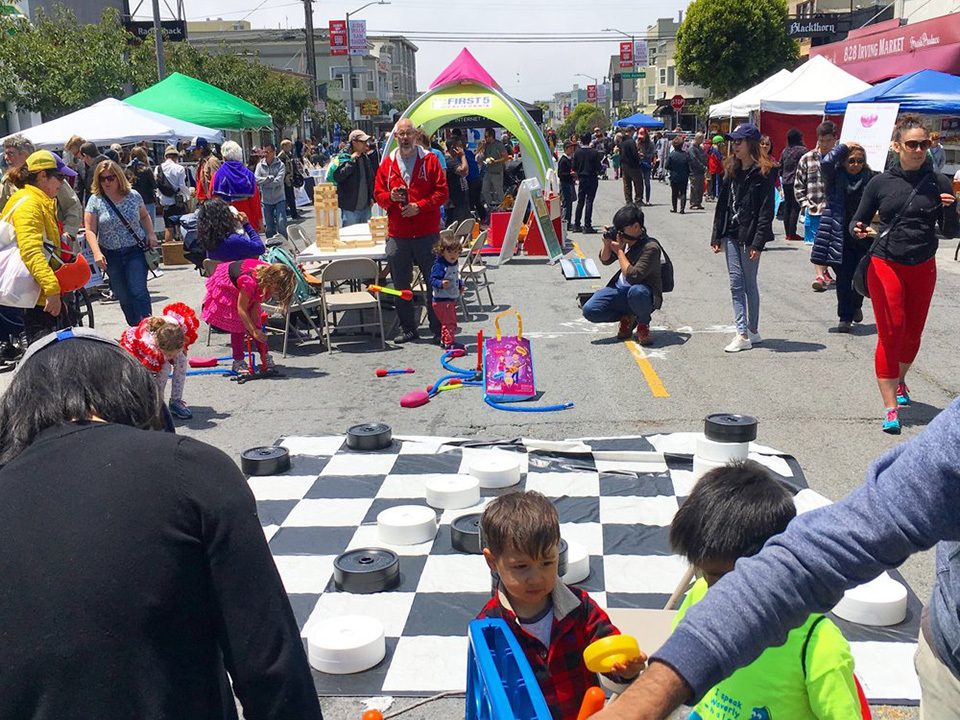 The North Beach market is adapting in a different way, by offering pre-packed market boxes from vendor Veliz Organic, a 13-acre farm in Hollister. The boxes, which launched last weekend, can be pre-ordered each week through Friday, with pickup on Saturday. 
In a survey of about 100 market customers, vegetables like greens, carrots and celery were the most-requested products, Sauter said. But fruit and flowers have also been popular requests, and will likely be added in over the coming weeks.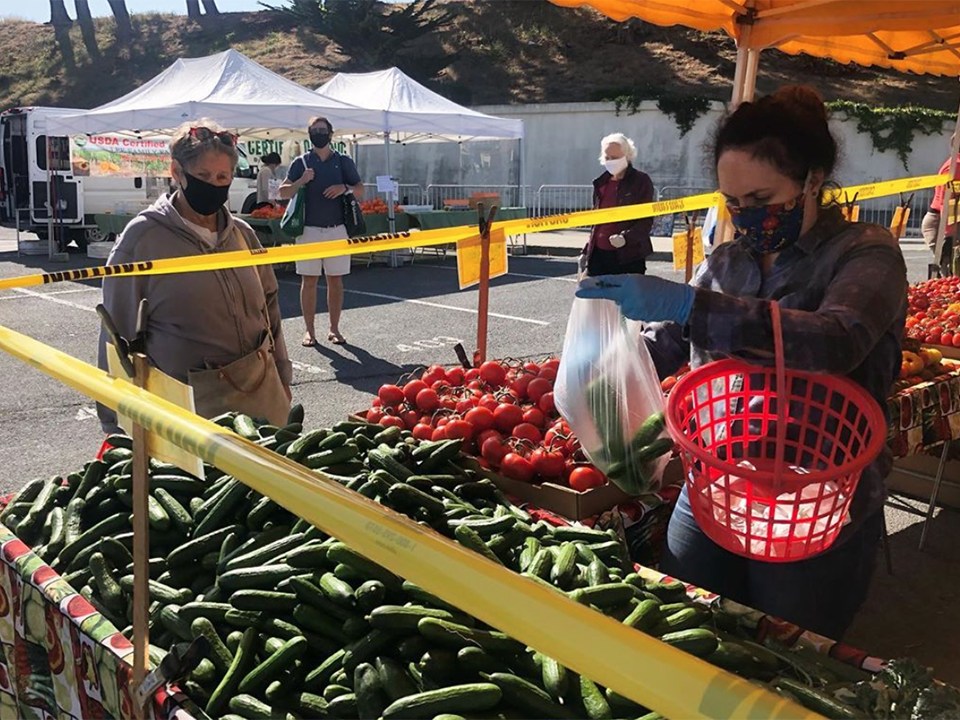 All three market organizers are confident their customers will return eventually. And there's an upside to reopening late: they'll get to use ideas from other markets that had to innovate while remaining open.
"If we start in the summer, we can learn from all the other markets," Sauter said.