In response to the COVID-19 pandemic, the notoriously strict California Department of Alcoholic Beverage Control (ABC) has relaxed some key rules. Restaurants can now sell beer, wine and cocktails with to-go food, while distilleries can deliver hard liquor directly to customers (with size limits). 
But the good fortune hasn't extended to San Francisco bars without kitchens. Restaurants can reopen for outdoor dining today and indoor dining on July 13, but food-free bar reopenings are being put off until mid-August.
Takeout should be the solution, bar owners say. But if a bar can't serve a "bona fide" meal, they legally can't serve cocktails to go. Any to-go booze has to be sold in sealed bottles, like at a liquor store.
Snacks, like nuts and pretzels, obviously don't make the grade. But beyond that, "bona fide" is largely in the eye of the beholder. 
The Page (298 Divisadero St.) doesn't have a kitchen. So owner Bob Wait has been teaming up with his neighbors at The Little Chihuahua, serving burritos to accompany the bar's to-go cocktails, spirits, and beer. 
The collaboration itself is completely aboveboard, based on the ABC's rules. But the agency says "prepackaged food like sandwiches or salads" doesn't count as a bona fide meal.
What about a burrito that's wrapped and sent over from down the street? Is that prepackaged?
Wait said he's had several conversations with the ABC about the question. But while he found the agency "surprisingly helpful and responsive," he still hasn't gotten a clear answer.
Many representatives didn't even know about the food and to-go cocktail rules when he inquired about them. "They are scrambling, too," he said. 
Down the street at Madrone Art Bar (500 Divisadero St.), owner Michael "Spike" Krouse faces a similar quandary.
He's been teaming up with a few local vendors, such as Debonair Catering and private chef Krista Nakamura, to serve food with cocktails like his vodka-infused "Spike's Hard Lemonade." But he's not sure whether the content of the daily menu affects his legal standing. 
Is mac and cheese a bona fide meal? What about a carton of dumplings? A taco? Unsure of the line in the sand, Krouse has sold them all, and hoped for the best.
"At this point, I am like, 'Throw us a bone, let us at least try to get our livelihood going,'" he said. "But we're trying to figure it out as we go."
To serve to-go cocktails, Mini Bar (837 Divisadero St.) has been partnering for occasional pop-ups with private catering company Alamo Square Park Supper Club, whose owner is a neighbor and bar regular. 
With a menu of Jamaican meat pies and jerk chicken skewers, owner John Ordoña says he's not sure whether he's clearing the "bona fide" bar, either. 
He wonders if the regulatory bodies that oversee bars are purposely trying to keep the rules ambiguous during the pandemic, to give businesses a bit more creative leeway. 
"It may be wise to leave things as be because very specific guidelines might be too strict or stringent and impede the ability to service our neighborhood,"  said Ordoña.
Luckily (or unluckily), Ordoña won't have to worry about it anymore — after one last team-up with Alamo Square this weekend, he's closing Mini Bar for a seismic retrofit. It should be completed just in time for the August 13 reopening date for bars.
"Seeing people walk by regularly, it's obvious they miss gathering at Mini Bar, and seeing familiar faces in that location," he said.
The ABC didn't offer any clarity on whether a burrito or mac and cheese makes the "bona fide" grade.
"I can't answer your question about a specific location until someone from ABC has had the opportunity to visit or review a location, and gather facts," spokesperson John Carr said via email.
"ABC's preference is education over enforcement," Carr continued. "We understand the pandemic has created severe economic stress; that is why the department has pushed through five separate Notices of Regulatory Relief to assist struggling businesses deal[ing] with the pandemic." 
In a new set of regulations released today, the agency did address one fear: once the city allows bars to reopen for sit-down service, they won't have to serve food. (The previous iteration of the rules had made that unclear.)
When he reopens The Page in August — with outdoor seating on the sidewalk — Wait had planned to serve Little Chihuahua's entire menu. Now that it's not required, he's not sure what he'll do. 
Either way, he says, teaming up to navigate the rules has "made him closer" with Andrew Johnstone, Little Chihuahua's co-owner.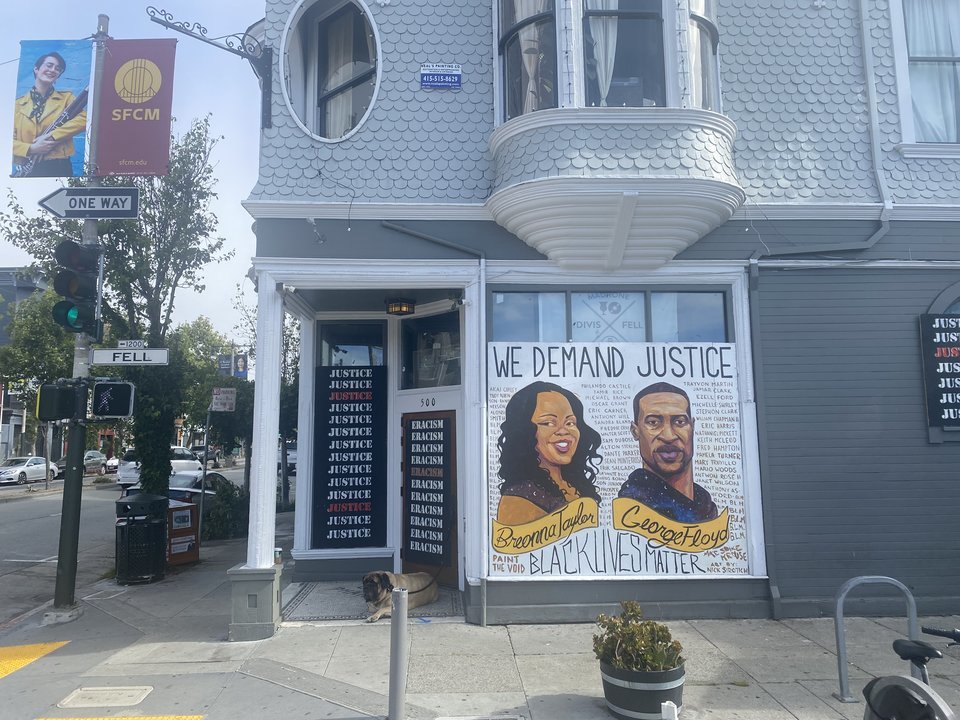 Madrone's Krouse says he's excited for the ambiguity around food to end, so he can get back to what he does best: being a bar. 
"I've never been in the business of selling one [to-go] cocktail — that's not why I am successful," he said. "I sell community. I sell companionship. I sell experience. I sell gathering of people that are different from each other and talking and conversing."
But for now, "I am just trying to make it month by month and make it to the next step."
---
Steven Bracco contributed reporting to this story.