Published on July 29, 2020
Temporary accessible boarding ramps are coming to the inbound and outbound transfer points at West Portal and Church and Market streets, the San Francisco Municipal Transportation Agency announced.
Upon the return of Muni light-rail lines on August 22, the agency is planning some significant changes, including interlining L-Taraval and K-Ingleside trains, while both will no longer enter the subway at West Portal. Passengers will also begin above-ground transfers at Church and Market streets as the J-Church stays out of the tunnel as well.
The West Portal transfer point currently lacks boarding ramps completely, while the J transfer point only has one. SFMTA spokesperson Erica Kato said the new temporary ramps don't need approval by the agency's board.
The SFMTA plans to build the new boarding ramps on Ulloa Street (between West Portal and Wawona), to ensure all passengers can change lines at West Portal. Construction for the ramps at West Portal is currently scheduled to begin sometime in August.
Boarding platforms will also be added on Church Street between 15th and Duboce Avenue for J commuters changing to the N-Judah or to other subway lines.
Both inbound and outbound passengers will have to use a single existing ramp before temporary ones are built.
SFMTA will also create a "transit zone" on Church Street between 15th and Market, banning most vehicles from entering that block of Church Street except for buses and commercial loading.
Officials say the decreased vehicle traffic, along with potential outdoor dining in the street, will help increase foot traffic in the area. The transit zone will also decrease conflicts for trains turning around, which officials hope will increase reliability.
The implementation of the transit zone is set to begin next month, while the boarding ramps will follow after that later this summer.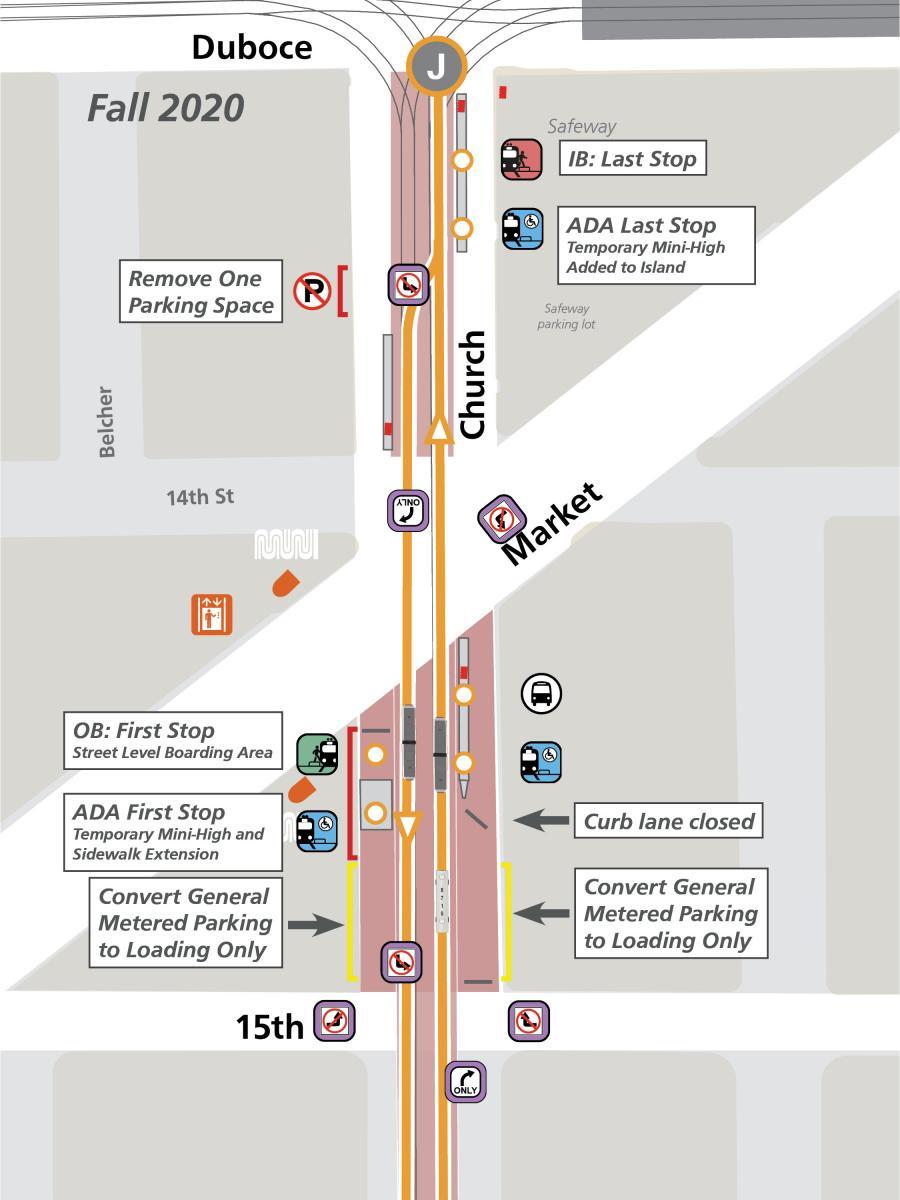 The changes at both West Portal and Church Street are set to be removed within 120 days after the city's current state-of-emergency order is lifted, the SFMTA said.
If the changes are successful, they could become permanent, following additional outreach and an SFMTA board vote. However, for now, the transit zone on Church Street will be striped with white paint, to make a reversal easier, the agency stated.
The boarding ramps at West Portal will also come with a few more adjustments. 
In order to make space for the ramps, a bus stop of the currently suspended inbound  48-Quintara/24th Street on Ulloa Street (at West Portal) will be relocated. 
Two parking spaces, which are tow-away zones during morning and afternoon peak hours, will be removed. Across the street, the outbound bus stop on Ulloa Street (at Lenox) will be shifted west closer to Wawona Street.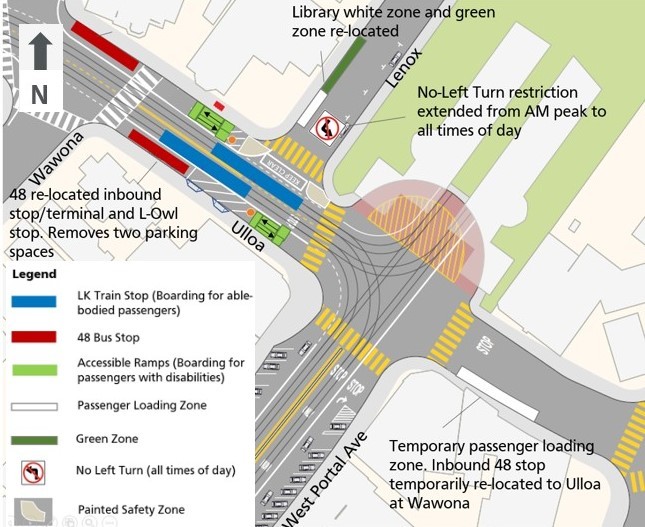 Additionally, an existing no-left-turn restriction in place in the morning hours on Lenox Way southbound to Ulloa Street will be extended to all times of the day. Then, some passenger loading zones will either be removed or moved.
To hear feedback from West Portal commuters, SFMTA is holding a public hearing this Friday at 12 p.m. You can join by phone or online.