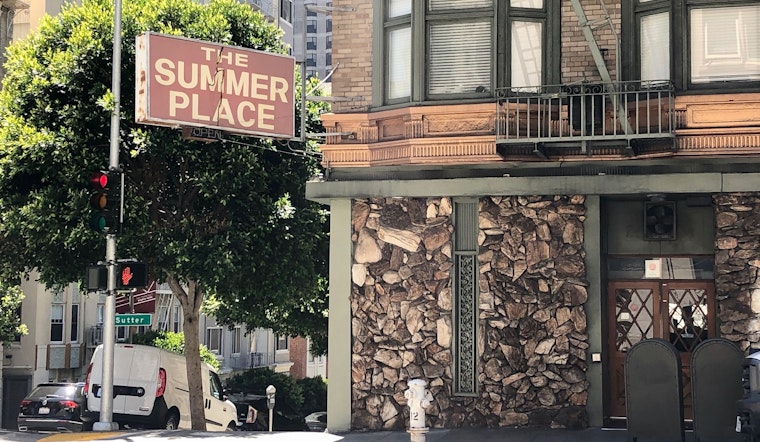 Published on July 14, 2020
Owned and operated by the same family for the past 23 years, The Summer Place bar (801 Bush) has quietly, permanently closed in Lower Nob Hill.
There was no formal public announcement from longtime owner Suzy Gordon that the windowless, cash-only neighborhood spot will not reopen.
A bartender in San Francisco since arriving in the city in the early 1980s, Gordon bought the bar from a friend in the late '90s.
Shon Dolcini, a pinball operator who owned most of the machines in the bar, said Gordon's landlord wouldn't negotiate on rent despite the ongoing shelter-in-place order.
Until about eight years ago, The Summer Place was one of the city's last smoking bars, allowable by law because the bar was entirely family-operated, with Gordon's two sons sometimes behind the bar, helping mix strong drinks and pulling pints of draught beer. 
Around that time, the landlord told Gordon indoor smoking would no longer be tolerated.
Gordon sought out Dolcini, who added several coin-operated pinball machines to the small bar, which also had a fireplace and digital jukebox. The Summer Place subsequently became a destination for pinball players right as the hobby-sport experienced a resurgence.
Dolcini said that due to its location near Union Square hotels, the bar was also popular with international tourists.
"Every time I'd go in to fix my machines, I'd hear people talking in a bunch of different languages," he said.
Named for the 1959 romantic drama "A Summer Place," the dive bar's large red sign made an appearance in the 2018 superhero flick "Ant-Man and The Wasp," a small part of which was filmed on Mason and Bush Streets.