Published on July 30, 2020
Vinyl Coffee & Wine Bar, the longtime cafe and hangout spot at Divisadero and Oak streets, is moving to the Upper Haight.
Meanwhile, new owners have already targeted its space, where they hope to open a cannabis retail shop.
Owner Michael Nader has moved Vinyl to 1673 Haight St., where he previously operated Stanza Coffee. It's not an ideal move, he said: the space is smaller, the Haight has less foot traffic than Divisadero, and the cafe doesn't have a beer and wine license.
---
---
But Nader said he had no choice: the building at Oak and Divisadero is in the process of being seismically retrofitted, and 90% of its floors and walls must be rebuilt.
"It's going to be too hard" to reopen on Divisadero, said Nader, who also owns the Haight's Pork Store Cafe and recently closed a third Haight Street cafe, Panini.
On the upside, Nader was able to retain the employees from Vinyl, and aside from alcohol, the new Vinyl will serve a menu very similar to the old one. He's still looking for a partner to produce Vinyl's Detroit-style pizza for the new location.
Meanwhile, Vinyl's space has already drawn the attention of new owners: Fourward Integration Inc., a legal entity owned by Jason Everett, Alicia Darrow, and Alex Aquino.
Everett is a local DJ with a background in the cannabis industry. Darrow is an owner of SoMa dispensary The Green Door, while Aquino formerly operated Haight Street clothing shop Black Scale, which shuttered in 2018.
This isn't Darrow and Aquino's first try at opening a cannabis dispensary together. In 2018, they were contenders for the sought-after Haight cannabis permit that ultimately went to the Berner's On Haight team of Shawn Richard and Gilbert "Berner" Milam (who also owns the cannabis and clothing brand Cookies).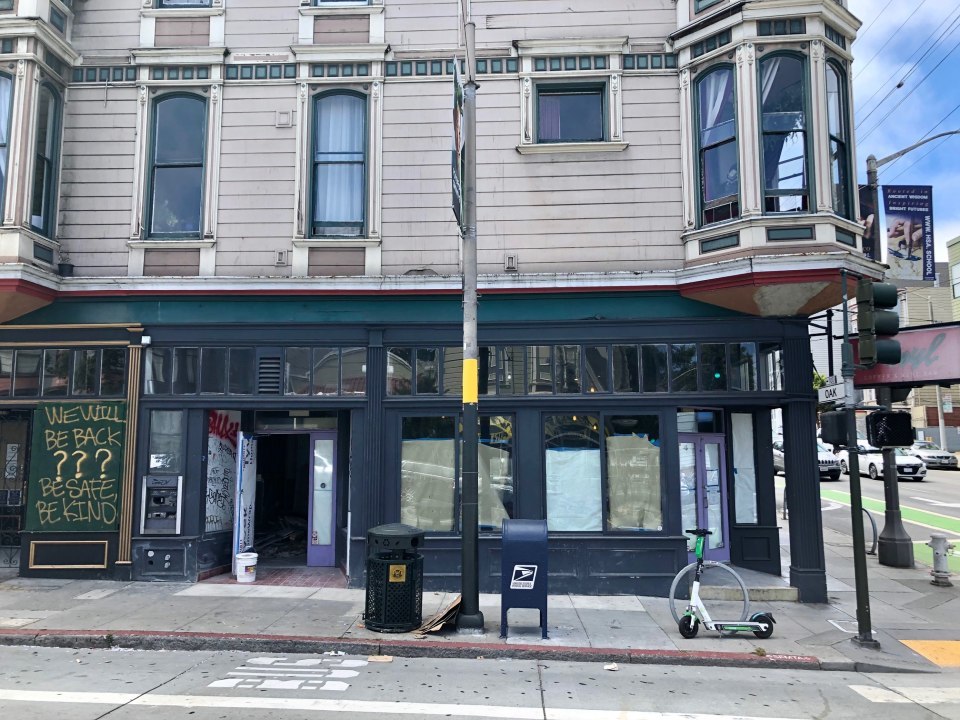 A source involved with the Divisadero project says that it's been in the pre-application phase for two years. According to city records, SF's Office of Cannabis recently gave the trio the go-ahead to apply to operate the space as a recreational dispensary.
Now, the proposed dispensary must go through its mandatory community outreach phase.
Tomorrow, July 31 at 6 p.m., the partners of the new project will host a community Zoom meeting to introduce themselves to the neighborhood and detail some of their hopes for the space. People who can't attend the meeting can also contact them via email.
Should the dispensary move forward, it would be Divisadero's second after BASA, located three blocks north at 1326 Grove St. We'll keep you posted as it goes through the approval process.