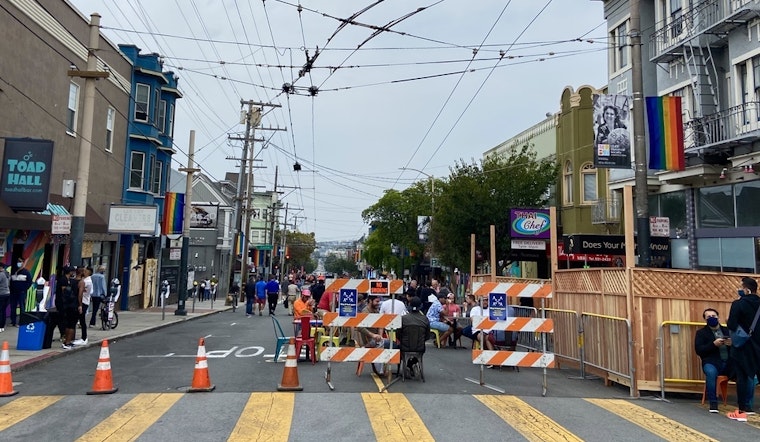 Published on August 28, 2020
Last weekend, the Castro kicked off its first car-free Sunday, as part of the city's Shared Spaces program.
Two small portions of 18th Street, between Hartford and Castro and Castro and Collingwood streets, were closed from 2 to 7 p.m., allowing restaurants and bars to expand their outdoor seating into the street.
Organizers say last Sunday's test run was a big success, and the closures will continue this Sunday, in the same time slot.
"The response was great, from residents and business owners," said Masood Samereie, president of the Castro Merchants. Foot traffic was noticeably higher, creating "a big win for participating merchants, as you could see the increase in customers."
"It pulled us out of the big black hole," said Cem Bulotogule, co-owner of Gyro Xpress (499 Castro St.) "It's not like it used to be, but it's better than nothing."
However, safety concerns remain. Multiple Hoodline tipsters and commenters wrote in to express frustration over a lack of enforcement of masks and social distancing at Sunday's event.
"It was a complete and utter shitshow there," wrote tipster Joni I. "No rules enforced, hardly any masks worn."
"Large groups together, people hugging and kissing total strangers, all standing with drinks and no food," wrote another commenter.
While safety monitors in neon vests were posted on each block, Samereie acknowledged that enforcing health guidelines at the event was tough. Ensuring attendees followed mask rules — including mask use at tables when not eating or drinking — was a particular challenge.
After safety monitors intervened, "the great majority of those we encountered understood and complied," he said. "But others were asked to leave the area."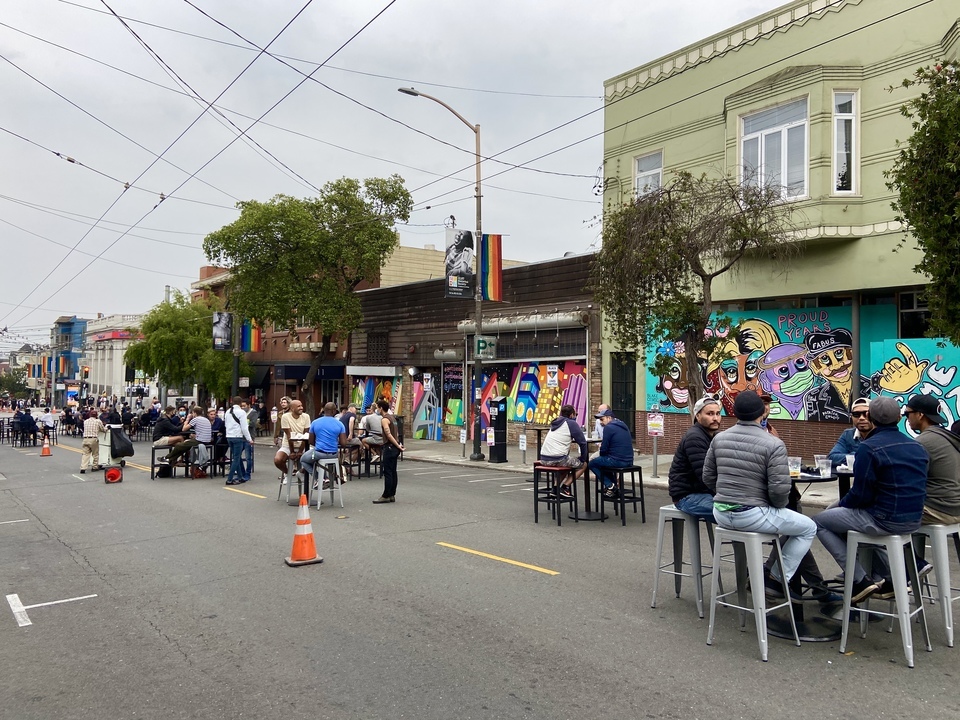 Samereie says his organization will be reviewing COVID-19 safety protocols with all merchants, and assuring them that every staff member is prepared to take action on their behalf in the event of a violation. They're also looking into bringing on additional safety monitors, and plan to tweak the layout of merchants' tables and spaces for better social distancing.
This week's event won't have any performances, either, after a drag show at The Mask Shop caused some crowding issues. Anyone with additional feedback is encouraged to email the group at [email protected].
District 8 Supervisor Rafael Mandelman, who had previously told the Merchants he was concerned about the closures becoming a "giant street party," will be keeping an eye on this week's event.
"I think it's going to require ongoing and consistent vigilance to keep it a safe space," he said. 
Despite the needed safety tweaks, Samereie was gratified by the much-needed community connection the event provided. 
In a year without Pride, the Folsom Street Fair or the Castro Street Fair, "it was great to see people recognize friends — sometimes awkwardly, because of masks — they hadn't seen in person in months," he said.
"The Castro isn't just a district of houses and businesses," said Samereie. "It is a district of people who care about each other, and that was great to see on display once again."
Local businesses are also optimistic. Gyro Xpress' Bulotogule plans to take advantage of the increased foot traffic by launching a brunch menu. He's in favor of extending the street closures to Friday and Saturday, which Samereie says is a possibility if things continue to go well. 
With Shared Spaces permits set to expire citywide at the end of December, Mandelman is hopeful the city might consider long-term policy changes allowing for more outdoor seating.
"I hope that one of the lasting impacts of the current situation is a significant improvement in San Francisco's outdoor game," he said.