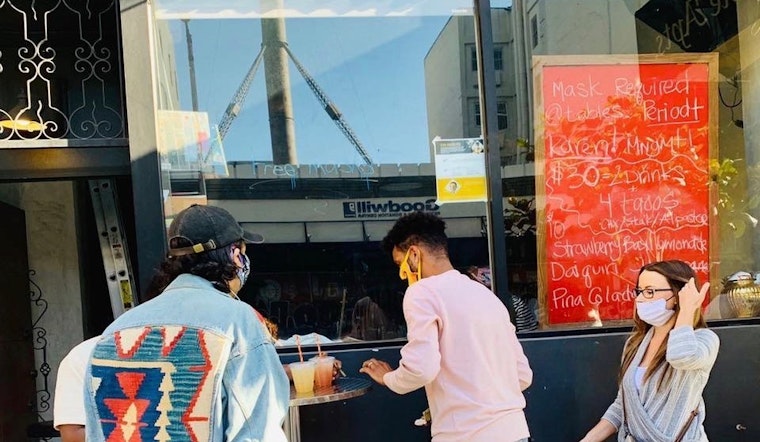 Published on August 04, 2020
Here's the latest in food and libation news. In this edition: a Tenderloin rum bar rebrands and changes its cocktail focus; a Michelin-starred restaurant kills plans for one additional location and alters them for another; and a new Chinese dessert spot debuts in Parkside.
Updates
Tenderloin
Rum & Sugar (823 Geary St.)
Tenderloin bar Rum & Sugar has rebranded itself as "With a Twist," switching from a rum-focused menu to a more wide-ranging menu of craft cocktails. 
In a Facebook post, owners Olga Zhuravskaya and Natasha Avtonomovathe say that their dream of expanding San Francisco's rum palate beyond tiki drinks never quite caught on. But they've had a good following for their cocktails, so they're expanding the menu to include spirits like whiskey and tequila.
The pair didn't respond to a request for comment, and haven't yet released an official new menu online. But a sign on With a Twist's window indicates the bar is now offering drinks like "hard" strawberry-basil lemonade and daiquiris, along with tacos.
Customers can order food and cocktails to go, or enjoy them at the bar's new outdoor standing tables. Follow the bar's Facebook page for updates and drink specials.
Fillmore District
State Bird Provisions (1259 Fillmore St.)
Since the pandemic hit, Stuart Brioza and Nicole Krasinski, owners of State Bird Provisions (1259 Fillmore St.) and the Progress (1525 Fillmore St.) have had to make some tough decisions. 
The Michelin-starred restaurateurs had planned to double their footprint in 2020, taking over the former Sanfrancyclo space in the Lower Haight (799 Haight St.) to open a vegetarian restaurant.
They were also set to open The Anchovy Bar — specializing in cured fish, oysters, beer and wine — in the former Fat Angel space at 1740 O'Farrell St., just around the corner from their Fillmore restaurants.
But things have changed. According to Eater SF, Brioza and Krasinski have now decided not to move forward with the Lower Haight restaurant.
"We hadn't begun construction, and even though the landlord worked well with us, looking into the crystal ball, who knew what that restaurant would even be without indoor dining," Brioza told Eater. "We decided to terminate the lease and step away until things are in a better place."
Meanwhile, The Anchovy Bar, originally set to open in April, won't debut until sometime this fall — and it will have a different menu than planned. 
The couple were also forced to temporarily close both their existing restaurants last week, due to potential coronavirus exposure. They announced their reopening on Instagram today; hours for pick-up are Thursday-Sunday, 5-8 p.m. 
Openings
Parkside
Sugar & Water (1155 Taraval St.)
Tipster Ruby Z. has informed us that a new spot focused on Hong Kong-style desserts has softly opened in Parkside. It's called Sugar & Water.
The selection of sweet options includes sesame paste, walnut soup and tofu pudding. There's also an assortment of savory noodle dishes, such as shredded chicken ginseng broth mixian and minced pork lo mein.
Hours are weekdays from 11 a.m. to 7 p.m. (closed Tuesdays), and weekends from 3 p.m. Orders can be placed by phone at (415) 592-8988, with payment accepted in cash or via Venmo.
Follow the business on Instagram for updates.
---
Thanks to Ruby Z. If you've seen something new (or closing) in the neighborhood, text your tips and photos to (415) 200-3233, or email [email protected]. If we use your info in a story, we'll give you credit.