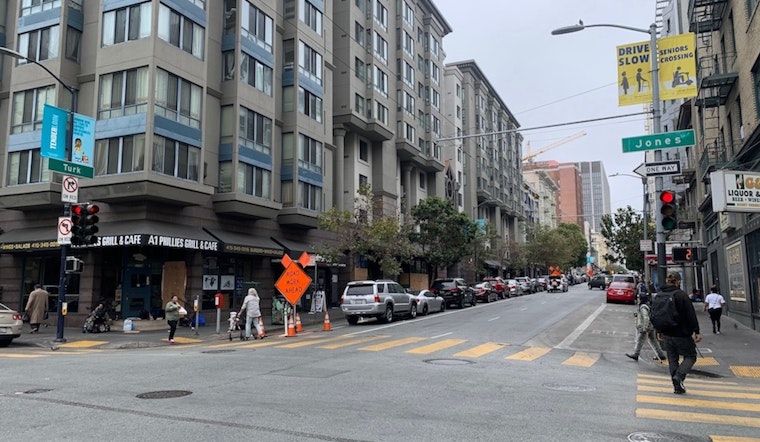 Published on August 27, 2020
More than five months after the city largely closed its parks and playgrounds, the Tenderloin is finally getting access to its first outdoor play space for children.
This Saturday, August 29 from 10 a.m. to 4 p.m., the 200 block of Turk Street (between Jones and Leavenworth streets) will be closed to cars for the soft launch of a "Play Streets program" targeted at families. [Update: The August 29 event has been cancelled; the first "Play Streets" Saturday will now be September 5. More information below.]
The program has been a long time coming for the neighborhood, which is San Francisco's densest and has its highest per-capita population of children. For months, many Tenderloin families have felt trapped indoors, worried about a lack of space to socially distance on sidewalks that were crowded with a growing number of tent encampments.
It took UC Hastings and several business representatives suing the city over the worsening conditions in the neighborhood to trigger real action. In recent weeks, the tent count has been declining, as more unhoused residents are offered hotels and other sleeping spaces.
But street closures have been more elusive. Residents have repeatedly protested as the city changed and delayed plans for car-free streets. 
Currently, the only regular street closure in the neighborhood is on the 100 block of Golden Gate Avenue, which closes to vehicle traffic daily from 6 a.m.- 3 p.m. to allow St. Anthony's to provide meal services to people in need.
The Play Streets program aims to change that. It's a collaboration between the SFMTA; Livable City, which runs the Sunday Streets program; and the Tenderloin Community Benefit District (TLCBD). 
"[We've been] looking for months to find ways to create safe outdoor space for neighborhood residents," said Hunter Franks, the TLCBD's director of inviting space programs. 
In addition to obtaining elusive city permits, the TLCBD's main stumbling block has been the need for funding. Unlike most other neighborhoods, the Tenderloin needs stewards to ensure people feel comfortable and safe visiting the car-free streets. 
"The Tenderloin is still not viewed as a residential neighborhood, and that is the result of decades of racist and misrepresented planning and zoning," Franks said, noting that the neighborhood is too often treated as a thoroughfare for getting from the Financial District to other parts of the city.
The TLCBD is still seeking funding to hire a stewardship service, such as Urban Alchemy, or to support its own Safe Passage corner captains to provide additional oversight for the closed streets.
Despite these headwinds, the TLCBD is excited by the progress the Play Street represents. It chose the 200 block of Turk because it has a high population of both seniors and families with children, many of whom haven't been able to walk outside safely for months.
The Tenderloin Neighborhood Development Corporation, the Boys and Girls Club and the Tenderloin Museum all helped the TLCBD determine that Turk was "what was most feasible" for the effort, Franks said. 
While the closure on Turk will feature some light programming, it's mostly intended as space for kids to run around and ride their bikes, with a few areas for seniors to sit in the fresh air and read or talk.
Currently, the street closure is set to run for six Saturdays in a row, through October 3. But for now, it's only being billed as a "soft opening." Some safety protocols and other issues still aren't finalized, and if air quality from the ongoing wildfires is too hazardous for vulnerable populations to breathe, the event will have to be pushed back a week or two. 
The TLCBD is already considering Play Streets on other blocks, such as Eddy Street, near Boeddeker Park, or Taylor Street, outside of PianoFight.
It's also collaborating with the Tenderloin Merchants' Association on an effort to close several blocks in the neighborhood through the city's Shared Spaces program, which focuses on providing restaurants more space to offer outdoor dining.
The first two blocks the group is targeting are the 300 block of Golden Gate Avenue (between Hyde and Larkin) and the 600 block of Larkin Street (between Eddy and O'Farrell). Their aim is to close them to vehicle traffic from noon to 7 p.m. each Thursday through Sunday, beginning September 17. 
But none of that will be possible without money to hire stewards and buy barricades to keep the streets clear and protected, Franks said. Volunteers will also be needed to make sure vehicles don't breach the barricades.
Anyone with the ability to provide support in the form of funds, time, or other resources is encouraged to email Franks directly ([email protected]).
For those who can't donate time or money, he said, the best alternative is to eat or buy from the small local businesses that have struggled during the ongoing shutdown.
Despite the long wait and the financial hurdles, Franks hope the street closures will serve as examples for how to pedestrianize streets in dense, underserved neighborhoods that need more outdoor space.
"If things were 'normal' today, we may not have had this opportunity to start reimagining what a Tenderloin street is, who it serves, and how it serves them," Franks said. "Although it's a crisis, it serves as an ongoing opportunity to really shift the culture of how neighborhood streets can be used."
Update, 8/28, 11 a.m.: Due to unhealthy air quality, the first Play Streets closure has been postponed from this Saturday, August 29 to next Saturday, September 5. 
"Our first priority is the health and wellbeing of Tenderloin residents, and so we will not have the event tomorrow," Franks said. "We are taking this as an opportunity to do even more planning and outreach for our series."