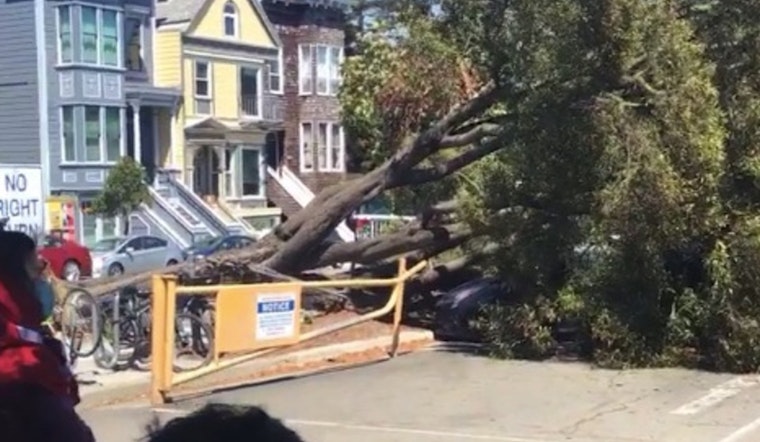 Published on August 21, 2020
In just over a week, two large, prominent trees in and near the Panhandle Park have fallen in seemingly random occurrences — one of which required firefighters to free a trapped person from their destroyed car.
The first tree, a large Monterey cypress, fell into the Panhandle at the corner of Masonic and Oak last week. Officials believe that its root system gave way.
About one in three Monterey cypresses, which feature prominently in the Panhandle and Golden Gate Park, expire due to root failure, according to a 2014 study.
More commonly, the cypress trees drop their limbs — equally dangerous, given their girth and the typical 70- to 90-foot height of a mature Monterey cypress. A Berkeley man was killed in 1998 when a cypress fell on his car.
Surprised to find that we lost the medium size Monterey Cypress at corner of Masonic and Oak. Root ball pulled right out of the ground. Too bad...that spot needs an anchor pic.twitter.com/40KLAhITQH

— Panhandle Park (@4ThePanhandle) August 12, 2020
The other tree fell yesterday afternoon into the parking lot of the DMV, at 1377 Fell St. It landed on two cars, one of which was occupied. 
The San Francisco Fire Department responded to the incident and freed the person from the car. Public information officer Lt. Jonathan Baxter said the person was uninjured. 
The fallen tree appears to be an acacia melanoxylon, or Australian blackwood — a common street tree in San Francisco that's prone to trouble.
The Panhandle and its adjacent area has a long history of fallen trees and tree limbs, due partly to the maturity of its trees, and partly to the park's narrow shape.
The design of the Panhandle gives it maximum surface adjacent to vehicular traffic on busy thoroughfares, as well as its heavily used pedestrian and bicycle paths. Over the years, fallen trees have blocked the paths, and come very close to injuring cyclists.