When Muni's light rail trains returned on August 22, the San Francisco Municipal Transportation Agency closed a half-block of Church Street (between 15th and Market streets) to cars.
The intent of the closure was to allow riders to maintain a social distance while getting on and off trains at the last stop of the modified J-Church line. 
But with trains on hold once again at least until the end of the year, some business owners on the restaurant-filled corridor are calling for the closure to end. They say it's preventing delivery drivers from accessing their restaurants, and has led some customers to falsely believe that their businesses are closed.
The bus shuttles that have replaced the trains are getting "nowhere near the ridership we were anticipating," transit planning manager Sean Kennedy said at Tuesday's SFMTA board of directors meeting.
The agency expected 20 to 30 people to get on and off the train each time it stopped. But it's currently seeing just two to three riders boarding or deboarding bus shuttles at the stop.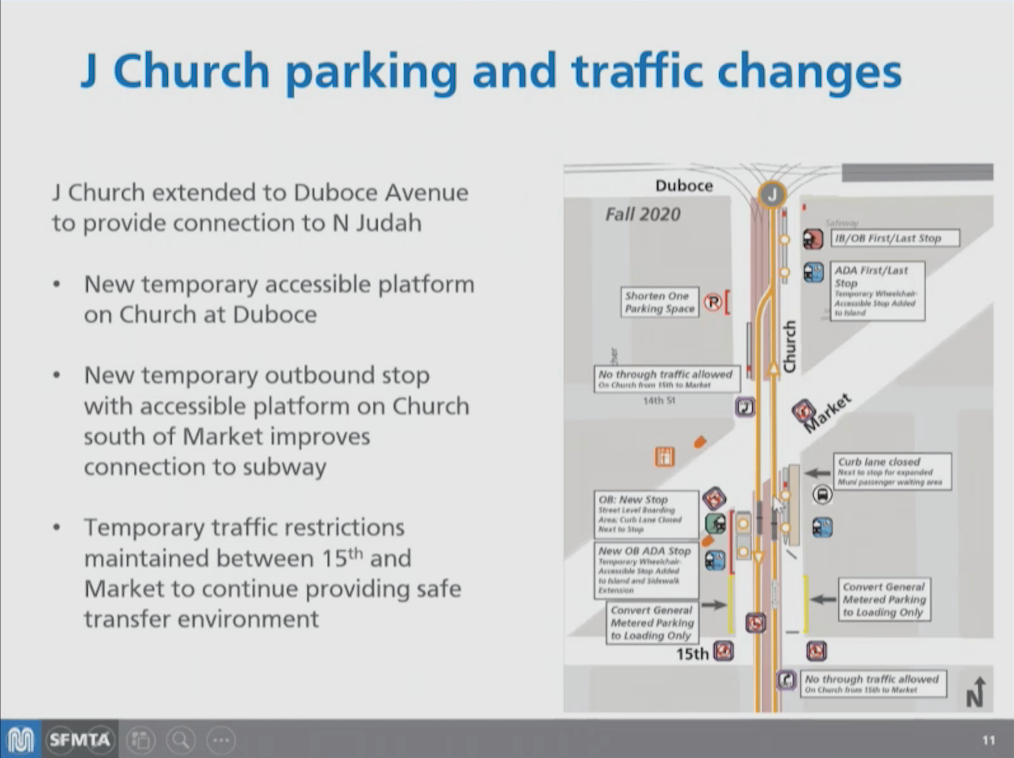 Kennedy said that the agency has received a lot of feedback that the parking control officers (PCO) placed at the 15th Street and Market Street entrances to Church Street have made access difficult for the residents, business owners and delivery drivers allowed on the block.
"Unfortunately, I think just the mere presence of uniformed people dismayed some delivery services to continue to do those pick-ups," Kennedy said. "Grubhub drivers weren't picking up anymore ... they didn't know if they were supposed to be there or not."
A representative for Chinese restaurant Red Jade (245 Church St.) called in to tell the SFMTA that business has dropped by 25 to 30% since the street closure began. A property owner on the 200 block of Church Street (between 15th and Market) alleged that vandalism has increased, because pedestrian traffic is down.
Many callers told the SFMTA that Church needs more "green zones" — short-term parking spots with a 10-minute maximum. They also complained of Muni's bus shuttles idling between trips on the 200 block of Church Street, blocking businesses and parking spaces.
Some of these issues were addressed last week. The SFMTA pulled the PCOs, installed some additional green zones and moved the waiting buses a block north, towards Duboce Avenue. 
But those moves haven't pleased everyone. A caller representing Safeway said that moving the buses to idle on Church between Market and Duboce will block traffic and pedestrians at a "major entryway for Safeway."
"It seems this project is being rushed through," they said.
Kennedy said that no final decision has been made on moving the buses, and that there will be additional door-to-door outreach to look at possible options. One option is to reopen the northbound travel lane of Church (between 15th and Market). 
SFMTA director Sharon Lai also noted that signs have only been placed where the street closure begins, and that installing additional signage as drivers approach the intersection might help.
1/2 @sfmta_muni the no through traffic sign at church and market isn't working, because you can't see it until you get across the intersection then you have to go into the red Muni lane to avoid it. pic.twitter.com/zvc9oAA9kz

— Aidan S. (@asond360) August 23, 2020
Once Muni does return, more changes are on the way. A temporary accessible boarding ramp will be constructed at Church and Duboce, and a new stop for outbound J-Church trains will be constructed on the south side of the Church and Market intersection, to allow for a smoother transfer for subway riders.