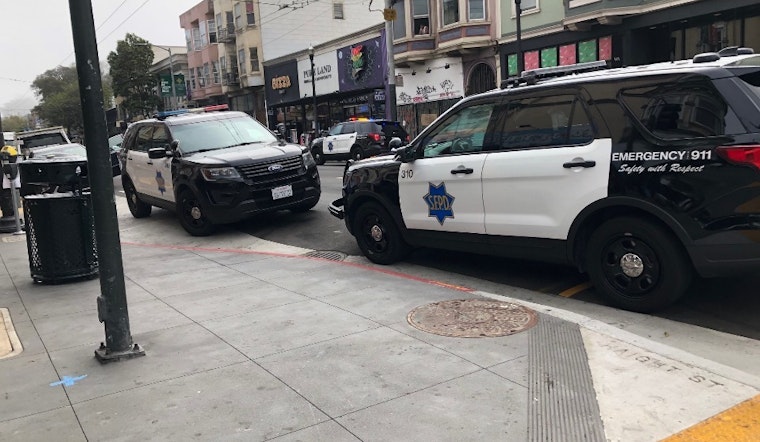 Published on September 24, 2020
Two people were hospitalized this morning after being found unconscious in a car on Haight Street, at Ashbury at 10:30 a.m. following a presumed drug overdose. For half an hour, emergency crews from the police and fire departments assembled at the intersection and partially blocked traffic while administering aid.
"An officer observed a vehicle on the street with two occupants who were slumped over," said San Francisco Police Department Ofc. Robert Rueca in an email. "The officer tried to speak with the occupants but both were unresponsive. Officers immediately rendered aid and summoned medics to the scene."
Ofc. Rueca said officers administered Narcan, the brand name for the overdose reversal medication Naloxone, which can save the life of someone undergoing an opiate overdose.
A bystander at the scene said emergency workers spent about 20 minutes trying to resuscitate the victims at the scene before an ambulance took them to the hospital.
Rueca said the people hospitalized were in "unknown medical status at this time."
(1/2) This morning, officers from @SFPDPark observed a vehicle with 2 occupants slumped over inside. The officers attempted to make contact but both parties were unresponsive. The officers immediately rendered aid and called for medics... pic.twitter.com/OSl3DVIOiY

— San Francisco Police (@SFPD) September 24, 2020
Overdoses often impact people in less busy, less immediately publicized circumstances — this incident was prominent largely for occurring at a busy intersection in broad daylight. Overdoses and overdose deaths have been skyrocketing in San Francisco in the last two years, in large part because of the prevalence of fentanyl and the inconsistency of the drug's potency on the street. As the Chronicle reported earlier this month, following a new report from the city's Department of Public Health, there were 441 overdose deaths in San Francisco in 2019 — more than one per day. That represents a 70-percent leap over the previous year, and more than half of the deaths in 2019 were related to fentanyl.
Dr. Phillip Coffin, the health department's director of substance use research and the author of the recent report, believes that the leap in OD deaths this year will be even higher than 70 percent.
Safer drug use practice recommends people using opiates work on a buddy system, stagger their doses so they can help each other in the case of an overdose, and carry Narcan.