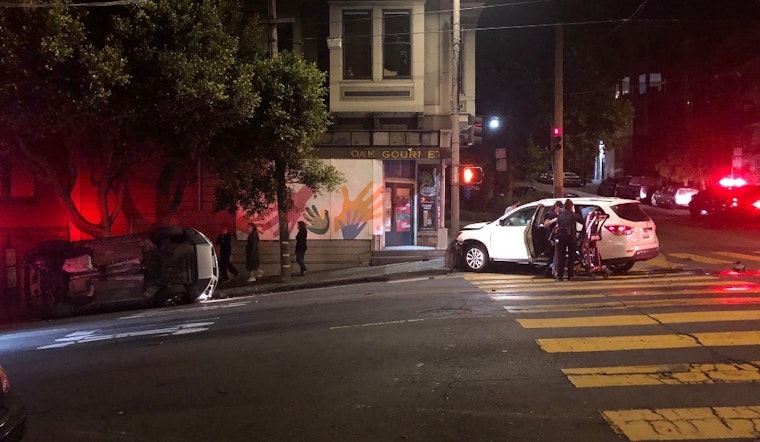 Published on September 22, 2020
Two drivers collided at Oak and Buchanan streets last night, with one vehicle flipping multiple times and the other crashing into a light post in front of corner store Oak Gourmet.
According to a witness, the collision occurred around 9:30 p.m. Occupants of both vehicles, including the driver of the rolled car, appear to have exited their cars without serious injury.
An employee at Oak Gourmet, which was closed at the time, said neither of the vehicles collided with the building. The flipped car ended up down the hill on Oak Street, but facing against traffic, as pictured above.
The San Francisco Police Department didn't respond to a request for comment on the cause of the collision, or whether anyone was injured. We'll update this post if we receive more information.
Update, 12:30 p.m.: SFPD Ofc. Tiffany Hang said in an email that one of the collision victims was transported to the hospital with non-life threatening injuries, and that all parties remained on scene to cooperate with the investigation. "Impairment does not appear to be a factor in the collision," Hang said.