The landmark Hallidie Building (130 Sutter St.) is getting a new ground-floor tenant next year, and it's the professional organization for architects that has long occupied some offices on an upper floor of the building.
The San Francisco chapter of the American Institute of Architects (AIA) is moving into 10,000 square feet of street-facing space that was previously home to a men's clothing store, as the Chronicle reports, in a move that has been in planning since before the pandemic began. It's an expansion of the organization's lease in the building, and the ground-floor space will serve as a cafe, gallery, and gathering space for public-engagement programming — once such things are allowed again. The $4 million project is being designed by local starchitect firm Aidlin Darling Design, and architect Joshua Aidlin tells the Chronicle it's a "passion project" that will help highlight the "importance of design" for the greater public.
The AIA's San Francisco chapter offices will relocate from upstairs to a mezzanine level in the space, which will also include a sound-proofed podcasting studio, and 120-seat auditorium for lectures.
"This is either the best or worst time in history to be doing a community center," said Stacy Williams, the executive director of the SF chapter, speaking to the Chronicle. "Either way, it's an amazing opportunity to help people understand why architecture and urban design is so important to their well-being."
The Hallidie Building is beloved by architects the world over for its elegant facade and its pioneering "curtain wall" — the facing of sheer glass that forms the skin of the building, which otherwise has a concrete and steel core. Architect Willis Polk, better known for more classically inspired buildings around San Francisco like the Hobart Building, designed the building as a University of California office property — and it seems that budget constraints and demands for natural light from the client helped drive the unique design. Without necessarily knowing he was doing it, Polk anticipated the trends of the 1950s and 60s toward glass curtain-wall highrises, including the work of Mies van der Rohe.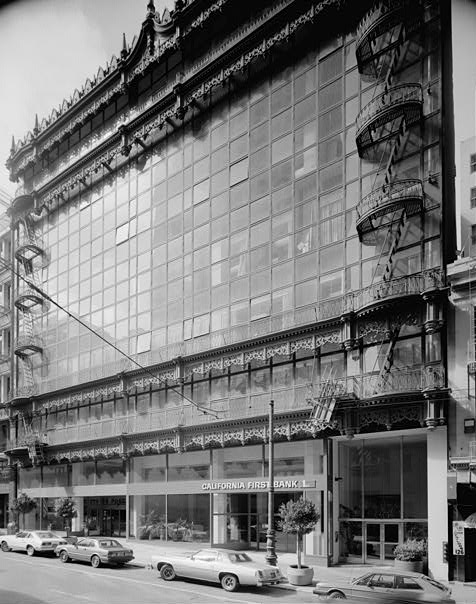 The Hallidie Building at 130 Sutter St. | Photo: Wikimedia
Curbed SF covered the history of the building on the occasion of its 100th birthday in 2018 — following a 2013 preservation effort — and noted its many accolades among architectural historians. In his book Twentieth Century Architecture: A Visual History, Dennis Sharp calls the Hallidie Building, "one of the finest and most uncharacteristic facades to be erected on the west coast in the late 1910s." And in their book Modern Architecture: 1851-1945, Kenneth Frampton and Yukio Futagawa write of the building's "extraordinary precision and lightness" and call it "the unique triumph of Polk's career."
The AIA's new space in the building is expected to open to the public next summer with a series of events.