One of the Tenderloin's Safe Sleeping Sites is now permanently closed after neighbors raised ongoing concerns about overcrowding and persistent illegal activity.
750 Eddy Street closed on November 6, and "there are no plans at this time for guests to return to that location," according to a representative from the San Francisco COVID Command Center.
The site, which surrounded a currently underutilized City College building, was selected because it was available and offered enough square footage to accommodate eight tents while still providing space for social distancing.
But the site is also surrounded by residential buildings, and quickly became a place for individuals to congregate off the street.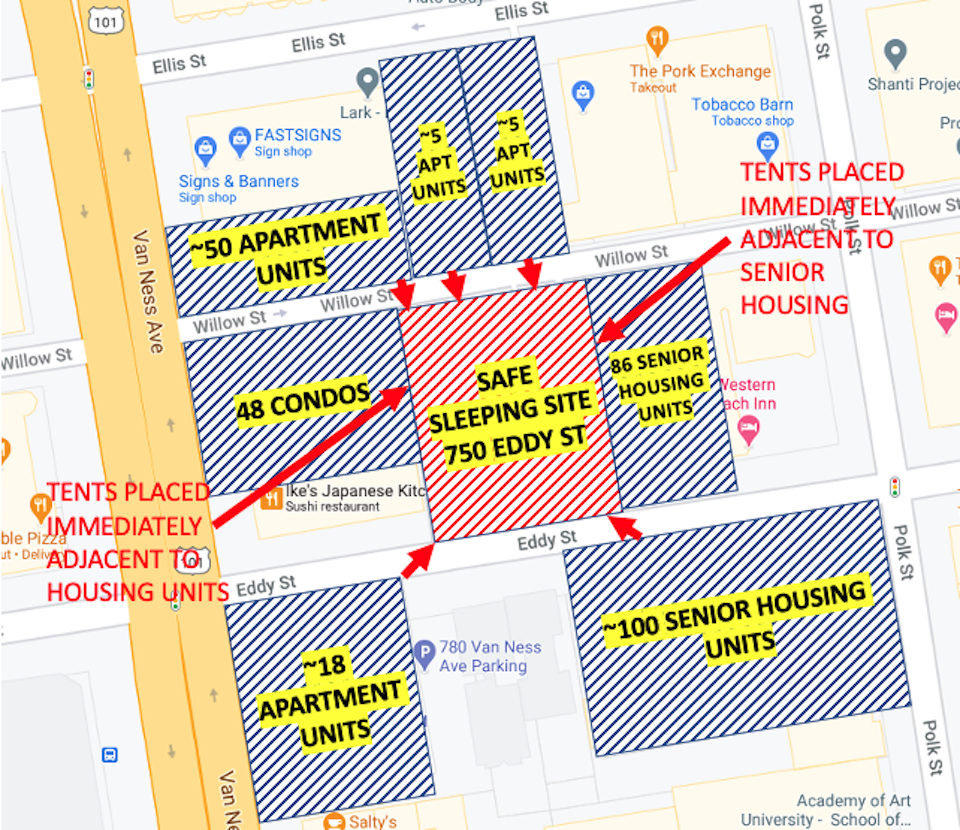 Map of 750 Eddy safe sleep site courtesy of @unsafesleeping
"It was never quiet," says Chris, a nearby resident who launched a Twitter account to document the site. The city laid out only eight tent sites in the lots, but there were more than 20 tents occupying the site at all times, he said.
He also said there was constant flow of people in and out, stereos blasting music, and power tools being used at all hours as a makeshift bicycle chop-shop materialized.
According to the COVID Command Center, a security company monitored the site 24/7, and CARE Ambassadors, led by Code Tenderloin and the Downtown Streets Team, "regularly visit to provide outreach and engagement, harm reduction supplies and intervention, medical services, and trauma-informed behavioral health services."
Code Tenderloin conducted outreach at 750 Eddy, but they didn't have the resources to staff it more than 35 hours a week, according to Chris.
"After they left, it was chaos," he added. Chris tells Hoodline he had several conversations with the San Francisco Police Department and Tenderloin Station Captain Carl Fabbri, and he used the Twitter account to provide feedback and raise awareness of conditions at the site.
A similar site, 180 Jones, is still operating as a Safe Sleeping Site and is expected to continue through March 15, 2021, according to the COVID Command Center.
The city expanded an existing contract with Treeline Security to provide 27/4 service at 180 Jones and other sites in an effort to move quickly during the pandemic, Max Barnes, spokesman for the Mayor's Office of Housing and Community Development (MOHCD) told us.
"The Office of Contract Administration in the City's Administrator's Office is responsible for contracting with security firms," Barnes said. "MOHCD accessed that contract for security at 730 Stanyan and 180 Jones."
The contract requires Treeline to protect the city's property, including those two sites controlled by MOCHD at 180 Jones and 730 Stanyan, which are slated to become 100% affordable housing developments.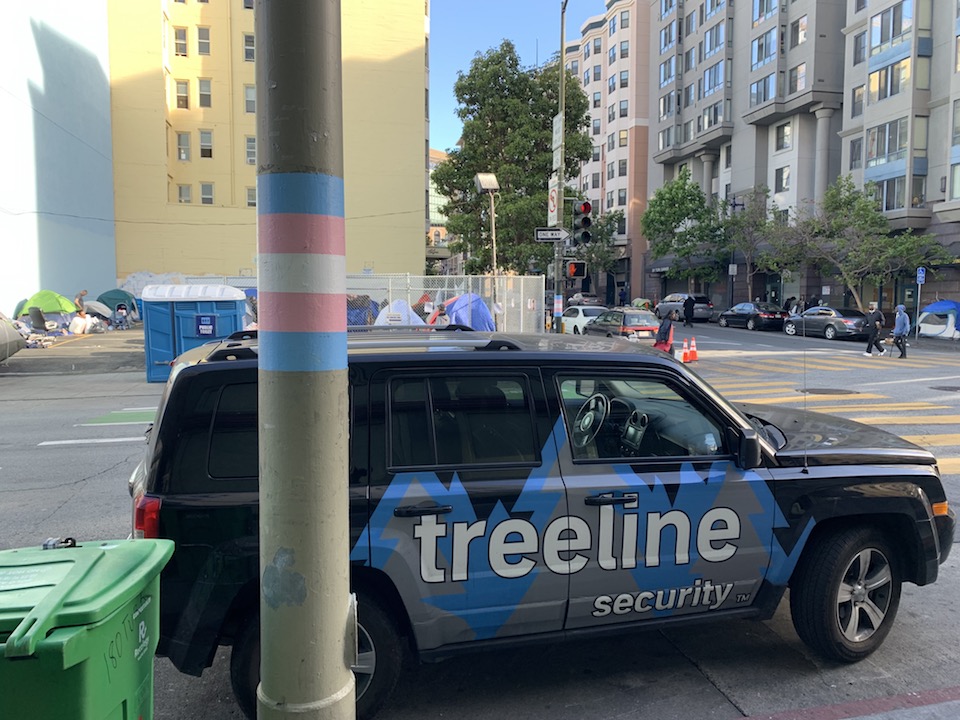 Treeline Security parked in front of 180 Jones St. | Photo: Carrie Sisto/Hoodline
Chris told us that Treeline is still parked outside 750 Eddy St., even though it is empty. A similar situation occurred at 180 Jones before it was opened as a safe sleeping site, with the city paying $6,000 per month for the company to guard an empty lot.
The security firm is primarily concerned with protecting the property at each site. According to the city contract that was expanded to include these sites, Treeline is not required to be proactive with the residents or enforce the sites' capacity limits.
At Safe Sleeping Villages, such as the one on Fulton Street near Civic Center Plaza and the one at 730 Stanyan Street in the Upper Haight, a community benefit organization (CBO) has staff onsite around the clock to manage the inflow and outflow of residents and conduct regular check-ins with residents.
The safe sleep sites also offer toilets, hand washing stations, charging stations for personal devices, and garbage cans. But unlike the villages, there is no monitoring or enforcement of who's entering and exiting the sites beyond the CBO's part-time efforts.
A representative of a CBO who manages one of the Safe Sleeping Villages told us that the city "is not permitting us to speak to media about anything that happens at the safe sleep sites."


Another overhead image of the 750 Eddy site in recent week. | Photo: unsafesleeping/Twitter
For the residents surrounding the City College site at 750 Eddy, at least, the encampment closure provides relief and quiet after several weeks of chaos.
"There were clearly a lot of issues at the site, it was not well managed, supported, or serviced," District 6 Supervisor Matt Haney said.
Chris believes the city's efforts at the Safe Sleeping Villages "seem to be working better," but that the outstanding concern is that the response to the homelessness crisis during the pandemic is still disjointed and compartmentalized across city agencies.
"Public Works sets up the sites, OCA has the security contract, and the Department of Homelessness and Supportive Housing does the screening, while the Board of Supervisors is being told things that aren't true," he said. "No one is owning the whole thing."