The Bay Area has lost its only Deaf-owned and operated restaurant, Mozzeria (3228 16th St.), due to the ongoing pandemic downturn. Deaf owners Melody and Russ Stein say they will continue operating their food truck, but the time has come to give up the brick-and-mortar restaurant in the Mission.
KQED broke the news about the closure this week, with writer and American Sign Language (ASL) interpreter Anna Mindess having covered the restaurant since its December 2011 debut. Mozzeria's Neapolitan pizzas, made in a wood-fired oven imported from Naples, proved popular with both hearing customers in the neighborhood and the larger Deaf community in the region. Many Deaf people are all too familiar with the alienation that comes with dining out in most restaurants — with servers who can't adequately answer questions about a menu, for instance, without awkwardly writing things down and passing notes. But the Steins, who have grown up in the Deaf community and attended all-Deaf schools, wanted to create a welcoming safe space for Deaf people — especially those who love pizza.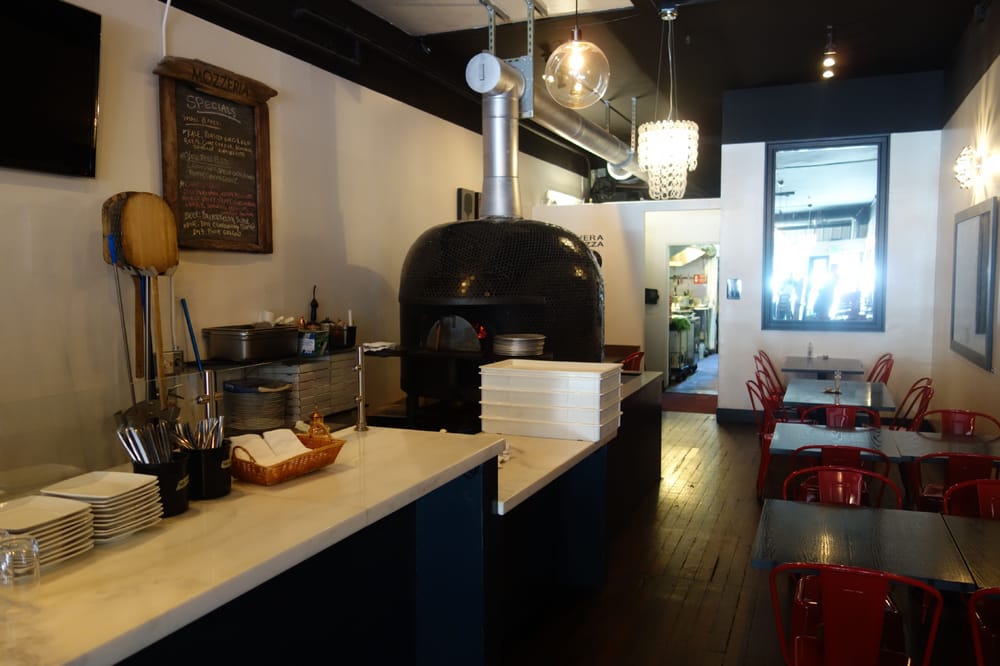 The narrow interior of Mozzeria on 16th Street. | Photo: Michael U./Yelp
As Mindess writes, "Celebrating a birthday, graduation or job well done with a bunch of Deaf friends was the perfect excuse for a festive night out at Mozzeria." And while Deaf customers may have still been in the minority at the restaurant most nights, Mindness says, "Mozzeria was just the place to unwind and probably bump into Deaf friends or friends of friends and relax, chatting the night away."
Melody Stein grew up in the Bay Area the daughter of restaurateur parents — they had two restaurants in Hong Kong before relocating here specifically for the access to the acclaimed California School for the Deaf in Fremont. She had always dreamed of owning a restaurant herself, but her hopes of going to culinary school were dashed when she was told Deaf people were a liability in professional kitchens, being unable to hear verbal commands as hot pots and pans move around.
The Steins have had big plans to turn Mozzeria into a national brand, and the closing of the San Francisco restaurant is a hiccup in that plan. Just in September, during the pandemic, they opened a second Mozzeria in Washington D.C., a few blocks away from the university for the Deaf that they both attended in the 1990s. And that restaurant, along with their Bay Area pizza truck, remains in business.
Mozzeria is one of the only Deaf-owned and operated restaurants in the world, with just a couple of others in the U.S., including Crêpe Crazy in Austin — and several, including Darren's in Manhattan Beach, California, have closed in recent years.
Check the Mozzeria website for the food truck's schedule.