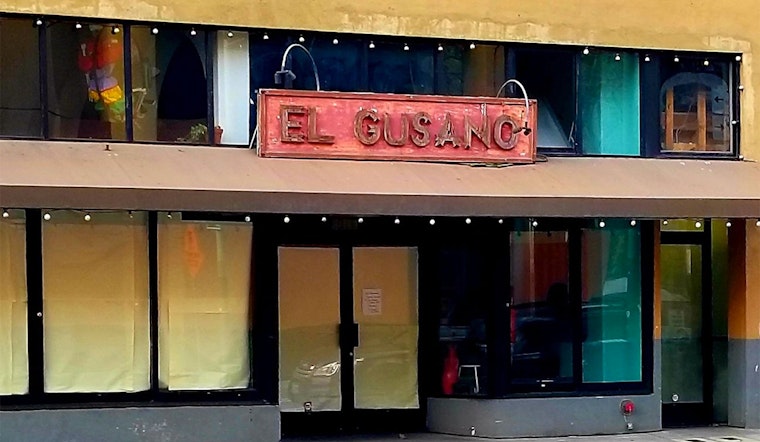 Published on December 07, 2020
The Old Oakland sister restaurant to San Francisco's Tropisueno, El Gusano (1015 Clay Street), has closed for good after seven years in business.
It's not clear when the restaurant's last day was, but tipster Albertino M. tells us the windows are papered over and there's a note on the door directing all mail and packages be taken to Le Cheval a few doors down. Also, the phone has been disconnected, the restaurant's website is offline, and Yelp has listed El Gusano as permanently closed.
The closure comes not long after another neighboring restaurant, Siam Bay, closed down as well.
Much like the Financial District in San Francisco, Old Oakland and much of downtown has been suffering since stay-at-home orders came back in March, emptying the area of its usual daytime worker population.
El Gusano opened in 2013 at the hands of Tropisueno partners Erin Brooks and Michael Sopher and several new partners, serving as a taqueria by day and an upscale Mexican restaurant at night. As Eater reported at the time, the place opened with a variety of standard taqueria fare as a well an unusual Mexico City delicacy, the pambazo — a torta on white bread "dipped in red guajillo sauce and stuffed with chorizo and potato." There was also a ten-seat bar up front where the place showcased a wide selection of mezcals — and the restaurant's name means "the worm," after the worms found in some bottles of mezcal.
Tropisueno remains temporarily closed on Yerba Buena Lane in San Francisco. Brooks and Sopher noted in a Facebook comment that they were waiting for the city to permit indoor dining at 50% occupancy, which had looked like a possibility for a brief minute this fall before the current COVID surge began.
The Tropisueno website has also been taken offline.