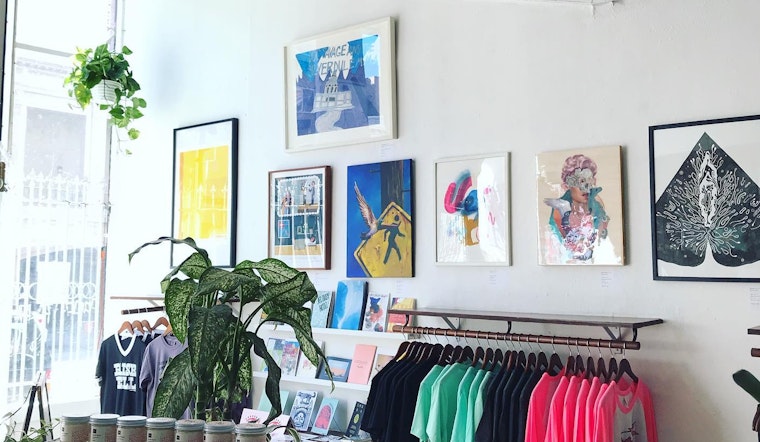 Published on March 26, 2021
Next week, the Tenderloin community-based support organization Hospitality House will host its 36th annual art auction to support its Community Arts Program (CAP) in a new format that offers online bidding, a virtual live-auction event, and display of the works for sale at five local galleries.
CAP, currently located at 1009 Market St. (at 6th Street), is now in its 52nd year of providing arts studio and gallery spaces along with supplies and classes for local residents that would otherwise lack access to fine arts resources. Many of the 3,500 people that participate in the program annually are homeless or live in single-room occupancy hotels in the Tenderloin.
"For us, CAP is the foundation of the Hospitality House's community building and celebration," executive director Joe Wilson told us. During the pandemic, the CAP program had to reduce capacity to four or five artists inside at a time, and focused significantly increasing virtual outreach efforts. CAP has been offering weekly online Zoom meetings and providing virtual examples of art and creative writing.
"It's been a real challenge, because our organizational model is focused on building and sustaining community… it's been a struggle to persevere," Wilson said. Artists that often rely on interaction and community for inspiration have been struggling, he added.
Last year's THHE Auction was the first to be held online, and it was successful, according to development manager Tess Davis. But there are pros and cons of having the event online. It does lack a sense of community connection, but it offers a broader reach, and everyone can participate from across the country, Davis said. While this year's auction will also be online, it has a new live-auction element and the artworks, which focus on this year's theme: From Solitude to Solace — Celebrating the Heart of Art. It's all being displayed at five local galleries in the Tenderloin and the Mission:
View this post on Instagram
Each of the galleries features about 20 pieces from both CAP artists and other local artists, Davis said.
"Offering the opportunity to see the work in person, at local galleries, helps build community," Davis said.
Most of the pieces will be available for online bidding starting on March 30 through 9 p.m. on April 4, 2021. But during the April 4, 2021 live event, which starts at 6 p.m., 11 "really remarkable" pieces will be sold during a live auction, Davis said.
The Hospitality House will also be unveiling an "exciting opportunity for San Franciscans to invest in a permanent home for the CAP," Wilson said. The building that currently provides its home at 6th and Market Street is expected to go on the market in February 2022, so along with raising money through its annual auction, the Hospitality House will be launching a new capital campaign to allow CAP to stay at its current, highly-visible studio location. You can pre-register for the event on THHE Auction's website, or follow the Hospitality House's Instagram and YouTube postings for more details.