The 7-Eleven convenience store at 3998 18th St. (at Noe St.) has permanently closed, and Hoodline has learned its last day in business was Thursday, March 4.
Rumors of the closure had been swirling for weeks, but no one from 7-Eleven corporate responded to repeated requests for comment.
On a recent visit to the store prior to its closure by a Hoodline reporter, two 7-Eleven employees confirmed the store would be closing. According to the employees, 7-Eleven decided to close the store due to a rent increase.
However, Anchor Realty, the building's property management company, disputes this claim. Anchor Realty's Mark Campana tells Hoodline that 7-Eleven had agreed to extend its lease but was having trouble getting its tobacco permit from the city after taking the store back from the former franchise owner.
Hoodline reached out to the San Francisco Department of Public Health for comment on the permit but did not receive a response.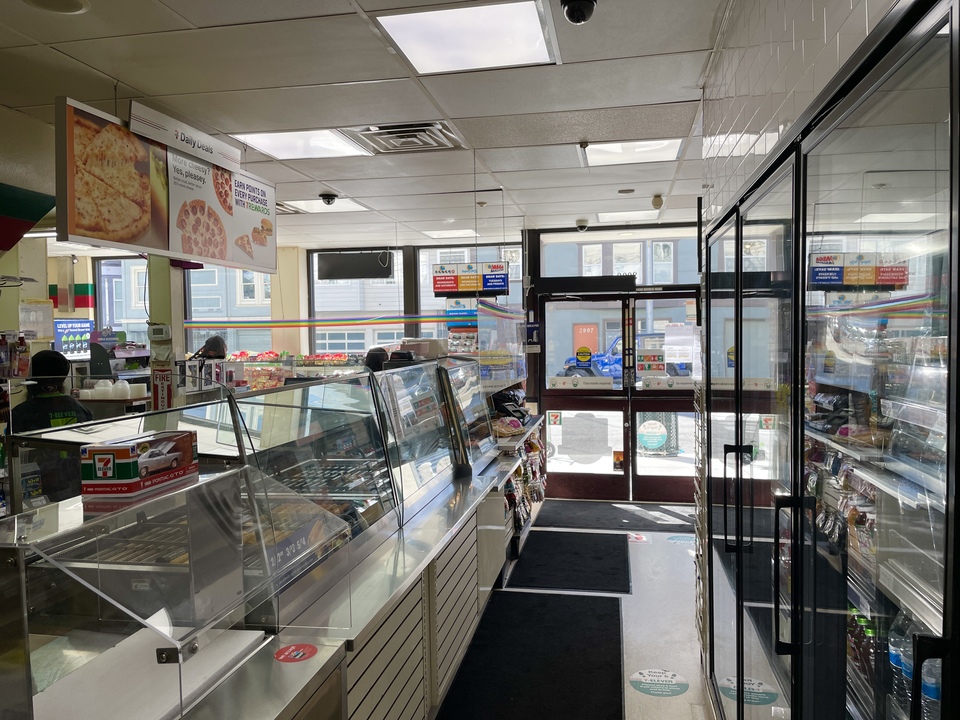 The 7-Eleven convenience store at 3998 18th St. is now closed. | Photo: Steven Bracco/Hoodline
The 7-Eleven has operated at the corner for decades, although there's no public record of its exact opening date. Liquor license information shows it dating back to at least 1988.
Back in March 2019, former Castro 7-Eleven franchisee Elizabeth Concepcion sold the store back to the company's corporate parent, citing frustrations with theft and fears for the safety of her staff. Since that time the store has been company-owned.
At the time, Concepcion told Hoodline she was dealing with an overwhelming amount of shoplifting from homeless people, who often loitered outside the store, and students who would steal items in the morning before school. The store had a sign posted in front limiting the number of students who could enter at one time.
Concepcion also said she was frequently fearful for her safety and well-being, and for that of her employees. "I'm scared, and it makes me stressed out as a franchise owner," she said at the time.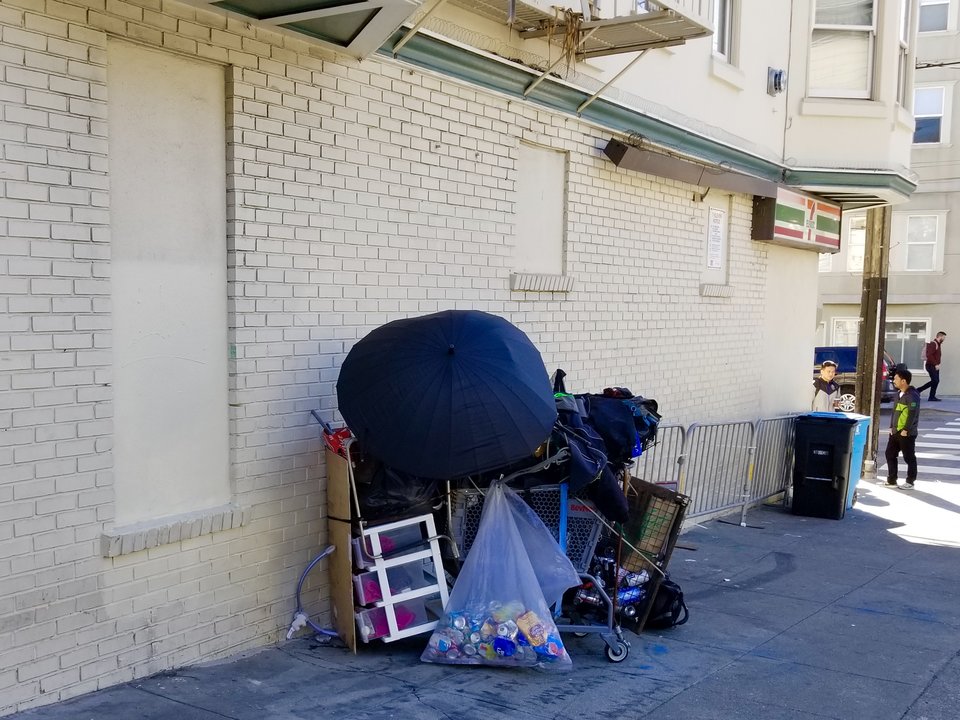 Loitering and littering are problems outside the 7-Eleven. | Photo: Courtesy of Carolyn Thomas
The announcement of 7-Eleven's closure comes as welcome news to neighbors who have been frustrated for years about ongoing problems at the location.
"Most neighbors will be thrilled about the closure," said Carolyn Thomas, longtime neighborhood resident and captain of the nearby Ford Street Neighborhood Watch.
"This news sounds too good to be true," said Castro resident Kelly Lawrence. "It would be a relief to see it gone."
"It's been a circus living across from that establishment these past 17 years," added Lawrence. "Drug deals, screaming in the middle of the night, constant illegal parking blocking driveways, and food packaging wrappers strewn all throughout the Castro."
Common complaints from Castro residents about the convenience store include shoplifting, littering, loitering, violence, drug use, small fires, late-night racket, and human waste around the store.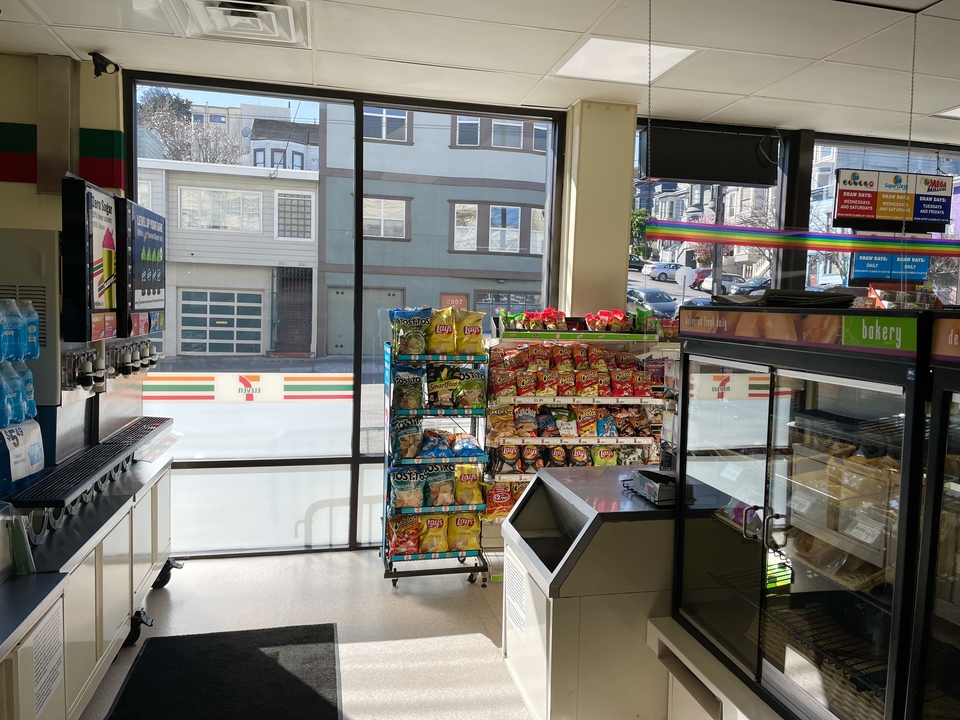 Inside the Castro 7-Eleven. | Photo: Steven Bracco/Hoodline
According to area resident Cheryl Traverse, a small group of neighbors started a Stop 7-Eleven group in recent tears and hired lawyers to talk with 7-Eleven's parent company Seven & I Holdings Co., the city attorney, SFPD's permit officer, Anchor Realty, and District 8 Supervisor Mandelman's office about the ongoing public nuisance issues.
Traverse tells Hoodline the group was attempting to go after the store's permit to operate, however she says after getting nowhere with Seven & I Holdings Co., they gave up the fight about a month and a half ago.
"I have tried to deal with the Texas-based management of this store," said Castro resident Tom Lucas. "However, 7-Eleven does not respond to either written communication or voicemail messages."
"All in all, I have found the presence of the store to adversely affect the quality of life in this part of the Castro," said Lucas.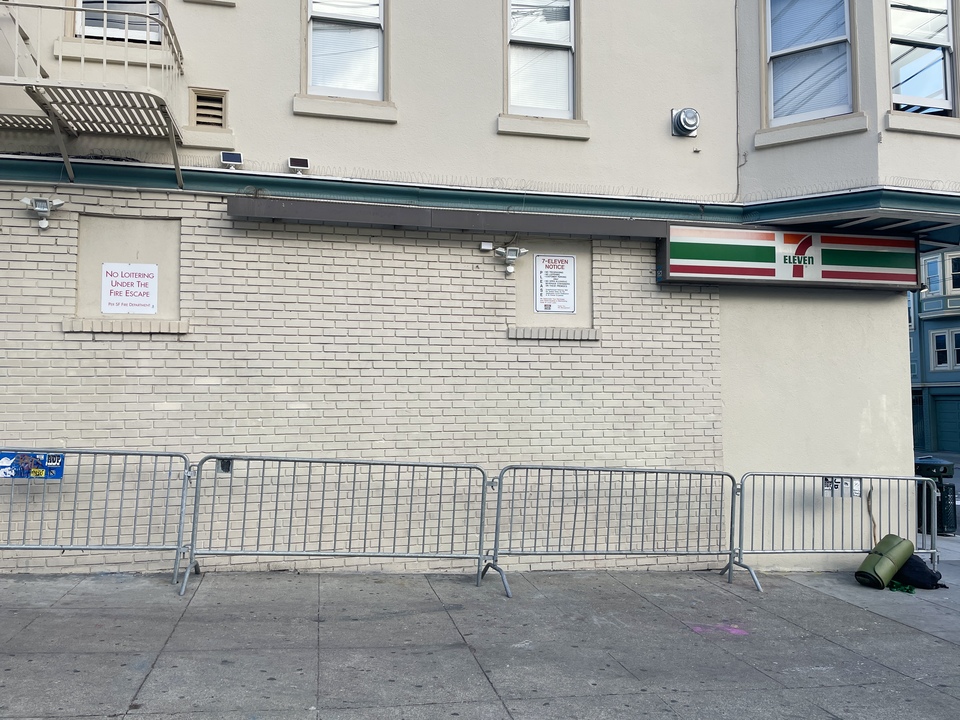 Photo: Steven Bracco/Hoodline
"I would be mildly tolerant of the 7-Eleven if they were willing to work with neighbors, address some of the issues with security during open hours, and be a part of the Castro Merchants Association that would contribute to cleaning services that are primarily needed due to the 7-Eleven products and patrons," said an area resident who preferred to remain anonymous.
"It's unfortunate because of the jobs lost and those that rely on it as an alternative food source, but in my view management failed to address issues that would have restored some goodwill with its neighbors," added the resident.
"A few community members have expressed interest in helping to find a business to occupy the storefront," said the resident. "Hopefully another more responsible business that the community will support will eventually take over the space."
Update 3/8:
A spokesperson for SFDPH provided an update about the status of 7-Eleven's permit to Hoodline.
"Currently, this location does not hold a valid retail tobacco permit with San Francisco and there is no active sales of tobacco or nicotine products at this time," the spokesperson told Hoodline.
"A permit application to our department would be required if tobacco sales were desired," they added. "This location is subject to Article19.H5-H6 tobacco permit density restrictions, therefore there is a possibility a new permit could not be issued if the new owner doesn't meet any of the exemptions in the law."
---
Thanks to Hoodline tipster Patrick B.