A volunteer-run used bookstore in the Financial District has a more secure future after signing a 10-year lease.
34 Trinity Arts & News took over the tiny space near the corner of Bush and Montgomery streets in 2017 from then-owner G.F. "Rick" Wilkinson. The bookstore was under threat of closure when Wilkinson was set to resign to focus more on his online bookselling business.
After spending lots of time pursuing the stacks and getting to know Wilkinson, San Francisco native Natalia Kresich decided she wanted to keep the bookstore alive. A collective of about 10 volunteers started meeting to compile new offerings and keep the shop operating.
The landlord is very accommodating, Kresich said. The space, which is really just three large windows with alcoves and some rolling carts stocked with books, was originally used many years ago as a display space for the I. Magnin & Co. department store in nearby Union Square. But it has been an arts-focused or book space since the use of off-site display windows fell out of fashion, Kresich said.
Early on it became a poster store, and then a woman sold Welsh textiles from the space. Wilkinson took it over in 2014, and while the 34 Trinity collective has continued his vision — it still consigns books for him — it has also expanded to offer a more local focus that aims to highlight San Francisco-based writers, authors, and subjects.
"We try to offer something for everyone, from Bay Area topics to Black Liberation, to LGBTQ history," Kresich said.
The shelves are stocked mostly through estate sales and buying from bookstores that have closed throughout the city.
"We bought a lot of Aardvark's stock when it was in its final days," Kresich said. She even saved its sign. The storage area in the building's "wonderfully haunted basement," offers extra space to store books and other items for the display cases. The collective also buys books and people are welcome to contact it about selling or donating books (or anything else) at [email protected].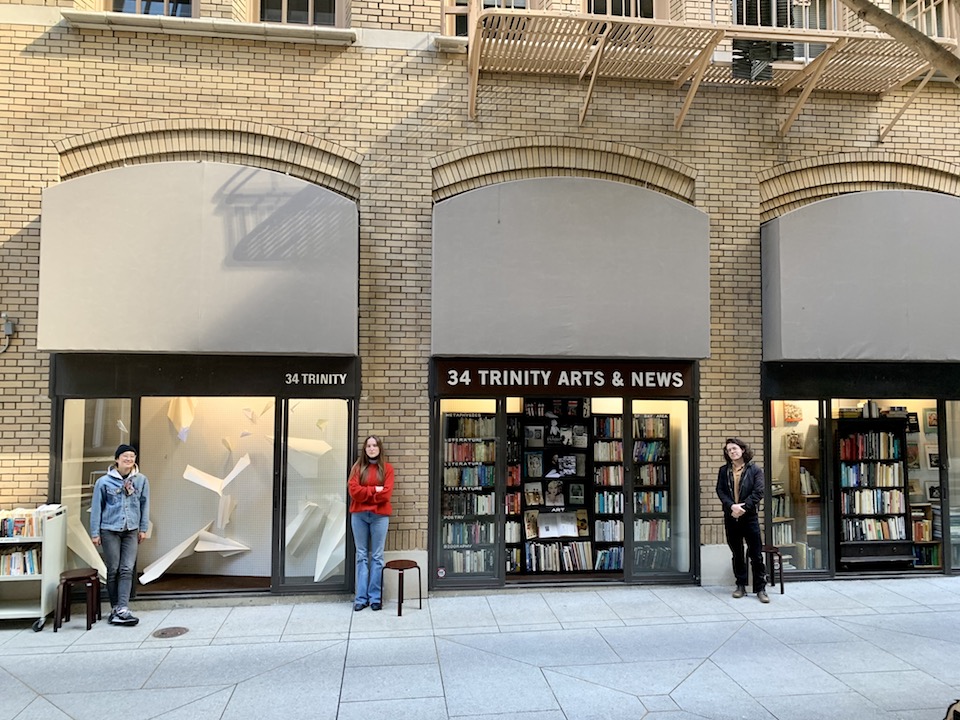 From left: 34 Trinity Arts & News volunteer Karyn, volunteer and proprietor Natalia, and volunteer Marlo
"The most common question we get is, 'Are these books for sale?'," volunteer Karyn told us, laughing after someone had asked just that. Karyn, who lives in the Richmond, said volunteering for the bookstore, which often involves "sitting and watching the world, and meeting neighbors," adds a new way of seeing and experiencing San Francisco. And the books are a great perk.
"We went with '34 Trinity Arts & News' because we planned to offer international papers and journals, but that hasn't really happened," Kresich explained, adding that she's thought about changing the name to highlight that it is a bookstore.
Another volunteer, Marlo, lives in Oakland but used to work in an office nearby and found Wilkinson's bookstore offered him a "good different space to reset." Now Marlo helps focus on the displays and setting up the books to attract passersby to stop and browse.
Last February, for example, the collective teamed up with Rooky Ricardo's Records on Haight and Noise on Balboa Street to display records that featured faces of famous Black musicians in honor of Black History Month. Other displays have been developed by collective members, including a swarm of bright butterflies and the current display of paper airplanes, which was a reflection on entering the New Year.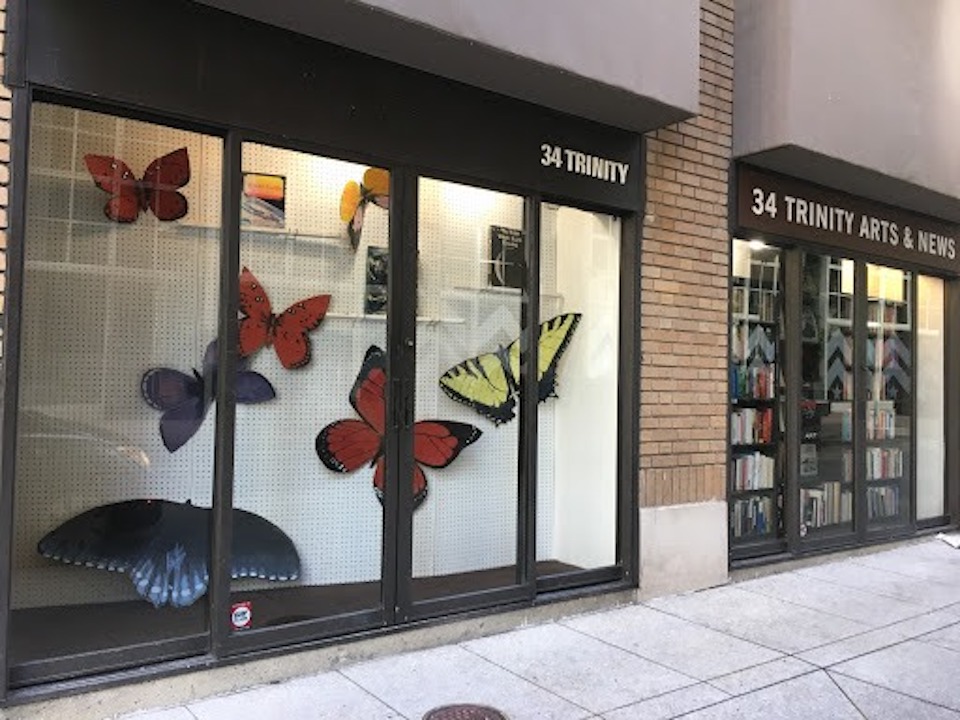 Butterflies took over the left window of 34 Trinity toward the end of 2020 | Photo: 34 Trinity Arts & News/Facebook
The books and displays are changed out every couple of months, or so, but Kresich would like to do it more often. She's also planning to host a book fair sometime, inviting other booksellers, zine makers, and others, to the alley to set up booths and their own displays. That's why she kept the Aardvark sign. "Since we have so many of their books, why not have them set up a booth and their old sign?" In the pre-COVID era, the bookstore held many poetry readings, book release parties, and film screenings with support from neighbors Escape New York Pizza, which frequently stayed open late to provide food and drinks to event attendees, Kresich said. Some past events include readings by poets Tongo Eisen Martin, Windy Trevino, and Tony Robles, she added.
Throughout the pandemic, Kresich has been limited to selling books by appointment only. If people see something in the window that interests them, they can contact her and find a time to pick it up. There's not a clear date for reopening planned, but the bookstore will likely start by opening one day a week to gauge whether foot traffic is picking up in the neighborhood, Kresich said. But it remains a good stopping point for people making their way from Montgomery BART to North Beach, Chinatown, or their FiDi offices, to stop and peruse the shelves and find interesting new reads.
Until it's ready to be open more regularly, 34 Trinity Arts & News has launched a Patreon to help cover the small but ongoing overhead costs while the bookstore remains closed. Anyone who donates will receive equal bookstore credit, redeemable once books are being sold more frequently, Kresich said.
"Bush and Montgomery typically has more traffic — pedestrian and vehicle — than almost any other place in San Francisco," she added. The current emptiness of the FiDi is eerie, and the collective looks forward to help bring it back to life.